Beach Maternity Photography + Handful Tips — Melisa & Rodgers
Melisa and Rodgers turn their amazing vacation in Bali into a very intimate and heartwarming beach maternity photography session. Their maternity photography was held in Double Six beach, as well as around their hotel.
They stayed at the hotel next to the Potato Head Beach Club, which was a big advantage for me as a photographer.  YOU WILL NOTICE THOSE THINGS LATER because I can take some pictures of them in front of the photogenic beach club entry gate. 😀
The Story
Melisa found us on Instagram. Thankfully she has just fallen in love with our pregnancy pictures portfolio, especially our beach pregnancy pictures. She loves to see our style and the way we convey the mood inside our work. She also mentions that photojournalism is a better way to capture the moment and feeling in beach maternity photo sessions. When compared to more static, staging photos.
Yes! and we were so excited to hear that. They know our style really well and fall in love with it. It's the key point of how to make great maternity photography. Indeed, with a lot of storytelling inside it.
Moreover, Melisa's family is so kind and polite. I know that it wouldn't be hard to connect with them since she contacted me. Surely my feeling was never wrong. We get closer to each other after we met at the pregnancy photo session. Even though it was the first time we meet. What a wonderful family to work with.
You will notice that all of their expression in these beach maternity photographs are so natural and relaxing. It only happens when the client and the photographer have enjoyed the vibes. It's a bond between them that makes a strong connection as well.
You can have a look at their memorable story while I keep telling you the whole story behind it. 😀
(updated on February 22nd, 2020)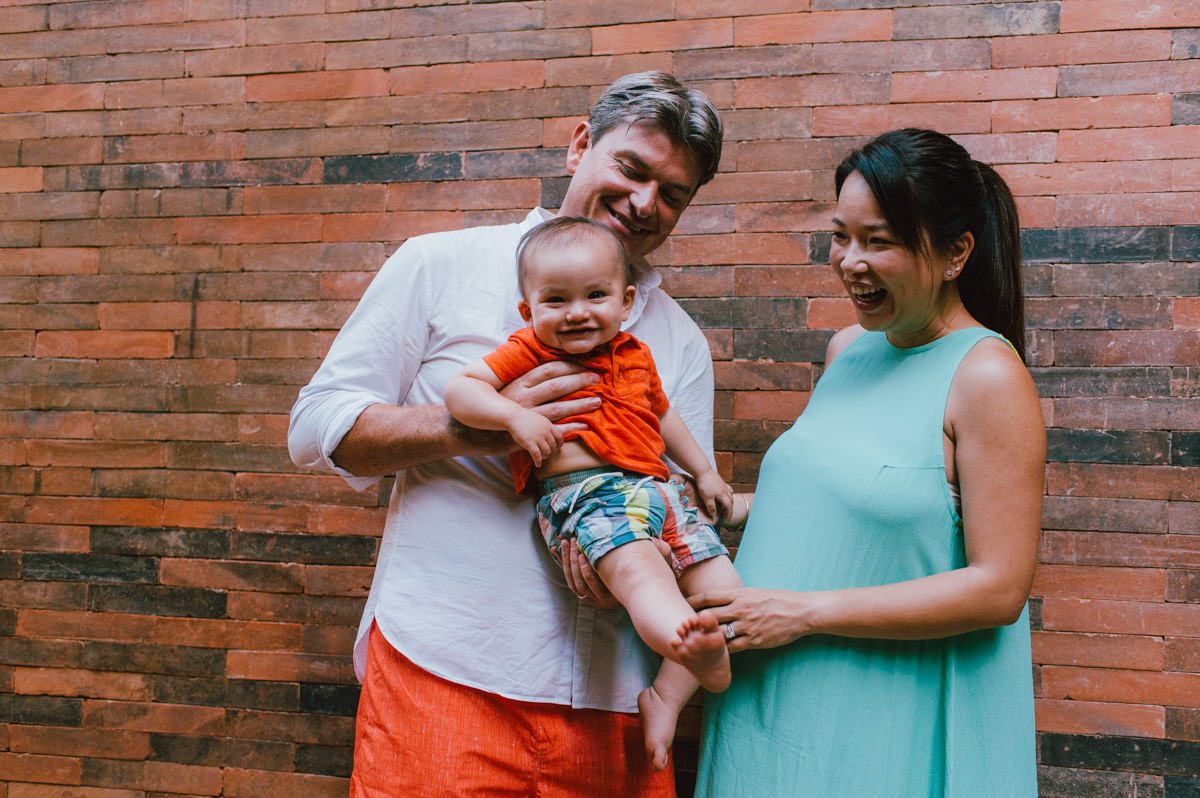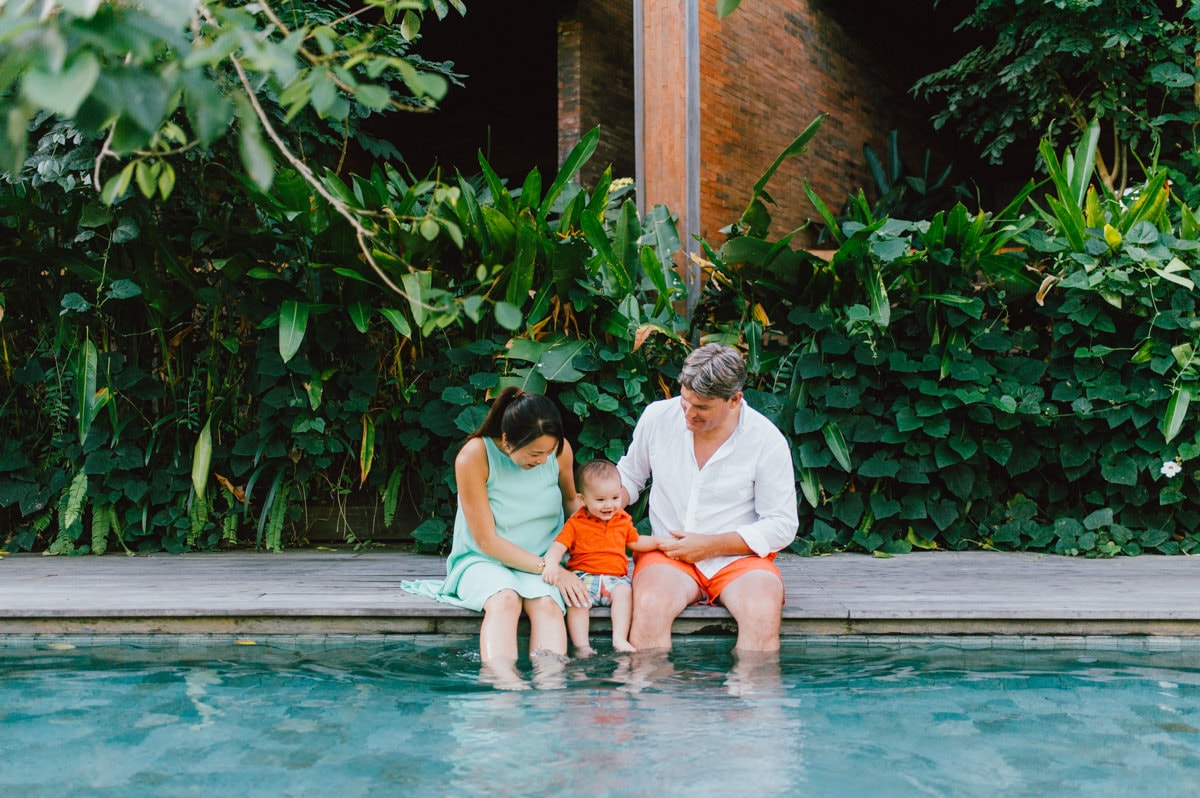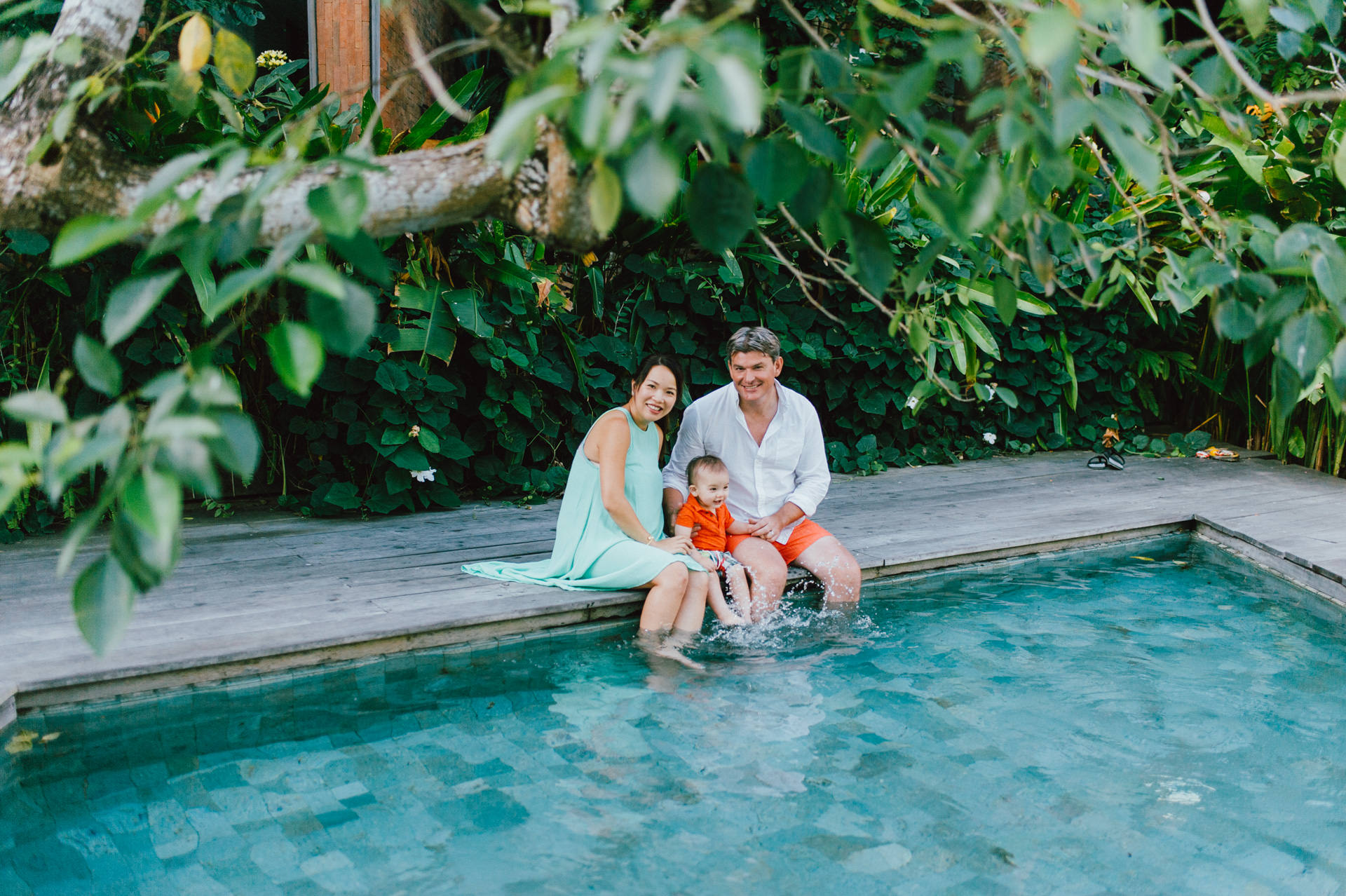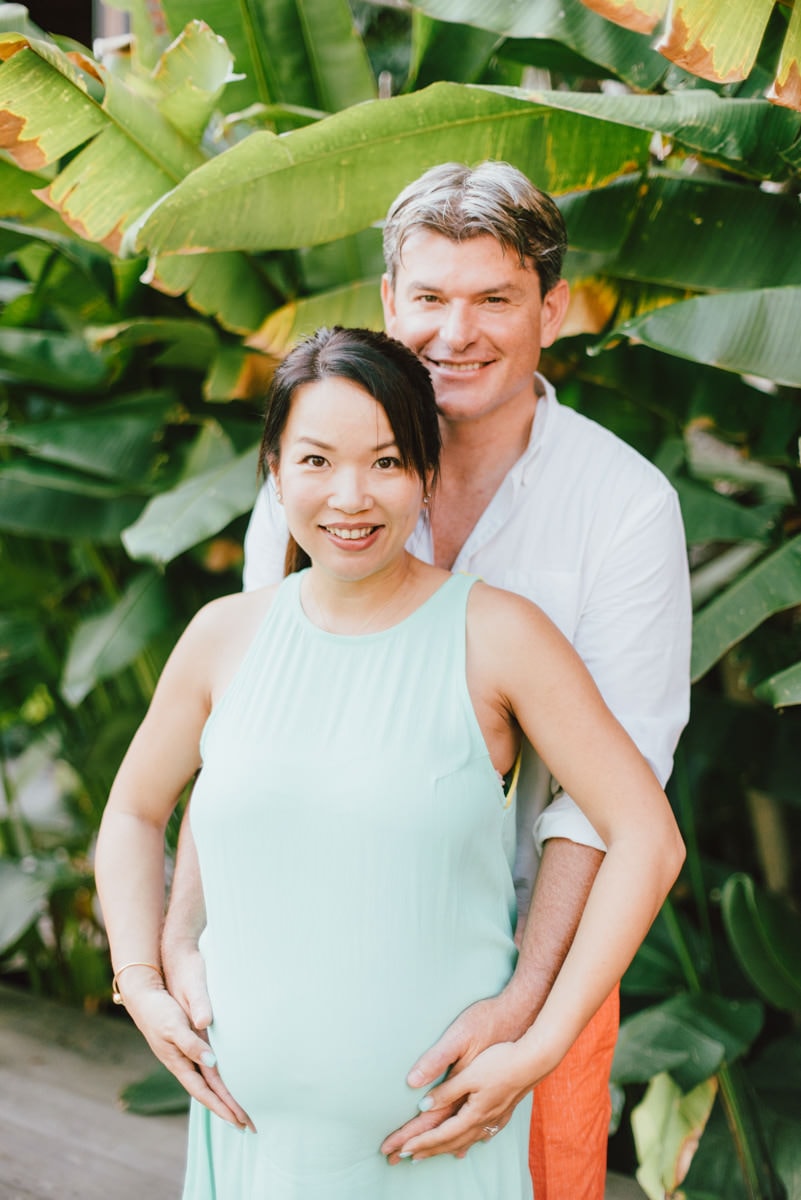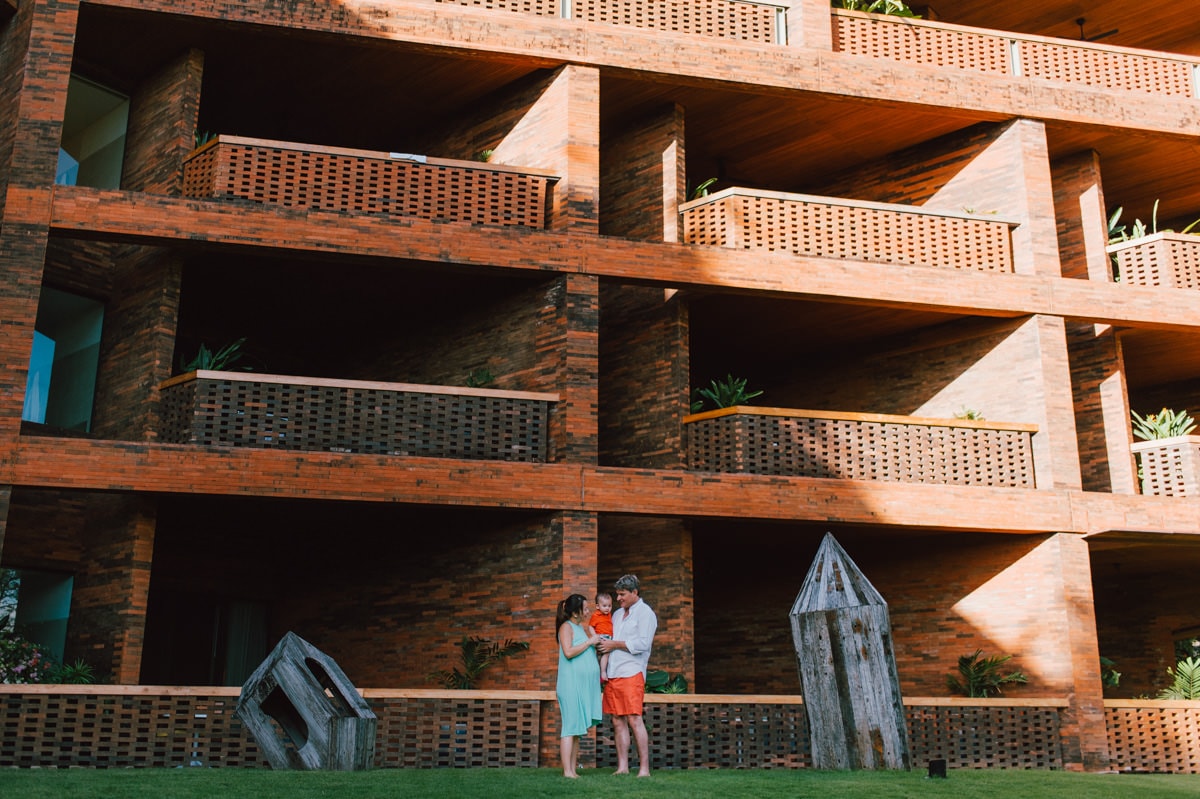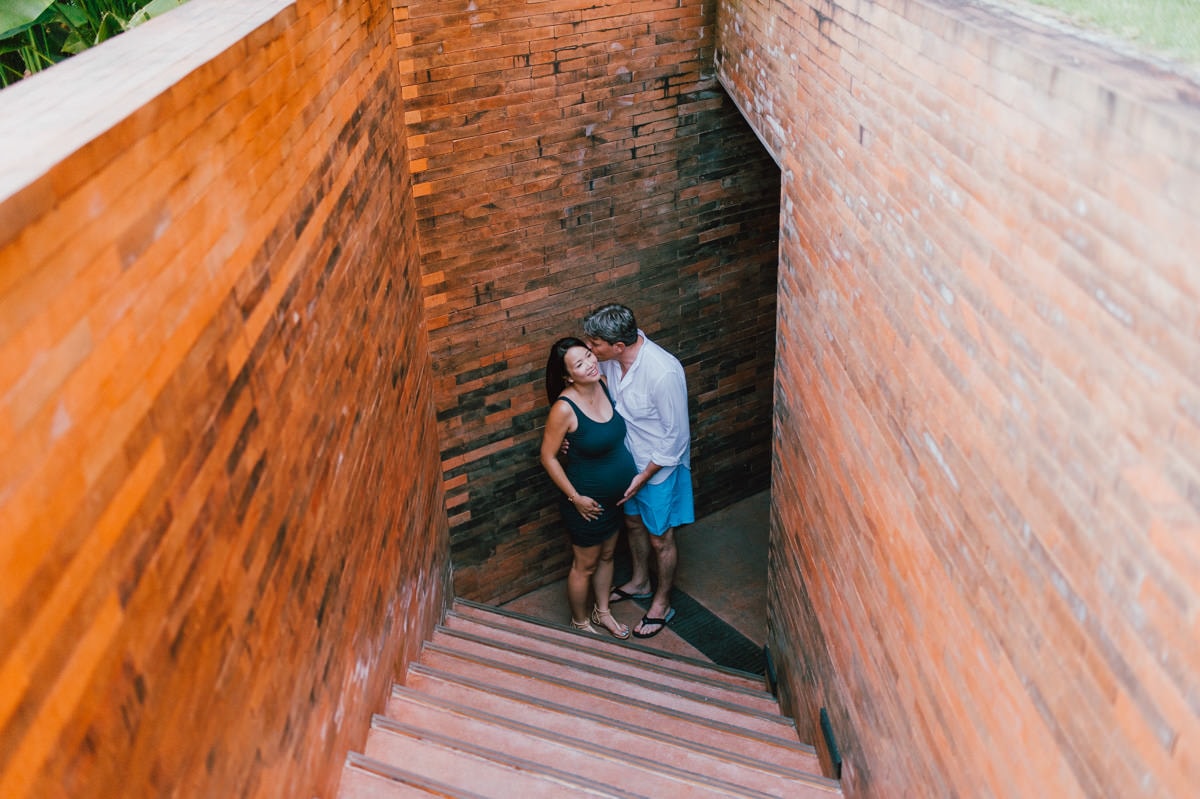 Maternity Photo Sessions at Their Hotel
First thing first, so we begin the pregnancy photo session around their hotel. I asked Melisa to tell me a bit about which side of their hotel could be used as a great photo backdrop. She told me to go to the hotel's main pool. I follow her and Rodgers as my brain is still on a blank canvas since it was my first time visiting this hotel.
And wow, I was amazed by the hotel architecture after I found a lot of space and lines to explore—particularly the hallway into the main pool. There's a brick wall line inside it. It's quite small, but the light falls beautifully on the other edge. My brain goes up and imaging that it could turn into great beach maternity pictures.
The ambiance is pretty well too. So many green plantations all around the pool area. It's just the perfect spot to create a good family portrait as well.
Maternity Photos in the Magic Wall
So after we finished the maternity photo shooting at the pool area, we go to the beach. The main way is through the Potato Head Beach Club.
What makes me amazed so much is they have a great magical entry wall at the top. It's made using an old wooden window which gives much of the rustic feel. It's amazing, I swear. So perfect for this kind of beach pregnancy photo session.
I don't miss it, though. I asked Melisa and Rodgers to have a simple pose in the hallway. The light beautifully falls off at the upper corner of the hallway. It helps me to create a creative composition while still maintaining the family's expression.
Is it so gorgeous, isn't it?
The Family Session
Before I focus on getting the beach maternity photos, firstly, I shoot them as a whole family.
I ask them to play around the beach. Do what they like, then I point my camera on candid mode. They were playing with the water and waving, swinging around, and a lot of hugs.
As they're a cheerful family, I've got a lot of great candid photos here. It feels like such an easy and relaxing family photo session on Double Six beach.
What a heartwarming family. I was so happy being with them. I could say that these are the best beach maternity photography session I've ever done.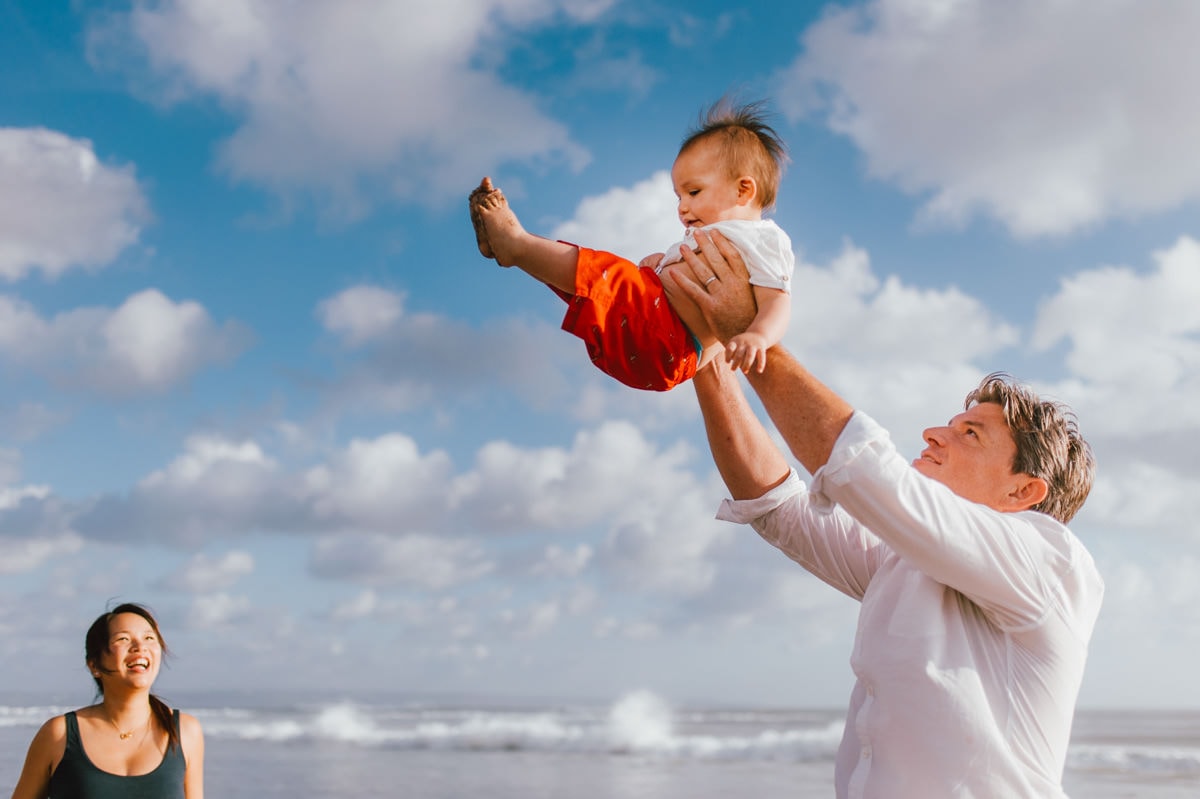 Mom and Dad's Intimacy
We were going to another part, which includes only Moms and Daddy. Somehow it feels like a pre-wedding session. But it is always an important part as I want to embrace the Mom and Dad connection in maternity photo sessions.
Perhaps it's not much, but a few shots are enough to complete the whole of their beach maternity photo story.
It's the same principle as the earlier stage. I told them to walk along the beach line and enjoy the vibes as much as they can.
As you can see below, their intimacy is flowing flawlessly.
I also take some shoot of only Mom with the son and Dad with his son. To show how well they are bonding with their lovely son. And you'll know later when you see all of those pregnancy pictures below.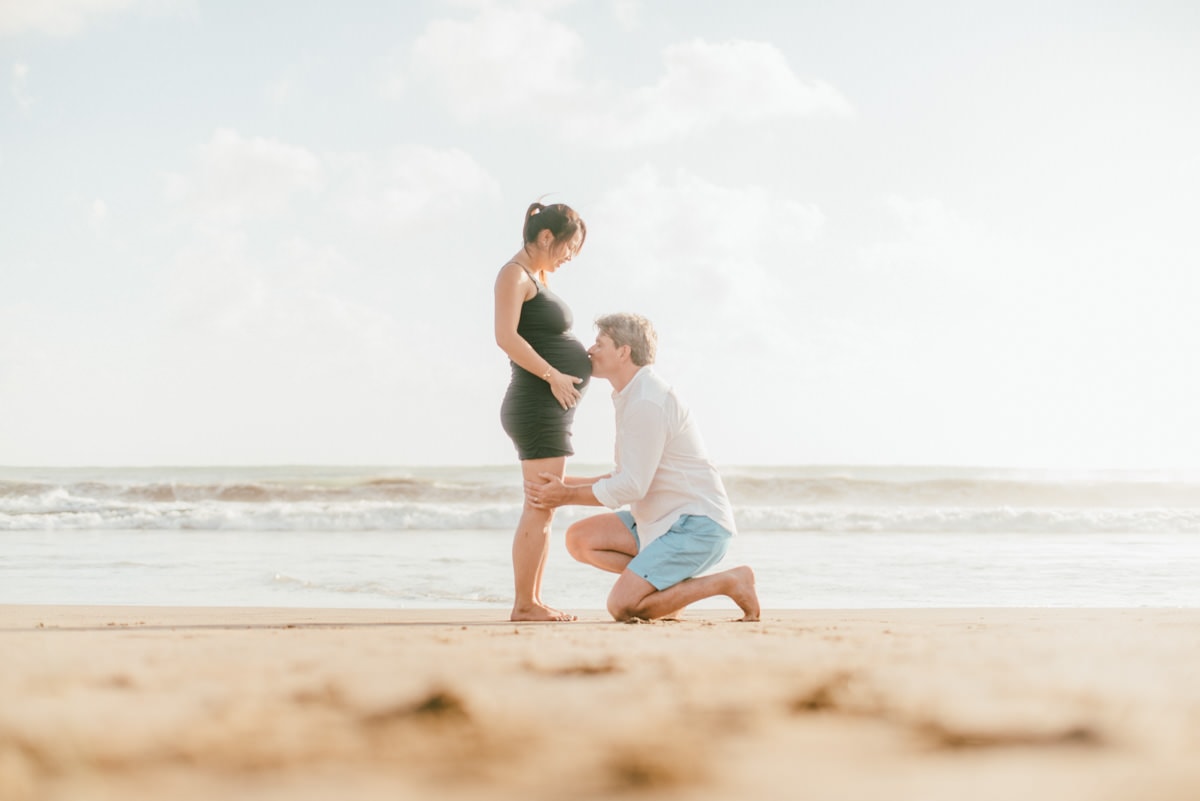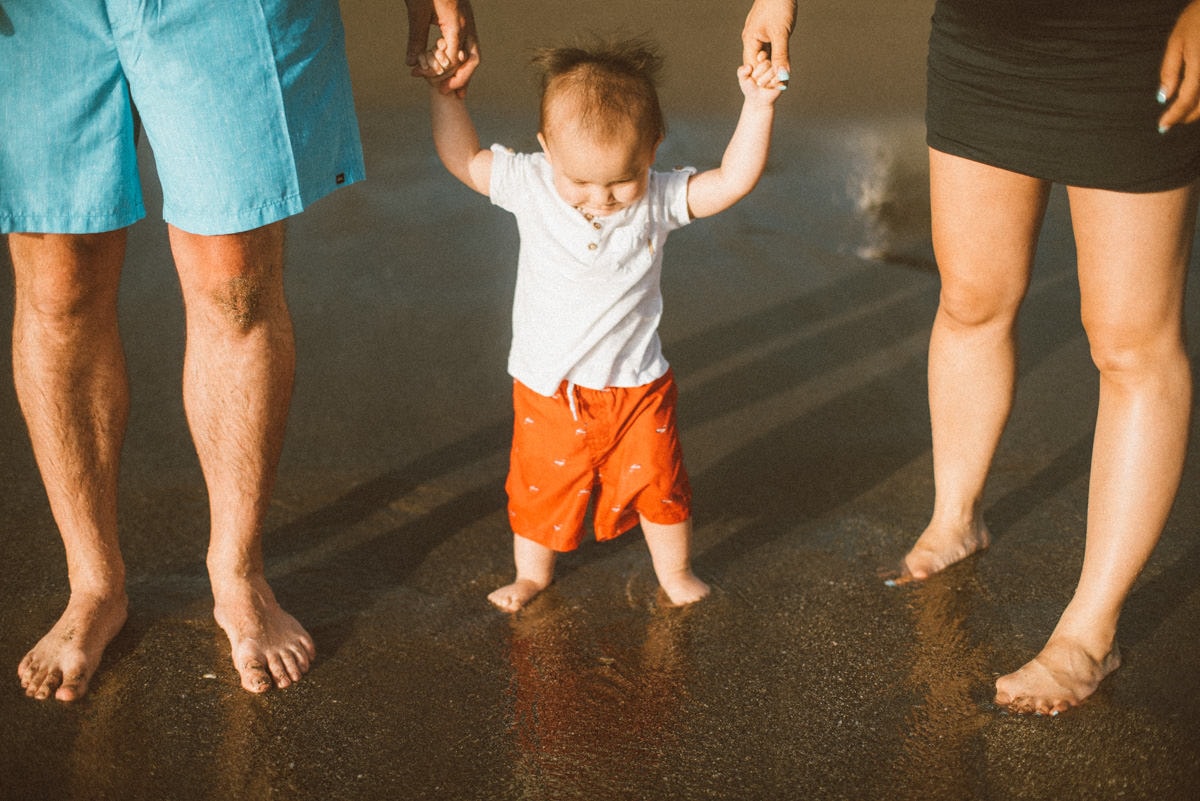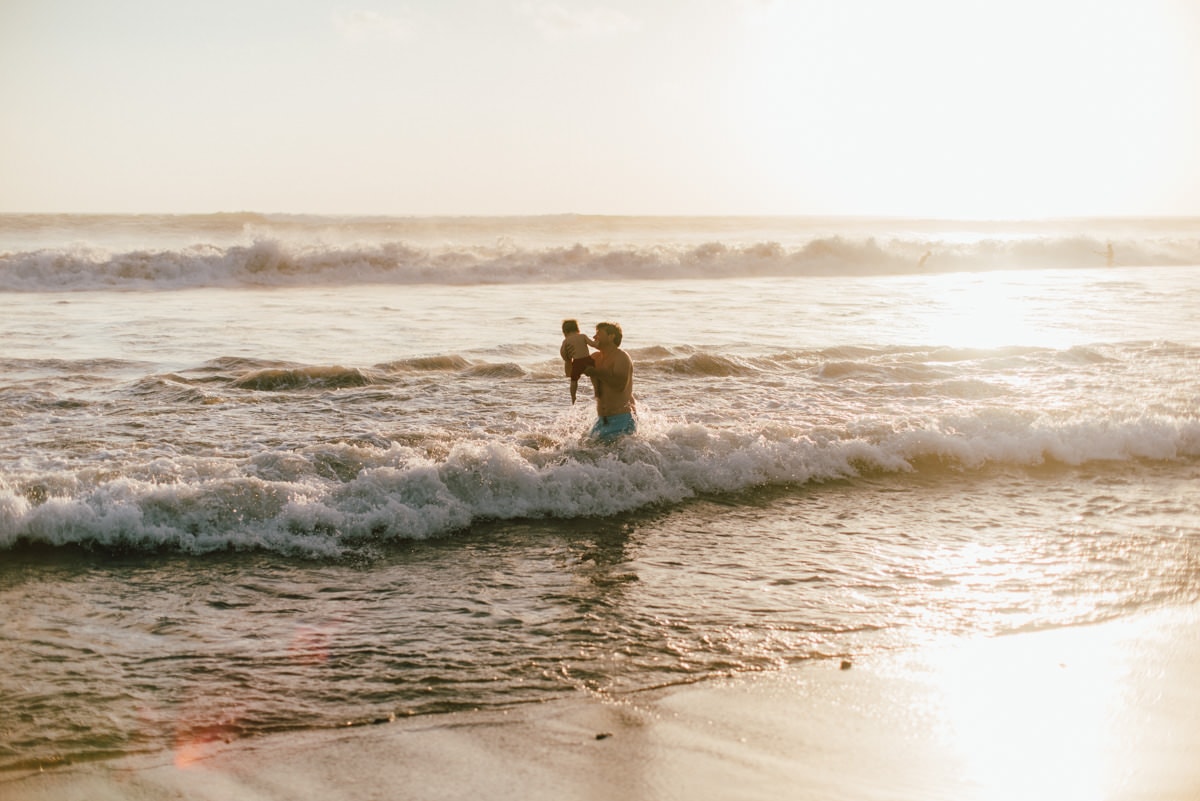 Some surfers passed after they were enjoying the wave. They could be a nice backdrop. Add more punch to the story.
Beach Maternity Photography of Melisa
The last beach maternity photo session is going to be Mom with her lovely baby bump inside. As the sun goes deeper into the ocean, the light becomes soft and warm.
Most photographers named it the golden hours. It was the best time to give the Mom a special beach pregnancy photography treatment here. I told Melisa to relax and embrace her feeling with the baby bump inside.
The warm light gives more of a feel to Mom's maternity portrait on the beautiful beach. Side warm lighting from the sunset always gives a lot of energy to every photograph. Moreover, it was taking place at the beach, which has the best sunset view.
No doubt that Seminyak Beach is always 'busy' with many visitors from all around the world. The beach is sloping with small waves at the edges. Yet, it has a bigger wave on the deeper side of the shoreline. That's why many surfers also take part in it.
Meanwhile, you can take a look at our maternity photography in Ubud for another amazing preference.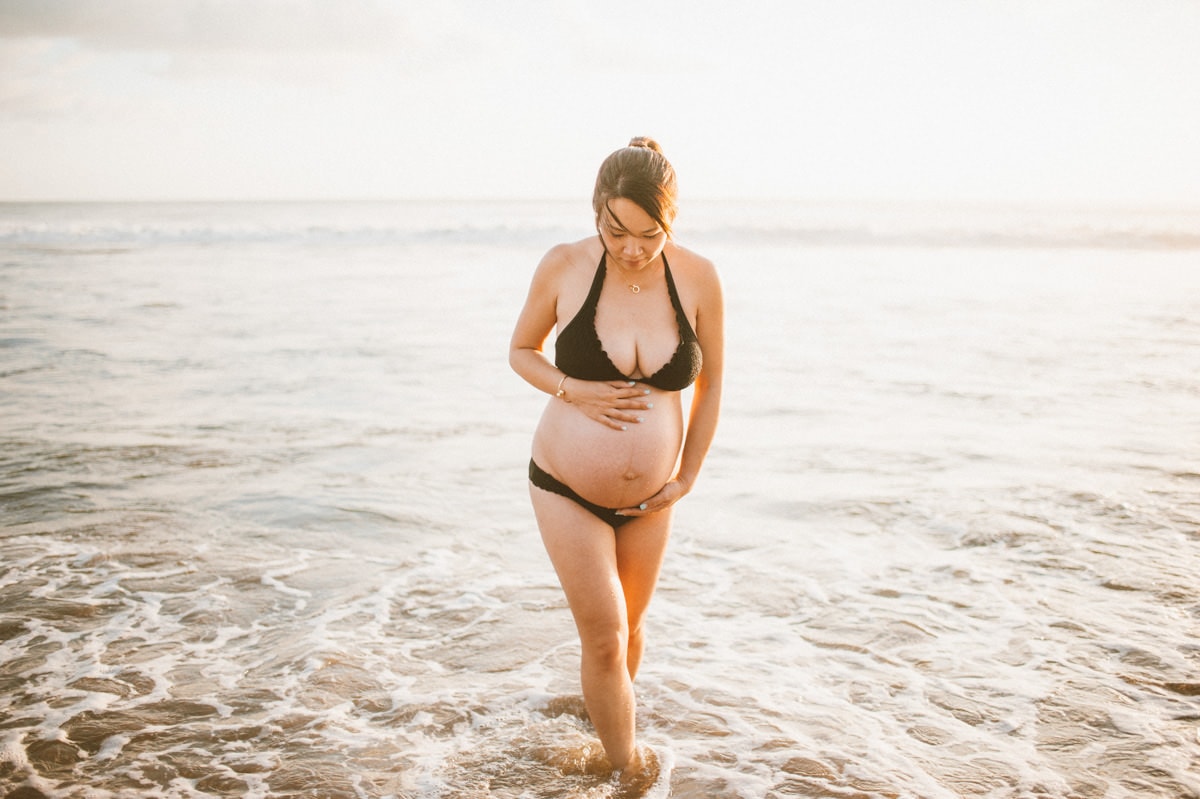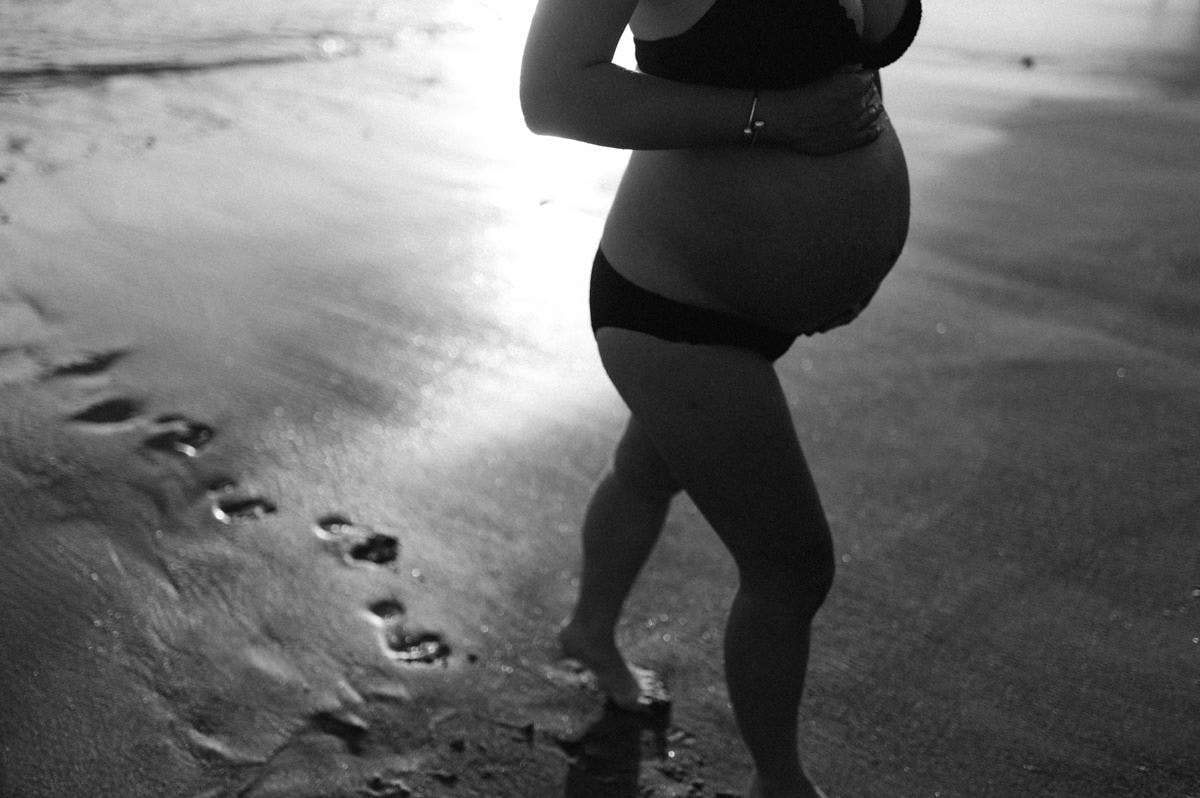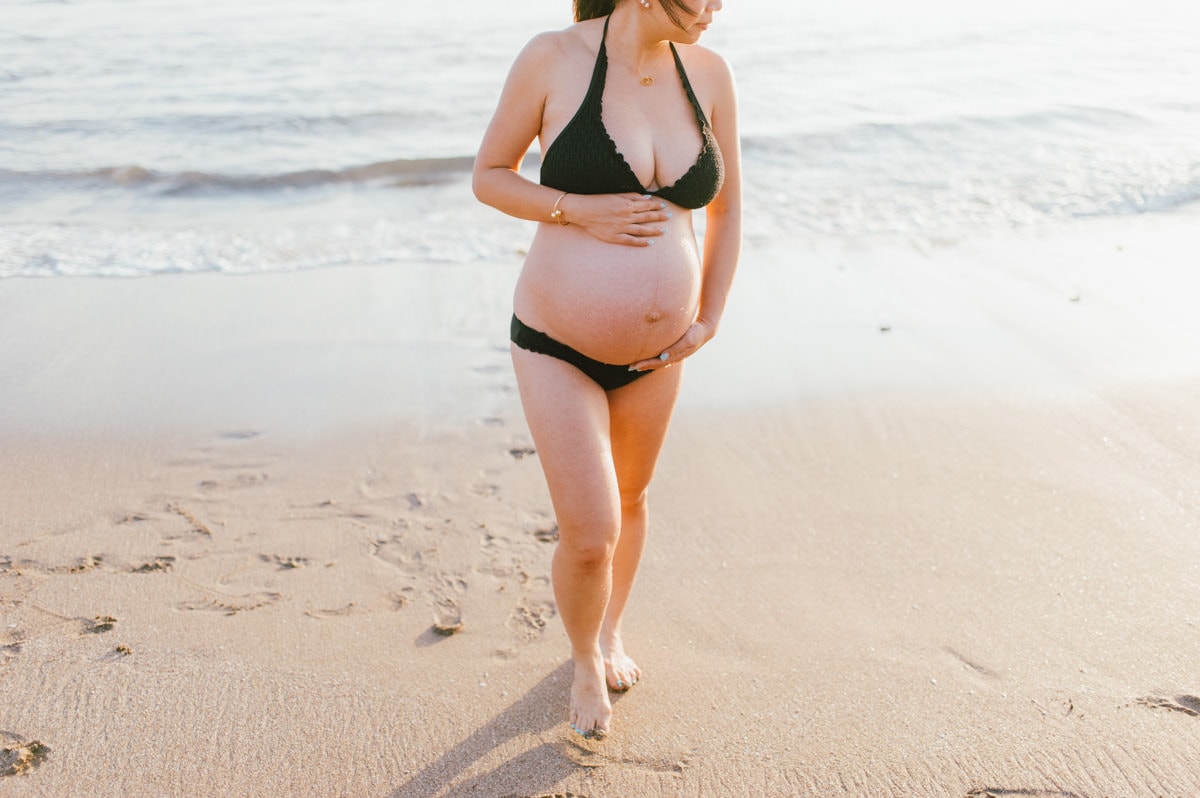 A Handful Tips of Beach Maternity Photography
Shooting maternity and family photo sessions on the beach can sometimes be challenging. So I want to share some tips to make it a flawless photo session. Here they are…
Be Nice with the Kids and the Family
This was my first list when I approached a new maternity or family photo client. Being nice to the kids means you are one step closer to making it all good, even great. Yes, the kids are the key.
Once the kids give a positive response to you, then everything will go smoothly. Even that also means you are giving great respect to the whole family. Then, the Mom and Dad would be so happy to see you blending very well with their kids.
But remember one thing. Before you go, be sure to learn some kids' psychology and their attitude. It's important to give the right treatment to them.
You can skip that one if only you are a parent.
Follow the Kid's Movement
The kids, as you know, tend to move around so quickly and surprisingly. So we have to be ready whenever they behave like something fun or interesting. Just shoot it and shoot it all the way. You'll get surprisingly great pictures as well.
Just stay focused.
Find a Good Photo Backdrop
Keep looking around and explore all the good parts in the photo location. As for this maternity photo session in Double Six beach, I keep looking around. Find some good shape on the hotel's exterior. Find some space that is possible to make them look stand out.
I love photographs with a unique and fresh compositions. Most of my workflow is finding all the geometrical shapes around. 
If you find it harder to do, then train your eyes well. Do some eye perfection exercises. I mean, keep taking photos with a unique approach base on geometrical shape and composition.
Or you can go to minimalism. You can make it all simple because there are not many geometrical objects on the beach. Fulfilled with negative space, the maternity photography in Double Six beach feels so relaxing and easy to enjoy.
Keep it with a timeless appeal concept.
Read the Light Very Well
Oh wait, could we 'read' the light?
I mean, we have to carefully position the client in the right spot at the right time.
Make sure that they will get enough light on their face and body. Don't force yourself to shoot if you feel that the light is not okay. It will harden you in post-processing. Even it couldn't be selected in the final process.
In my experience, I mostly shoot directly into the light to get some flat light (even if it is on a shadow, it's better) on the faces.
The other way, I shoot them sidelight. It will give some poping light contour to the client's body, especially in the morning or sunset light.
I don't really shoot with their head or body facing into the light. It's too harsh and leaves some shadow over the face.
So that's the handful of beach maternity photography tips that would help you make better maternity and family photographs. On the other hand, in case you need more info about the ultimate guide for a pre-wedding session in Bali, just follow that link.
Beach Maternity Photography — Final Words
Maternity photography has become one of the photography trends in wedding and engagement photo sessions. It's actually lying on the third phase of our life journey. First, we do the engagement, the beginning of a long-term relationship with commitment as the foundation.
Then the marriage, the final step before all the new chapters begin. Of course, marriage has many goals for every couple. One of them surely is having a baby.
Pregnancy is a special thing to celebrate.
It would be nine months in the Mom's belly, with high care of attention. That's why it is worth to be recorded for once in a lifetime. We will always remember it as a lifetime moment for the couple and the baby itself.
So do Melisa and Rodgers for the second of their pregnancy. They will decide on maternity photography in Double Six beach. A magical moment that will last for the rest of their lifetime.
For further info, you can take a look at the Bali photography pricing and packages here. Otherwise, just send your hi to our email using the contact link below.
— Cheers, wynprmn.
Agra Photo & Film — blog | portfolio | contact us
Home » Maternity » Beach Maternity Photography + Handful Tips — Melisa & Rodgers