Bali Engagement Photographer: The Ultimate Guide for Couples
Do you need an engagement photography guide in Bali? Then, do you want to hire a Bali pre-wedding photographer as well? If you do, you're on the right way. Welcome to our engagement portfolio blog.
Let's dive into our ultimate guide from the Bali engagement photographer's point of view.
Introduction
For us, engagement photo sessions are more than a fun snapshot. Instead, they are one of the milestones in your love story just before you get married.
Usually, couples who are having engagement photoshoots in Bali get a double jackpot. First, they get a photo session around the beautiful island. Second, they had a fantastic vacation experience. That's why more and more couples are coming to Bali just for their beautiful pre-wedding photo session.
It's the engagement photos of Andreas & Virginia at Nyanyi Beach.
On the other hand, engagement photoshoots in Bali are usually relaxing, low-stress,  and somehow breathtaking. Why? Because some couples visit Bali for the first time, seeing Bali's natural landscape is like visiting a whole new world.
The beautiful panorama view will blow your mind. There is a wide range of options. It ranges from the top of the mountains to the edge of the coast.
You can explore our Bali engagement photography post here.
After all, we understand that every couple wants the best of their pre-wedding photos. But you know that to reach the best, We need great scenarios and preparation as well.
So here they are, our ultimate guide for your Bali engagement photography, with the professional Bali engagement photographer.
Bali Engagement Photography Package
We divide our package based on what you need. Our package starts with 2 hours photo sessions. This package is for couples who want a short and relaxing photo session. Why? Because it's only in one location. So we can avoid the travel time from one place to another.
We usually meet the clients at the pre-wedding location for practical issues—moreover, this package over the best value for clients.
Furthermore, we also provide half-day and full-day coverage. These two packages offer complete inclusion. In short, we instead call it an all-in-one solution.
What you'll get:
Transport from your hotel to the location and back.
Make-up artist.
Our unique packing box with a USB drive and printed photos.
Entrance fee for some pre-wedding locations.
The props if you need them.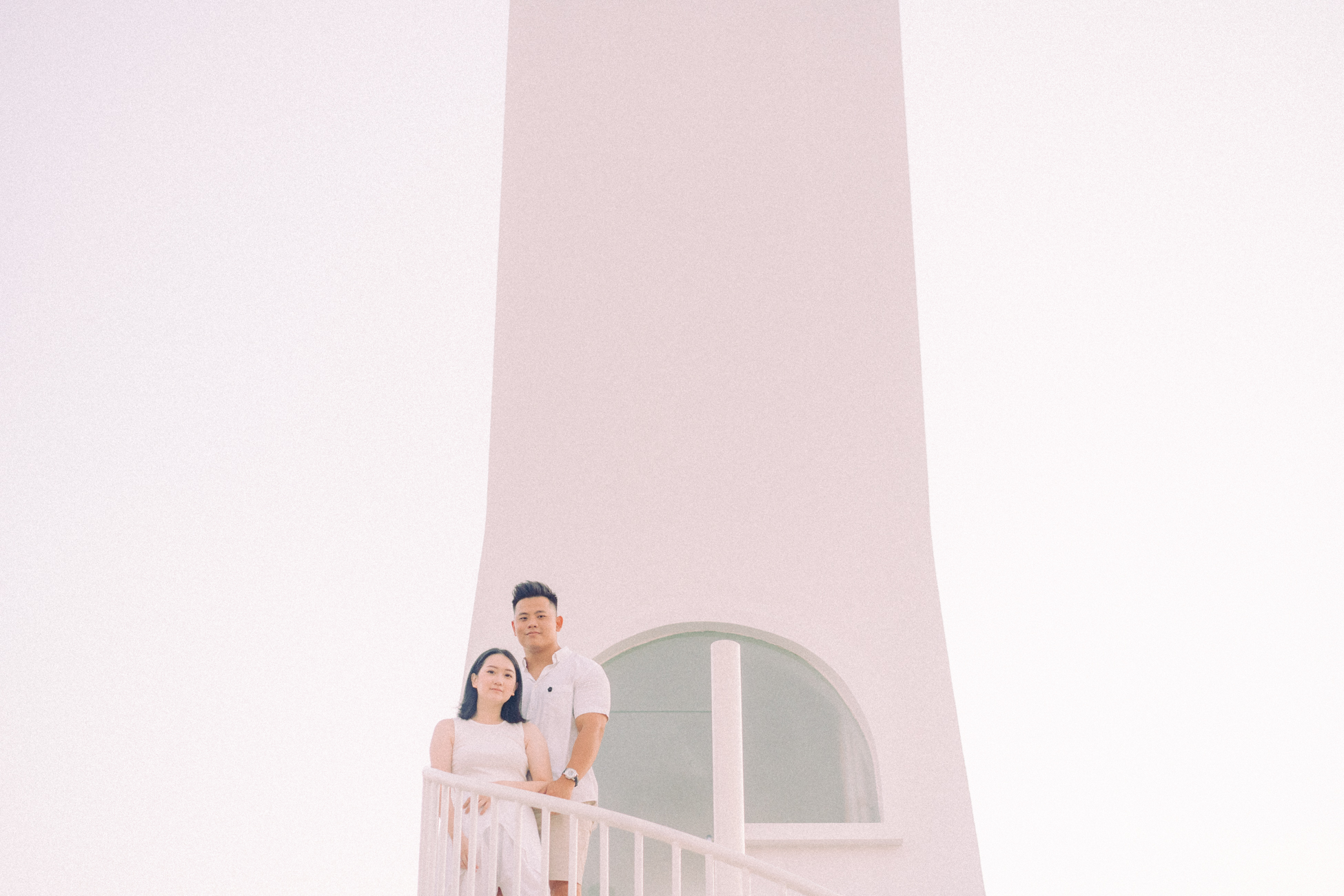 Which Engagement Package Should I Pick?
On the other hand, you may also be wondering which engagement package should you choose. All right, as the Bali engagement photographer, We need to ask you some questions before we give you the answer. Then here are the package guide.
How many locations do you want for your Bali engagement photo session? If more than 2 locations, it's better to pick the full-day package. If you choose 2 locations near each other, then the half-day package is the best.
Do you want a very intimate, relaxing, and fun pre-wedding photo session in 1 location? So the 2 hours package is the answer. It won't take so much of your energy, and it's just great for couples who look for simplicity.
That is our guide to the engagement photography package in Bali. We also have detailed guidance on the Bali photography pricing and packages here.
For more detail, you can send us an email through the contact page here. We'll be so happy to assist your inquiry further.
How to Choose Bali Engagement Photographer
There are two things to consider in choosing a wedding or engagement photographer in Bali. They are the photo or editing style and personality.
Whether you're exploring Instagram or Pinterest for a local professional, reading some top photographers' portfolio articles, or gathering friend's recommendations, it's essential to take brainstorm the photo style you're naturally drawn to.
Here's the thing, while all photographers do a mix of portrait, candid, and poses, their unique editing style remains consistent — because it represents their brand.
The Handy Guide to Choose the Right Photographers
If you are still confused a little, we have a guide for your engagement photography in Bali.
Some engagement photographers in Bali focus on darker, moody photos. It looks like a contrast-filled image.
Then some others go for light, airy, and exquisite styles.
Additionally, you should search and explore the type of image that drawns you on Instagram. Also, you could consider which style of photos look amazing on the walls of your living room.
The next important step is finding out their personalities. You might fall in love with certain photography styles, but in the end, you'll pick the one that feels comfy for you. It means that you'll enjoy being with the photographers all the time because they have become your friend.
So how would you do that?
In the beginning, you can take a look at their Instagram about page. Afterward, you should follow their daily stories as well.
If you feel good about them, you have found the right photographer for your engagement session in Bali.
Later, you should also schedule a quick and informal meetup. You could hold a short zoom meeting to say hi. It is also essential because you'll understand the photographer outside of email.
Finding the Best Engagement Location in Bali
As for now, there are more than 30s pre-wedding spots based on my experience as an engagement photographer in Bali.
Unfortunately, we only could pick a few of them. But don't worry, we'll guide you to find the best engagement photo location in Bali.
To make it more simple, we tidy it up into some categories. They are mountains landscape, forest, savanna, lake view and also some street etiquette.
Before we go further, this proposal romantic dinner in Ubud could be your proposal/engagement inspiration.
The Mountains View Pre Wedding Spots
The first option is in Kintamani. The complete location for a pre-wedding photo session. It's great if you're looking for an incredible mountain landscape, lake view, and forest combined. Let's dive right in.
Pinggan Village magical mountains landscape. The location is on the northern side of mount Batur. Here we could see Mount Batur and Agung in one array, back to back view.
The Black Lava. Just like what its name. The black lava was formed during the last Mount Batur eruption. From this spot, we could see Mount Batur from the front side. But how about the view? No worries at all; you get a unique point of view. It's Mount Batur in a perfect triangular shape. Plus, the magical sunrise will add a more dramatic mood to the engagement photos.
Pre-Wedding Photo in Black Lava, Kintamani.
Additional Spots in Kintamani
Kintamani Forest. There's a homogenous pine forest on the upper side of Kintamani. It's easy to find from the main road. In addition, you'll get outstanding fog on it. It's happening during certain rainy seasons. The mist will add a subtle texture to the images, yet so moody.
Batur lake view. On the opposite side of the mountain, there's a beautiful Batur lake. It's the largest lake on Bali island. We could do some photos session around the rock, beside the lake. The Batur Lake become the photo's background, and the hills behind it add more layer to it. It creates a fantastic composition of layers in your engagement photos.
The Farm Yard. If you like more adventure, we could stop by at the local farmyard. What's interesting here? A lovely orange tree (within the fruit, if we luck) gives a great color combo to the photos—a mix of orange, greenery, and blue sky. From our perspective, it adds more depth to your beautiful engagement photos.
The second, It's Mount Agung in Karangasem regency. It's a little farther to the east. There are many locations to explore with the view.
The Savana Land
The weather on the northern side of Mount Agung is different. It's hot, dry, windy, and has less rainfall. So there are not many plants that could grow.
The grass is the most adaptable plantation here. Some trees in addition, but not much. It all made the Savana land around Tulamben to Tianyar district.
For instance, the view is just as beautiful as we found in Sumba If we could say so. The Savana has Mount Agung as its beautiful backdrop. It's one of the engagement photographer favorites in Bali.
If you plan to have an engagement photo session here, we suggest staying for 1-2 days at a local hotel. So you won't miss the best possible light during the session.
It's great to take the photo session both at sunrise and sunset.
The Lake View
Other than Batur lake, we still have 3 more that are worth exploring. Even these are considered one of the best lake views in Bali.
They are Beratan Lake, Buyan Lake, and Tamblingan Lake.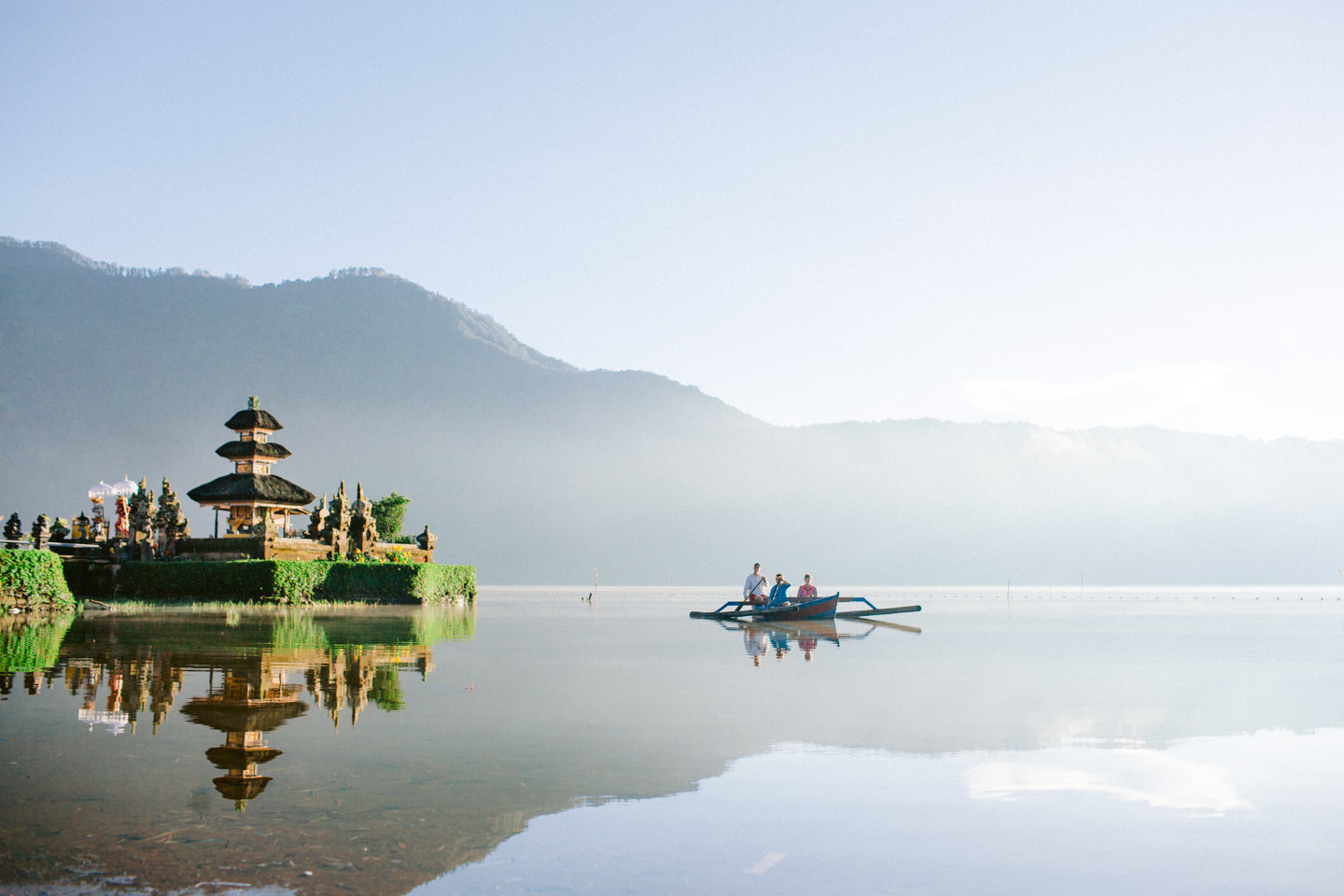 The last one is the most hype for most couples. Tamblingan lake has more to offer than the others. First, we can rent boats for IDR 700.000, so we can go around the lake. When the weather is clear, and the sun is shining through, there will be beautiful mist above the lake. It helps us to create a more dramatic portrait. Also, the forest around the lake gives more options to take more photos.
Moreover, there are two more spots near Tamblingan lake. They are Munduk waterfall and Banyumala waterfall, which we will cover on later waterfall topics.
In short, Tamblingan lake is great for a half-day engagement photo session. It covers two nearby locations. Amazing landscape view. Satisfaction is guaranteed.
The Beautiful Beaches
Well, you have already known that our island of Bali is famous for its beaches all over the shorelines. We got so many options here. Perhaps it would be a bit confusing to choose one.
Let's mention one by one the most exotic beach as your engagement photography guide in Bali.
1. Melasti Beach
It's one of the best beaches in Bali. It becomes my favorite as an engagement photographer in Bali. It has a complete package for your engagement photos. What you'll get here is a combination of a dramatic sky-scraping wall, a classical temple fate, a white sand beach, and a gorgeous for both sunrise and sunset. If you'd like to take some portraits on a VW Combi or any classic cars, you can rent it here too.
I just never get bored being here. Everything looks fantastic and mind-blowing view. The beach area is easy to reach, and you can use any sort of suitable wardrobe here.
2. Balangan Beach
Balangan beach is so perfect for sunset pre-wedding photos. It has easy access and is so popular. There are so many cliffs along with the shoreline, which becomes famous for its picture-perfect visual.
The sunset view is beyond compare. You can see our journey to Balangan Beach for detailed photos. Furthermore, we also have one wedding portfolio on the Balangan cliff wedding of Ivan and Tamara for your wedding inspiration.
3. Nyanyi Beach
It's located in Tabanan regency, close to Tanah Lot temple. It has black sandy beaches, which are a bit sloping, making it stand out for a couple of sessions with the minimalism concept. What we love here is the calmness of the beach. It has a peaceful ambiance along with fewer visitors. So we can move freely from one spot to another without any crowd interruption.
Then how about the sunset? Oh yeah, it's just amazing without a doubt.
4. Sanur Beach
Somehow it was underrated. But still, Sanur Beach has its beauty to offer. It's the calm, warm and peaceful sunrise ambiance. It has long shorelines from one in Padang Galak through Mertesari Beach.
One of the most photogenic spots is Karang Beach. It is famous for the twin Bale Bengong in the middle of the seafront. It's used as a barrier from the destructing wave.
5. Pasut Beach
A little to the western side of Tabanan, We have Pasut Beach. It's another new paradise for Instagrammers. It has a great spot for Instagram photos as well as for your engagement session.
There are coconut and pandanus trees around the beaches, making it truly different from the other beaches we have. The only thing is the travel time from Denpasar. It needs 1,5 hours to get there.
It's perfect for 2 hours or a short session pre-wedding session. But it is also good for a half-day or full-day engagement package as long as the location is near each other. So we can have more time to relax during the session.
The Best Time for Shooting
Timing is so crucial in photography. But don't worry, we'll handle this very well. We will guide you in detail to get the best of your engagement photography in Bali.
As most photographers suggest, the best time for shooting engagement photos in Bali would be in the early morning and later in the afternoon.
Why? Because those two timings have the most intriguing light for a photo session.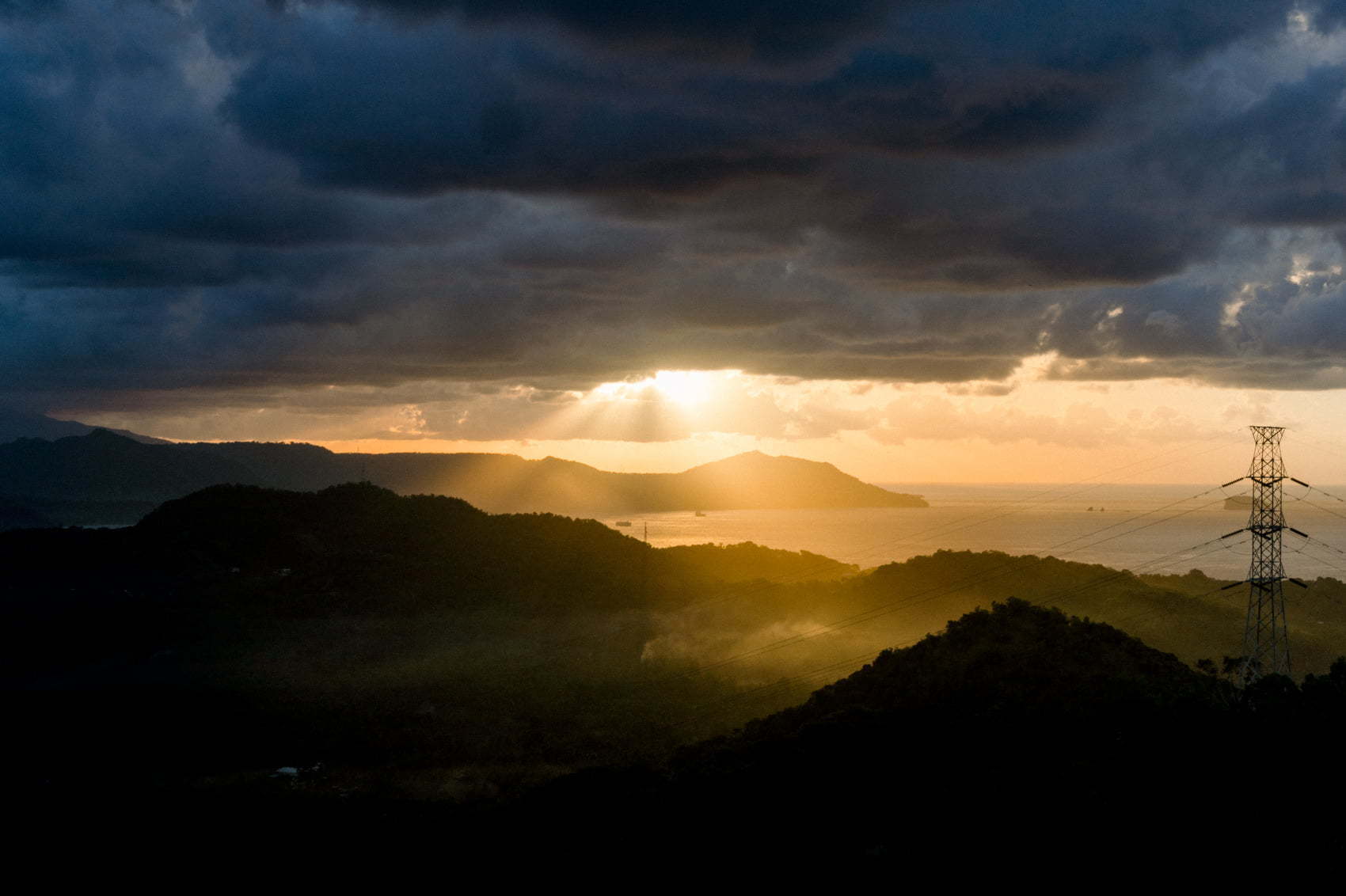 Soft, less contrast, and warm light. It's the key element to creating a dreamy, moody, and adding a sense of depth to the engagement photographs.
One when the sun is rising, the other when it's set.
Which Spot is better for Sunrise or Sunset?
But which engagement spots have a great ambiance at sunrise? Which is better at sunset? Here's the simple algorithm to fix that.
Once you choose mountains or lake view engagement spots, it would be better in the early morning. Then most of the beaches in Bali would be great in the afternoon. It's just as simple as that.
If you plan a full-day engagement photo session, we'll start from the mountain or lake view. Then at the end, we go to the beach.
Moreover, there's one thing you should be well-prepared for during the early morning engagement session. As we go to the locations around 4 a.m, you should start your make-up earlier. The proper time would be around 2 a.m. It usually takes 1,5 to 2 hours in the make-up and dress-up.
So you have to sleep earlier as well. Save your energy. Then don't forget to have a simple breakfast before we start the photo session.
What to Wear
There you go. Let's dive into the outfit guide for your engagement photography in Bali.
Some people love to wear a dress and formal suits. The others love to get more simple with a very casual outfit. You can pick the best outfit for you and your fiance, as you are comfy.
If you're asking us, it is quite a bit different. As the engagement photographer in Bali, we determine the outfit based on the location you choose. Some locations are not friendly enough for your heavy-weight outfit. On the other hand, the ambiance color of the pre-wedding location is also the key to mixing and matching your outfit's color.
Less is More
For us, Less is more when it comes to choosing the best outfit.
We recommend soft, subtle, and neutral colors for a classic, timeless look. In contrast, muted tones like beiges, taupes, blacks, and whites are the most flattering.
Please consider avoiding deeply saturated or bright colors like vibrant red or orange. Why? Because those bright colors could reflect on your face, mostly at noon when the sunlight is a bit harsh.
For Her
We prefer a long-flowy dress and skirts. What makes them great is that they convey a sense of subtlety in your engagement photos. Moreover, the curvy edge of the dress creates a depth of movement. Mostly on a windy day, when you walk and sometimes hold that dress a little.
So next, there are a few things that you should avoid. It's pants and shorts. Unless you want it on a more casual session, in the street, for example. Also, please don't wear high heels. It would make it harder to walk. That means less in terms of dynamic. Our recommendation? Just use easy-to-take-off flats or shoes.
For Him
We'd love to portray the masculine looks of the men. In this case, our suggestion is to go for long pants and close-toed shoes. They look sophisticated.
Furthermore, you can also wear short pants probably when you have a more casual session at the beach.
If you prefer more accessories for your outfit, you can add ties or bowties, colored shocks, belts, suspenders, and vests. Oh, one more thing, I forgot to mention the watches, another essential for men's authenticity.
The Tips & Tricks That are Works
It is always tempting to wear a brand new outfit. But please make sure that comfort should be your priority.
You can still buy fun and fresh new outfit, but don't use them on the first day at your engagement shoot. You have to get used to wearing it. Wear ut for a dinner, and get some iPhone photos on it. Then see if you truly like how it looks.
How we Approach the Couple
Our clear principle here is to psychologically close with both of you as our clients. We've been handling so many couples to date. The best way to get the best of them is to be close to each other.
We want to call it to be a friend first. Does it matter during engagement photo sessions?
Oh man, yes it is.
Just be happy and enjoy the photo session.
No matter how many times you tried to pose a couple, you will likely fail if you don't get very close to them and be their friends. Looking for the way we do with the clients? Follow our definite guide to Bali couple photoshoot ideas.
Because for us, engagement photos should reflect your personality. It's full of emotion, connection, and all the personal things that belong to you and your fiance.
Those kinds of elements are only acquired when we have successfully been your true friend. It's something that connects the photographer, as a visual storyteller, and you as the client. If you've been comfortable with us, then we are sure that your session going to spark.
We will always guide you and be your friend, not for once but long last even after your engagement photography in Bali has finished.
How Long to Take the Engagement Photos Ready?
Well, the time has changed. So the trend was moving as fast as lightning.
We used to finish our engagement photography in 2 or 3 weeks after the sessions. But now it's different. We have changed and adapted a little bit to suit your need.
We'll send the preview of your engagement photos a day or two after the session. It would be around 10 best photos during the day. We do a quick selection and edit, then send it right to your phone.
What about the other photos? Sure, it would still take 2-3 weeks to work on because post-processing is a time-consuming process that we carefully craft. It's to make sure all of your photos look great and flawless.
But there's one more thing. Once if you were also interested in using film as an additional medium for your photo session, it could take longer. Because we need to develop and scan the film through overseas photo labs. For a simple example, you can visit our film photography journal here as a start.
After that, we'll send it all to your email through google drive's link. As simple as that.
Conclusion
So that's it—the ultimate guide from my point of view as an engagement photographer in Bali. Furthermore, you can take a look at our ultimate guide for your wedding photography in Bali. In case you have already prepared the wedding as well.
It could take some steps and preparation, but don't worry. We'll always be ready by your side to assist and guide you no matter which Bali engagement photography package you choose. Even we have an engagement videography package if you want an all-in, easy and simple package.
Just make it all simple, then we'll add some awesomeness to it.
Cheers.
— wynprmn
Home » Engagement »