Bali Wedding Photography: Ultimate Guide for Couples
Introduction
Congratulations! Your wedding day is one of the most important and cherished moments of your life. Every couple dreams of a perfect wedding that reflects their love and captures the essence of the moment. When it comes to documenting your special day, Bali Wedding Photography stands out as the epitome of excellence and artistry.
In this article, we will delve into the world of Bali Wedding Photography, exploring its unique charm, the expertise it offers, and the memories it creates.
Furthermore, We will also cover how to find a professional photographer to capture your wedding photography in Bali, how much is the Bali wedding photography price, what's included in the package, and what are the things that should be captured perfectly.
Let's dive in.
Bali Wedding Photography: Immortalizing Your Love
Bali Wedding Photography is not just about capturing images; it's about creating lifelong memories that you can treasure forever.
With its stunning landscapes, vibrant culture, and breathtaking natural beauty, Bali serves as an exquisite backdrop for your wedding.
Bali Wedding Photography professionals have mastered the art of telling love stories through their lenses, ensuring that every frame exudes emotion and captures the essence of your special day.
The Expertise and Experience Behind Bali Wedding Photography
When it comes to Bali Wedding Photography, you can expect nothing but the best.
The photographers in Bali possess years of experience, technical expertise, and an eye for detail that sets them apart. Their artistic vision combined with their knowledge of the local culture and locations enables them to create truly exceptional wedding albums.
From intimate beach ceremonies to lavish villa weddings, Bali Wedding Photography professionals have the versatility and skill to capture the unique charm of every celebration.
Exploring the Bali Wedding Photography Experience
Choosing the Perfect Location/Venue
One of the key aspects of Bali Wedding Photography is selecting the perfect location for your photo shoot.
Bali offers a plethora of options, from stunning beaches to lush rice terraces and picturesque waterfalls. Each location has its own distinct beauty, providing couples with endless possibilities for their wedding photography.
Whether you envision a romantic sunset shoot on the beach or a whimsical session amidst the rice fields, Bali has something to offer for every couple.
Here we sum up the most magnificent and memorable location/venue for your amazing wedding photography in Bali.
The Cliff-Edge Cabana at Alila Villas Uluwatu
The Edge defies both tradition and gravity. Clinging to the brink of a 500-foot sea cliff at Uluwatu, Bali. The Edge is one of Bali's new breeds of 'Super Villas,' promising visitors the opportunity to 'experience magnificence' seemingly at the very edge of the planet.
This wedding venue, located on the magnificent Uluwatu cliffs on Bali's southern shore, provides state-of-the-art villas created by the famed Singaporean architectural firm WOHA.
It's one of the great wedding venues for outstanding and memorable photography in Bali.
Villa Latitude Bali
Latitude Bali, located in Nusa Dua, provides its visitors with the finest level of discreet and professional service to meet their every need. Guests may enjoy a balcony and an outdoor pool. On-site private parking is available for free.
As the most luxurious 6-bedroom Bali villa on the island. It pampers visitors with 6 luxurious Bedroom Suites, the Master Suite, the Pool Suite, and 4 Guest Suites, which can accommodate up to 12 people in supreme comfort and solitude.
Indeed, Latitude Bali is the best private Bali villa experience because of its award-winning design, iconic architecture, and sumptuous accommodations. It's the essence of a photogenic spot for your wedding photography in Bali.
The Surga Villa Estate
If you've always wanted to have a large and gorgeous wedding in a private villa but are concerned about the practicalities, look no further than The Surga Villa Estate.
This gorgeous clifftop property (with ocean views for miles) is not only a stunning site for saying "I Do," but it's also fully equipped to make your Big Day a tropical island breeze. Surely, It really fit the best Bali wedding photography experience you'll get.
This huge estate on Bali's Bukit Peninsula comes equipped with its own staff of event planners, as well as direct contact with world-class vendors, a purpose-built aisle that appears to float over the shimmering infinity pool, and up to 13 master bedrooms for the whole wedding party.
It's best for a magnificent and expansive private wedding villa with impeccable functioning.
Villa Tamarama at The Ungasan Clifftop Resort
If a six-star private villa resort is your ideal Bali wedding venue, The Ungasan may be the place for you to say "I do." This secret utopia of beautifully planned homes is a true stunner.
It's a spotless paradise in Bali, with the type of mod-cons you've only seen in movies. There are nine wedding locations to select from.
Furthermore, those nine wedding locations would make your Bali wedding photography look like heaven.
They are Sundays Beach Club (with its white-sand private beach, sparkling lagoon, and gourmet treats), seven private villas (each with its own cliff-edge infinity pool), and Selatan Restaurant with its impeccably groomed lawn and panoramic views.
It's the best for stunning vistas from the cliff's edge and celebrity-style gatherings under the stars.
The Glass House at Tirtha Bridal
Its beautiful assortment of locations is a favorite among Bali's brides-to-be, with The Glass House being our personal favorite.
This magnificent outdoor theatre, as the name indicates, is interwoven with sleek glass exteriors and reflecting artwork meant to capture both the moon and starlight.
Notably, this one-of-a-kind (and oh-so-dreamy) architecture is then matched with a fairytale garden idea reminiscent of an enchanted woodland — the clever work of Salad Dressing, a Singapore-based landscape design firm.
With so much open and groomed areas to work with, the arrangement possibilities are limitless. So do the possibilities for unforgettable Bali wedding photography you'll get.
Moreover, there are three stunning bedrooms, a garden with a spill-out deck, a greenhouse area, a pool terrace, an amazing lobby lounge, the spectacular Yellow Bamboo Garden decorated with colorful orchids, and the Plumeria Room with glass walls that expose the enchanting forest beyond.
Ideal for: An classy event in a magical setting.
The Wedding Deck & Tresna Chapel at AYANA Resort & Spa Bali
As one of the world's premier resorts, it's no wonder that AYANA Resort & Spa Bali offers 11 amazing wedding locations to choose from.
Certainly, the grandiose AYANA Villa — a 3000 sqm remote, cliff-edge location with its own wedding terrace that appears to float over the Indian Ocean – is our favorite.
That is very magical for your Bali wedding photography.
Moreover, if you're looking for something more conventional, consider the Tresna Chapel. It's a completely air-conditioned venue with glistening ocean views, a private driveway with a porte-cochere, a VIP Bridal Villa, and a see-through glass aisle with a flowing, stone-lined river leading to the stunning glass altar.
It's ideal for a wonderful array of venue possibilities, each with gorgeous vistas and unique configurations.
Majestic Chapel at Ritz Carlton Bali Nusa Dua
The view of the shimmering Indian Ocean from the glass-lit interiors of the Majestic Chapel feels and looks nearly like the paradise that you've been yearning for to get married. Well, it really looks magical for your wedding photography in Bali.
The entry to this displays two rings that are joined to form the symbol of eternity, which adds to the almost quaking emotion of enormous love.
On the other hand, the venue's Cliff Lawn can hold up to 600 people. When I originally visited the location for a client, the scenery from this section particularly impressed me. And I can assure you that it will take tremendous willpower to even close your eyes to the beauty that it opens up for everyone.
The All-Day Dining Restaurant, located in front of Senses, is an open-air venue that can accommodate wedding festivities for up to 400 guests.
White Dove Chapel at Banyan Tree Ungasan Bali
The White Dove Chapel, created by renowned Indonesian architect Sardjono Sani, is adorned with 300 beautiful white doves that cover the whole edifice. Surely, you'll get a magnificent wedding backdrop for memorable photography in Bali.
Well, this represents the four love ideals: purity, tranquillity, love, and eternal married happiness! It is about 70 meters above sea level, stretches from the cliff edge, and appears to float on the ocean.
The chapel's pure white and glass interior offers an enthralling view of the beautiful blue ocean. The bride, her maids, and the guests must approach by a white walkway that appears to float over the ponds that surround it.
Tirtha Bridal Uluwatu
Tirtha Bridal has a variety of locations to choose from, each one unique and beautifully lovely. One of the most notable is the Tirtha Uluwatu, which offers a royal vista from the Uluwatu clifftop. The greatest sunset view from the south of Bali and surely it will be amazing wedding photography.
Precisely, it takes into account the bride and groom's individual tastes and preferences. Everything from the theme colours to the floral arrangements, and everything in between, was meticulously coordinated.
The Villa by Tirtha is yet another amazing wedding venue that offers a spot fashioned like a beautiful gondola adorned with fresh bouquets for the newlyweds to say their vows.
The construction is designed in such a manner that the gondola appears to be perched on the seaside infinity pool, in front of a massive Indian Ocean and beneath infinite blue skies.
Khayangan Estate
The Khayangan Estate in Bali is without a doubt one of the most opulent wedding locations on the Indonesian island. The term "Khayangan" really means "Seventh Heaven," and after you've been there, you'll understand why.
Above all, the Estate is magnificently built, with two groups of classic, wooden Javanese buildings that were originally held by island noblemen.
These historic teakwood villas, located in Bali's lushest gardens, have 6 bedrooms and can accommodate up to 12 people in ordinary and up to 200 people for a wedding event with a Function Fee.
Kamandalu Ubud
The Kamandalu Ubud is a stunning resort and wedding venue that overlooks the lush, tropical Ubud and the tranquil waters of the Petanu River. The unique feature of this resort is that it has been meticulously designed to adhere to the ancient Balinese way of life.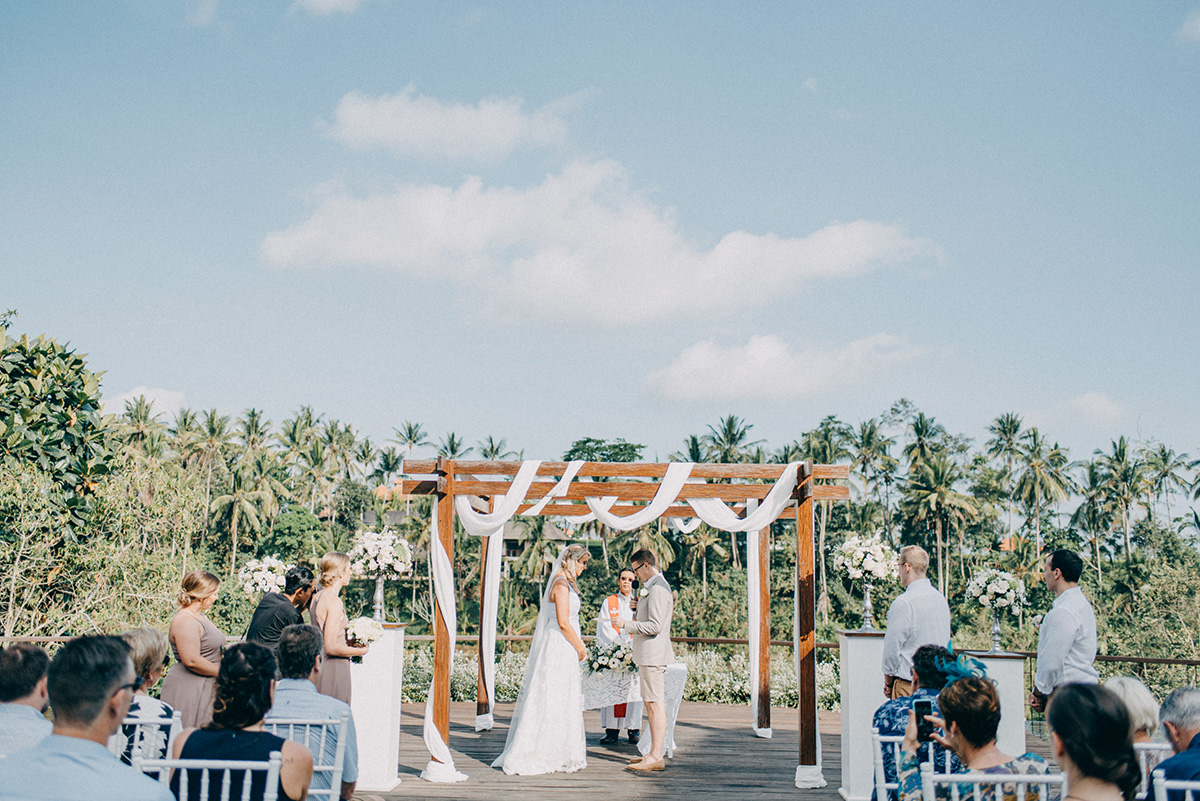 Furthermore, the resort handles almost everything for a wedding celebration, placing the highest focus on the newlyweds' likes and preferences.
Every single detail—from flower arrangements and food services to legal documentation—is taken care of by the resort to guarantee that your ideal wedding is realized totally on your terms in a highly personalized event.
Samabe Bali
So, if you're in Bali and searching for a beach wedding venue, don't pass over the Samabe Bali Suites & Villas.
The site offers breathtaking views of the huge Indian Ocean, giving it the ideal setting for your dream beach wedding with toes in the white sand and pure blue ocean.
Moreover, the Samabe Bali Suites & Villas provides six distinct wedding packages, the most popular of which are the Bali Beach Wedding and the Dream Wedding by the Beach Cave.
Balangan Cliff Wedding
The Balangan Cliff, located just outside Jimbaran, is the type of Bali elopement wedding setting you've probably only seen in movies.
This high cliff offers an awe-inspiring view of the Indian Ocean with a hypnotic skyline as a background for your wedding.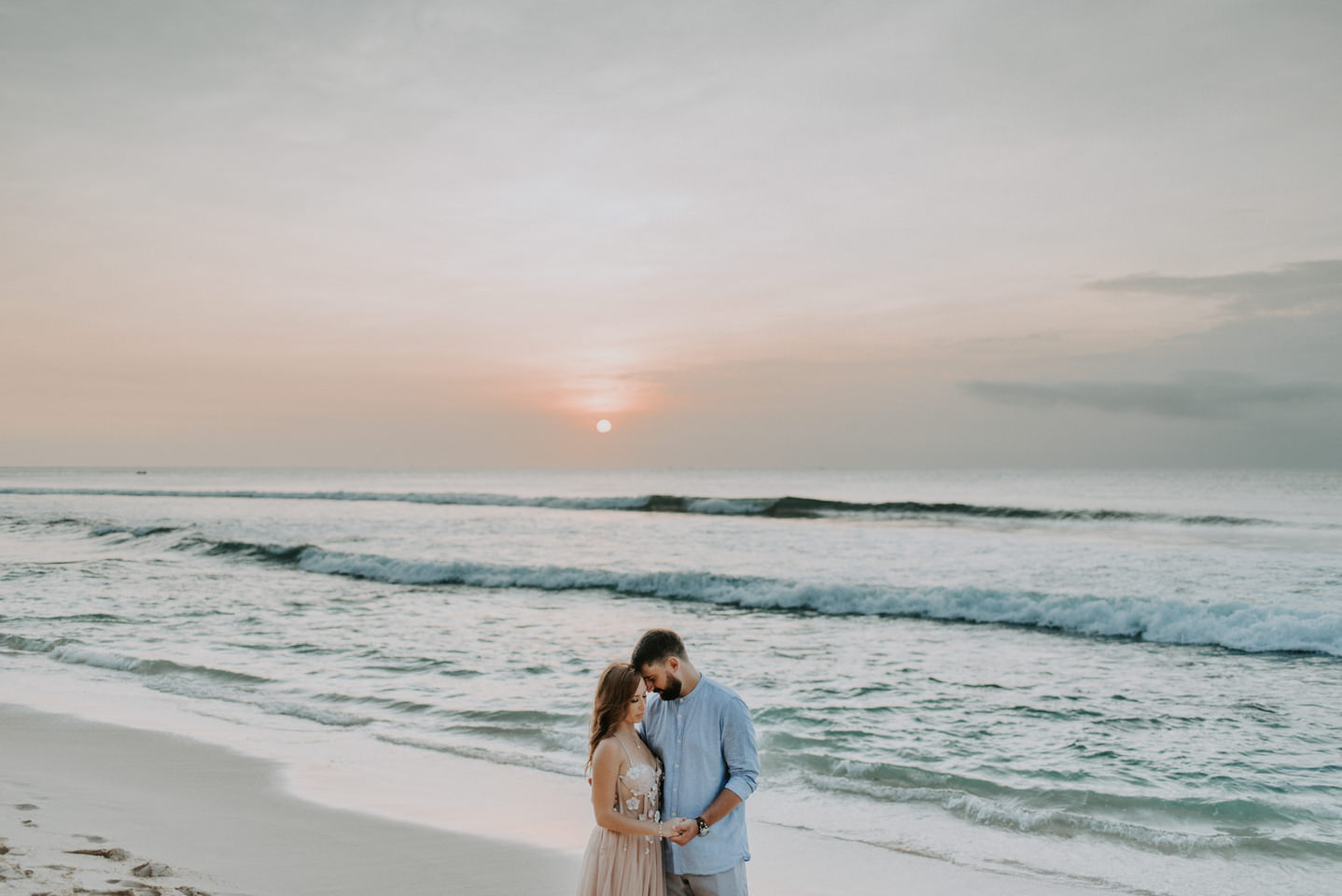 The Balangan Cliff wedding venue is excellent for small private ceremonies and can accommodate up to 20 people.
Moreover, ceremonies such as Renewal of Vows Blessing, Commitment Ceremonies, and Legal Weddings are all permitted.
You might also have wedding ceremonies or afterparty celebrations at Balangan Beach in the Bukit peninsula, with the wind and sand on your skin and spirit.
Pre-Wedding Photography: Capturing the Love Story
Pre-wedding photography is a popular trend among couples, allowing them to capture their love story in a more relaxed and intimate setting.
Bali provides a myriad of locations for pre-wedding shoots, ranging from majestic temples to hidden waterfalls and luxurious resorts.
These sessions allow couples to express their unique personalities and showcase their love in a personalized and creative way.
Wedding Day Coverage: Every Moment, Every Emotion
On your wedding day, Bali Wedding Photography professionals will be there to document every moment, ensuring that no precious memory goes unnoticed.
From the nervous excitement of getting ready to the heartfelt exchange of vows and the joyous celebration that follows, every emotion will be beautifully captured.
The photographers blend into the background, allowing you to fully immerse yourself in the festivities while they work their magic, creating timeless images that tell your love story.
How to Pose for Wedding Photos
You might have picked the best wedding photographer and venue in Bali. So let's move on to prepare the wedding photos guide.
In our 7 years of experience, we have made a lot of approaches to couples. We love to mix the natural pose and emotion with some staging poses as well.
Furthermore, here we compile the simple Bali photography guide for your wedding day.
Natural Posing Techniques
We found a few moments where our couples require assistance when it comes to posing organically. One of the most common problems? Too quickly ending a frank, natural moment.
We usually encourage our couples that if they feel inspired to do something or move naturally, don't stop.
Most of the time, We have couples who are perfectly smiling and laughing, and then they remember We're there and pause to make sure they're in the appropriate posture.
Simply keep going. As the wedding photographer, We will inform the couples if they don't look well.
Admiring the Dress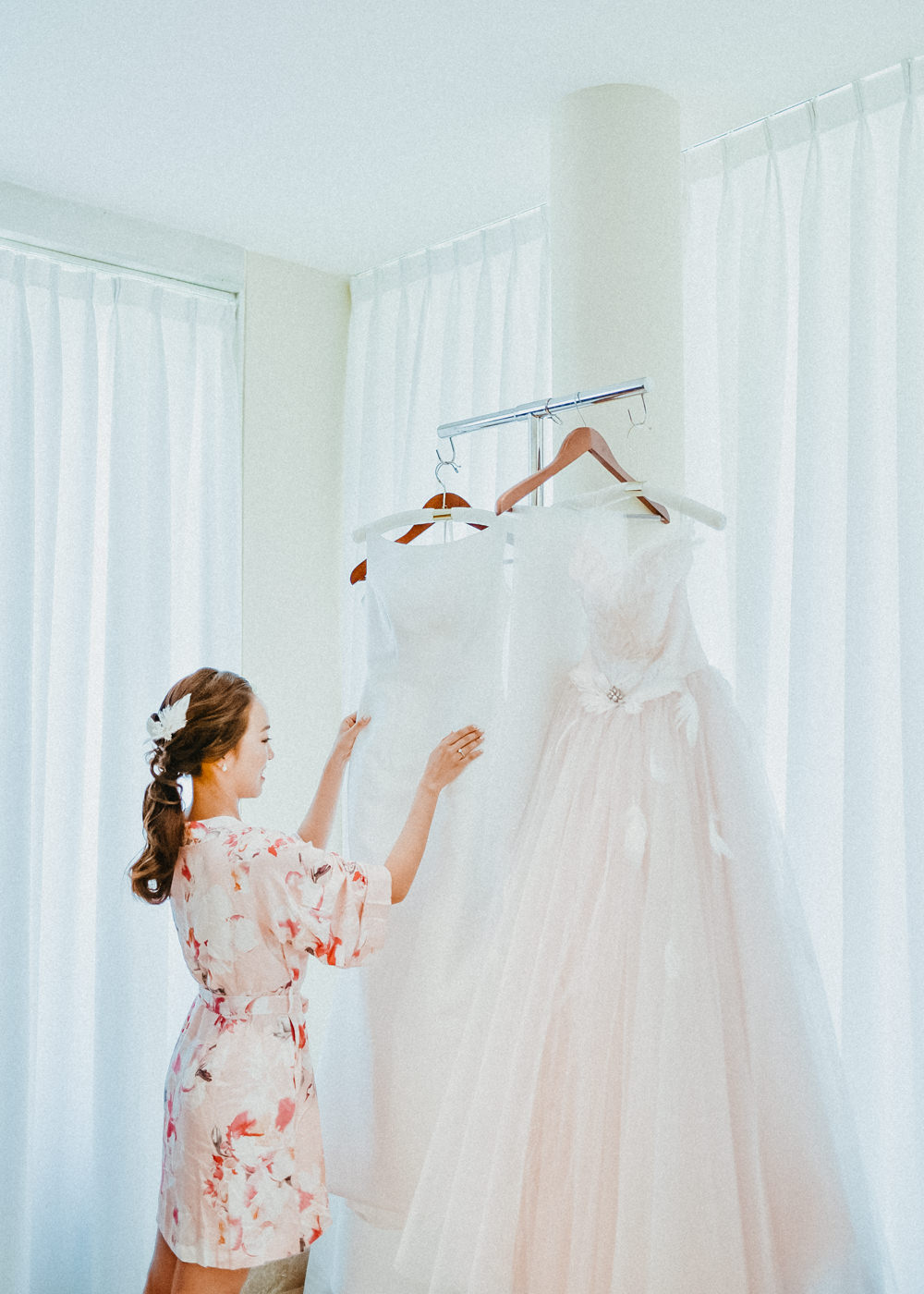 Brides may wait months, years, or even a lifetime to wear the perfect gown.
That's why photographers love photographing her admiring her gown before she puts it on.
Tying the Bow Tie
Photographers like capturing critical moments during wedding preparations, such as the groom fixing his tie.
Lacing shoes, buttoning a suit jacket, and fixing a watch are all examples of similar images.
The First Look
The first glance on the wedding day is one of the most crucial images, but couples should not even consider the photographer.
Allow the moment to unfold while fully accepting your emotions (tears and all), knowing that the photographer will catch every detail along the way.
The Twirl
Wedding gowns are stunning from every perspective, but they truly come to life when twirled.
The bride twirls around in this stance, almost like a dancer. The finished image is bright and alive with movement.
Candid Laughter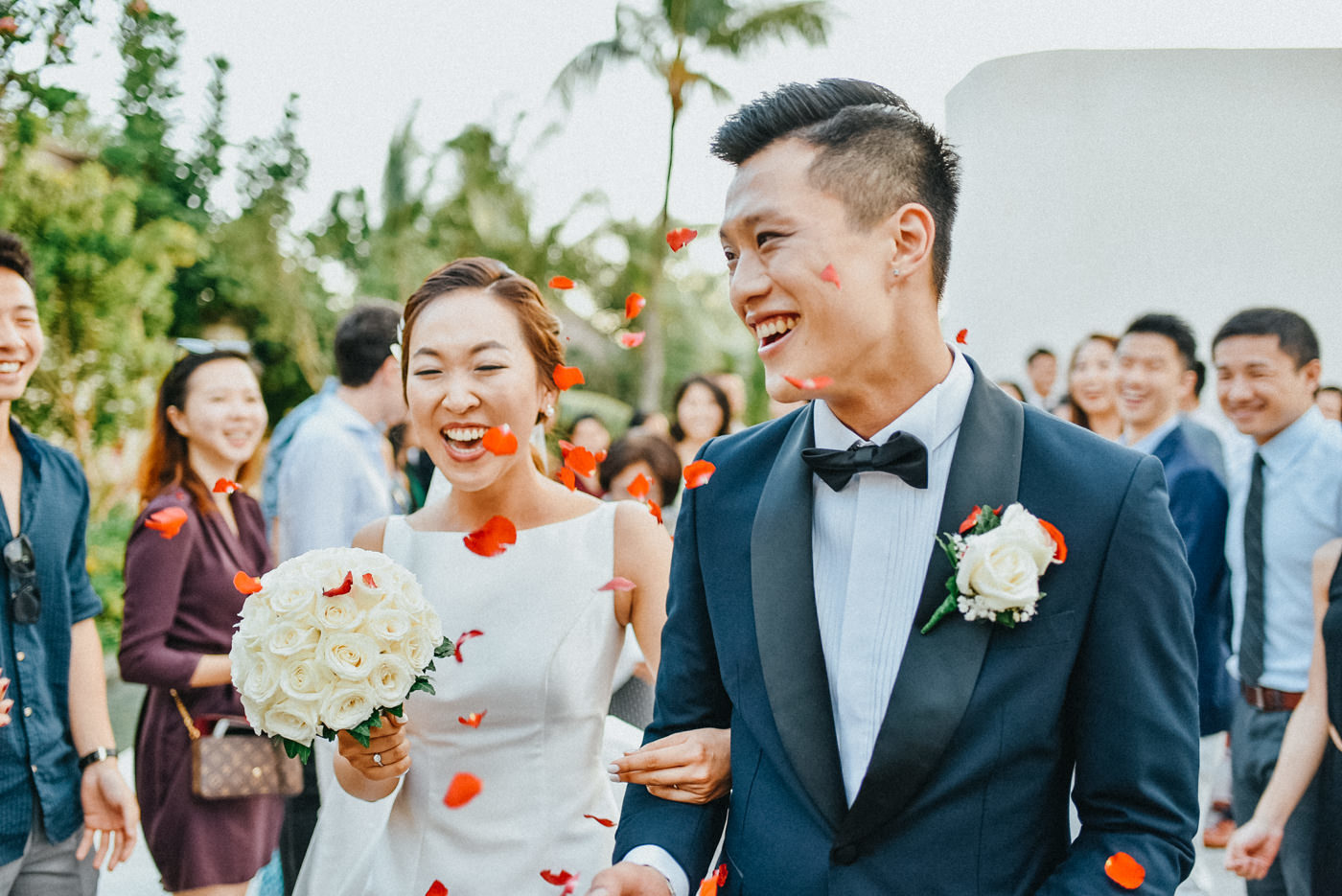 On camera, genuine laughing always looks amazing.
So most professional Bali wedding photographers typically recommend these moments during prep time. But they are also appropriate for couple and wedding party photographs.
The Forehead Kiss
A delicate peck on the brow is one of the most picturesque kisses. During portrait wedding sessions, photographers frequently request at least a few of these adorable poses.
Above all, it's one of our favorite poses in the Bali wedding photography industry.
The Stroll
However, the stroll catches some of the couple's most personal moments.
This stance is appropriate for any setting, from a street to a field, and it looks just as well in images as it does in the wedding film.
The Subtle Glance
Wedding photographers adore capturing a slight look at the camera.
Exclusively, this attractive position will be used throughout the day, from preparation to couple photographs and wedding portraits.
The Cake Cutting
One of the most classic wedding photos is cake cutting, which can be staged or impromptu.
Meanwhile, the catering staff will supply the cutting tools and instructions. Then the wedding photographer will document everything from the first cut to the first mouthful.
Wedding Photoshoot List
You've put in a lot of time and effort to organize your wedding. As a result, you certainly want to capture it in the greatest possible way.
And, while you should have faith in your professional Bali wedding photographer, it's always a good idea to plan out the specific shots you want for your wedding.
Creating a shot list and sharing it with your photographer is a win-win situation. It ensures that you'll receive the particular photographs you've envisioned.
Most importantly, it makes your photographer's job easier by providing instructions to work with. Not to mention that it offers them peace of mind knowing that as long as the shot list is followed, you'll be a satisfied client.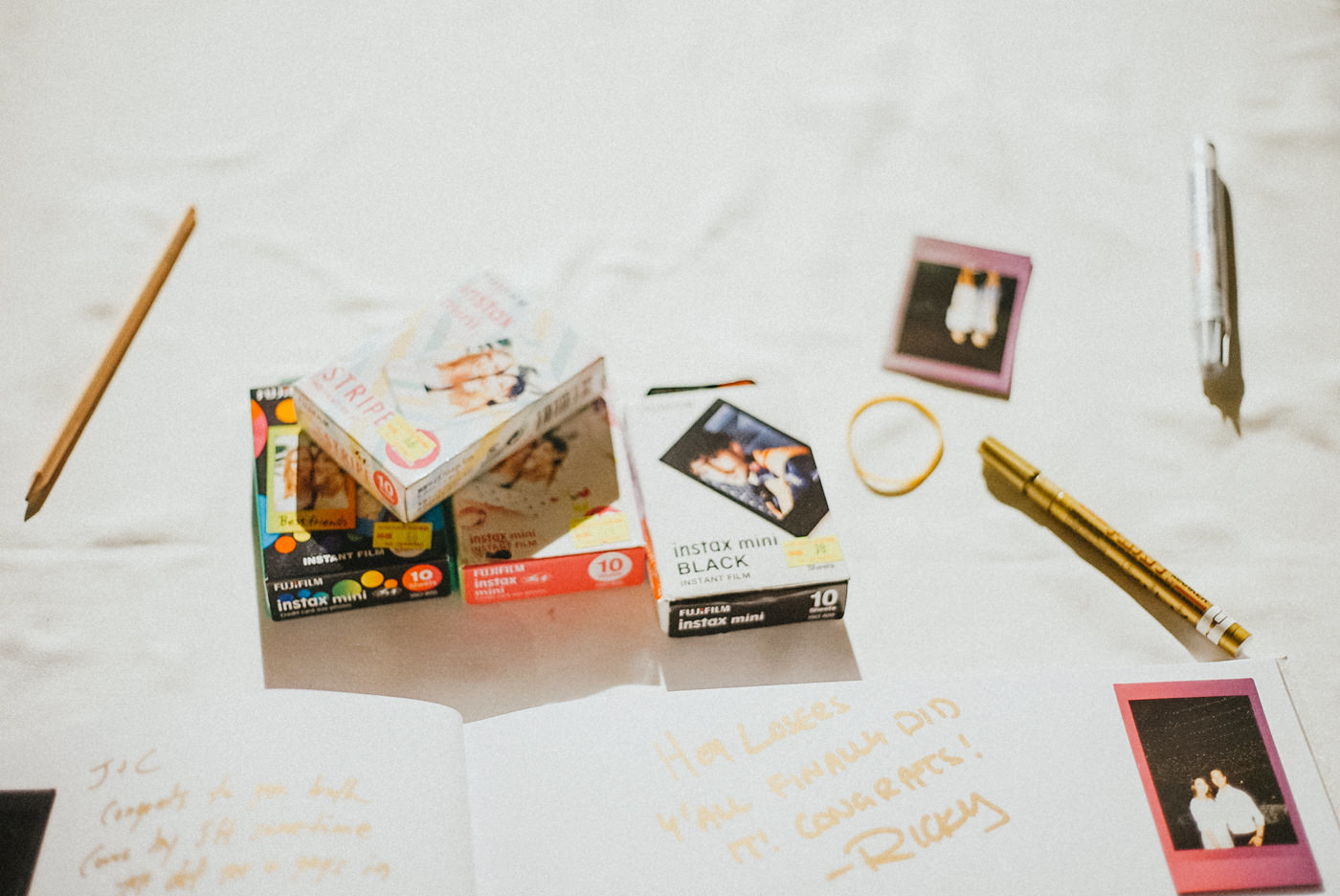 How Should a Wedding Photo Shoot List Be Used?
Well, you should choose a half-dozen must-have images and share them with your professional Bali wedding photographer well in advance of your wedding day.
That way, they may make a mental note to be creative and capture the organic and exciting events as they emerge.
Regardless matter what you tell your photographer, you'll receive plenty of images throughout the day.
However, if you have a certain vision, it is critical that you articulate it. You can use the sample shot list below as a starting point and expand from there.
1. DETAILS
Invitations, program, unique signage, and presents
Wedding rings
Wedding gowns/suits
Shoes, cuff links, and jewelry are examples of outfit accessories.
Corsages, boutonnieres, and bouquets
2. GETTING READY
Hair and makeup for the bride(s) and bridesmaids
Wedding party having a good time
Portraits of the mother with the bride/groom
Photos of the father and bride/groom
Group portraits of the family
3. PRE-CEREMONY
The couple is alone for their first look.
Bridesmaids/flower girls with the bride(s)
Groom(s), groomsmen, and ring bearer
4. CEREMONY
Photographs of the venue, including the ceremony place, flowers, interior, and exterior elements
Guests are greeted by the groom and groomsmen who are waiting inside the venue.
The arrival of the bridal party
Bride(s) making their way down the aisle
Groom's response
The groom/father/mother bride gives her away
The exchange of vows
The ring exchange
The first kiss as a married couple, and the subsequent instant
Signing the marriage license
The recessional period (couple walking back up the aisle)
Tossing confetti
5. THE GROUP PORTRAITS
Bride and groom with bridesmaids/groomsmen
The couple and their wedding party
Bride(s) accompanied by bridesmaids/maid of honor
Groom(s), groomsmen, and best man
Couples with children
Each set of parents should be paired with a couple.
Couples who have both sets of parents
Siblings and couple
Couple with immediate family members
6. RECEPTION
Details and photos of the room décor, such as table arrangements, place cards, favors, centerpieces, and so forth.
Detailed photos of a wedding cake
The grand entry
Speeches and toasts
Cutting the cake
The very first dance
Bride(s) and father(s) dancing / groom(s) and mother(s) dancing
A couple mingles with the visitors
Dancing among the guests
Music and DJ
Post-Wedding: Creating Artwork for a Lifetime
After your wedding day, Bali Wedding Photography continues its enchanting journey through the post-wedding phase.
Skilled editors and retouchers meticulously enhance and refine your images, transforming them into stunning works of art.
The photographers' attention to detail ensures that each photograph is a masterpiece, capturing not only your physical appearance but also the emotions and atmosphere of the day.
The final result is a collection of images that you will treasure for a lifetime.
Frequently Asked Questions
What makes Bali Wedding Photography unique?
Bali Wedding Photography stands out for its unique blend of artistic vision, technical expertise, and the enchanting beauty of Bali itself.
The photographers in Bali have a deep understanding of the local culture, allowing them to capture the essence of your wedding in a way that is authentic and meaningful.
How do I choose the right Bali Wedding Photography professional?
Choosing the right Bali Wedding Photography professional is crucial to ensuring that your special day is captured flawlessly.
It's important to review their portfolio, read client testimonials, and have a personal consultation to discuss your vision and expectations.
This will help you determine if their style and approach align with your preferences.
You can follow our guide to finding the best Bali wedding photographer. In order to assist you in finding the proper individual to entrust with this duty.
1. First, Reserve Your Wedding Venue.
After you've booked your location, it's a good idea to hire a professional Bali wedding photographer. Aim to hire him or her around nine months before the wedding.
2. Consult Your Social Network for Suggestions.
First, you can ask recently married friends whose wedding images you liked. Then you can get ideas from your wedding coordinator or reception venue manager.
3. Determine Your Preferred Photography Style.
Do your research and spend some time developing a feel for the photographic style you want. Maybe it's bright and full of vivid hues. On the other hand, maybe you like a more vintage style with washed-out tones and a dreamy, nostalgic vibe.
For example, you can go to our Intimate Wedding in Ubud as a starting point. Afterward, you should check our photography portfolio as well.
Once you've discovered a professional Bali wedding photographer whose aesthetic you like, email each one to see if they're available on your wedding day and to enquire about their photography fees.
If the ones you're interested in are available on your day and their costs are within your budget, you may set up first consultations.
4. Conduct Interviews with the Photographer.
Before your first meeting, a professional Bali wedding photographer will send you a link to their photographic portfolios. Make certain that the collection contains current weddings that he or she has photographed from beginning to end. Rather than merely a "best of" highlight photo from hundreds of various weddings.
Certainly, this is a more accurate method of evaluating the photographer's work. Also, inquire whether the photographer has photographed in your location and if so, request to see those images.
Find out who will be shooting on your wedding day at the meeting. Some bigger studios in Bali employ many professional photographers and even single-person businesses.
It's not uncommon for the photographer to delegate images of the groom getting ready to an assistant while he focuses on the bride and bridesmaids.
In short, you should request to examine the work of the photographer (or photographers) who will be managing your wedding in Bali in all situations.
5. Go Above the Price.
A professional Bali wedding photographer charges an all-inclusive cost that includes albums, prints, and high-resolution photographs. While the others charge a fixed or hourly amount and then charge you à la carte for any wedding photography or albums you choose.
Many photographers provide a price list that explains the many packages they provide at various price ranges. Make certain that you comprehend everything that is offered.
Inquire about how long the photographer will spend with you. If there will be a second shooter, this will allow you to capture more detailed photos.
6. Trust Your Instincts.
It's time to make a selection once you've assessed each Bali photographer's work and costs. Afterward, limit your alternatives.
Don't forget that you'll be spending the whole wedding day with this individual. So make sure you're entirely at ease with them.
Do you and your fiancé actually like this individual? Do you think the three of you get along?
7. Plan a Test Run.
An engagement or pre-wedding photoshoot is usually a wonderful idea—it's a terrific chance to get to know your photographer and begin to feel comfortable having your photo taken, which is especially important if you or your groom are camera-shy.
You can go through our ultimate engagement photography guide in Bali for further guidance. Do you need a wedding videography guide in Bali as well? Here we go.
What are the best locations/venue for Bali wedding photography?
Bali offers a wide range of breathtaking locations for wedding photography.
Some popular choices include the iconic beaches of Seminyak and Uluwatu, the lush greenery of Ubud's rice terraces, and the dramatic waterfalls of Sekumpul.
Each location has its own unique charm and provides a stunning backdrop for your wedding photographs.
Here are a few notable ones:
Alila Villas Uluwatu: Perched on a cliff top with sweeping views of the Indian Ocean, this luxurious venue offers a modern and minimalist setting for a stylish and contemporary wedding.
Ayana Resort and Spa: Known for its iconic Rock Bar and stunning ocean views, Ayana Resort and Spa provides multiple wedding venues, including private cliff-edge gardens and picturesque beachfront settings.
Bvlgari Resort Bali: Set atop a cliff overlooking the azure waters of the Indian Ocean, this elegant resort offers a combination of Italian sophistication and Balinese charm. Its cliff-top wedding chapel provides an unforgettable backdrop for ceremonies.
Four Seasons Resort Bali at Sayan: Nestled in the lush greenery of Ubud, this serene resort offers a romantic and intimate setting for weddings. Exchange vows in their riverside pavilion or amidst the tranquil rice terraces.
Villa Infinity Bali: Located in Canggu, this private villa boasts a vast garden, a stunning infinity pool, and panoramic views of the surrounding rice fields. It offers a picturesque and intimate venue for couples seeking a romantic celebration.
The Mulia Bali: Situated in Nusa Dua, this luxury resort features immaculate gardens, pristine beaches, and opulent ballrooms. It offers a range of wedding packages and customizable options to suit different preferences.
How far in advance should I book my Bali Wedding Photography?
To ensure that you secure the services of your preferred Bali Wedding Photography professional, it is advisable to book well in advance.
Popular photographers tend to have a busy schedule, especially during peak wedding season, so booking early will give you peace of mind and allow ample time for planning.
What should I expect during a pre-wedding shoot in Bali?
A pre-wedding shoot in Bali is an opportunity for you and your partner to express your love and create beautiful memories in a relaxed and picturesque setting.
The photographer will guide you throughout the session, suggesting poses and locations that showcase your unique connection. It's a chance to let your love shine and create stunning images that reflect your personality.
How long does it take to receive the final wedding photographs?
The time it takes to receive the final wedding photographs can vary depending on the photographer and their post-production process.
Typically, it can take anywhere from 4 to 12 weeks to receive the edited images.
However, it's important to remember that quality takes time, and the wait will be worth it when you see the breathtaking results.
How Much Does a Bali Wedding Photography Price?
Wedding photography packages in Bali range from $400 to $5,000 or more. It depends on the wedding coverage duration.
A small, 4 hours intimate wedding costs start from $400. While the longer, all-day coverage (12-14 hours) would cost from $2000 to $5000 or more.
While wedding photography styles differ—some photographers like bright and airy photographs, while others choose dramatic or documentary-style images—styles seldom affect pricing.
Costs are determined primarily by experience and demand, although a greater value does not always imply better images.
Price does not necessarily determine how good a photographer is. A lot of the time, the price is determined by experience, as most photographers raise their fees on a yearly basis.
So, how much does it cost to hire a professional Bali wedding photographer with, say, eight years of experience? The starting fee for us, which began shooting professionally in 2012, is $650 (a four-hour intimate Bali wedding photography package).
You can also see our photography pricing and packages for more detail. And if you have a tight budget, this intimate wedding at Majapahit Villa could your reference.
What's Included in a Bali Wedding Photographer's Pricing?
We provide 4 to 12 hours of wedding day coverage with a second shooter, an online gallery (google drive) with digital downloads, and an engagement picture session starting from $650. It also covers 1-2 hours of travel time and photo editing. Our $650 is only the bare minimum for coverage.
We charge $200 per hour of additional wedding day coverage. Add-ons like albums and prints, which We provide a la carte, range in price from $150 to $1,000, depending on the couple's preferences. We limit our print prices because We don't want to exclude clients from the things that are most important to them.
Conclusion
Bali Wedding Photography encapsulates the magic and beauty of your special day, preserving it for eternity.
The combination of Bali's enchanting landscapes and the expertise of its photographers create an experience that is truly unparalleled.
From the pre-wedding shoot to the wedding day coverage and the post-wedding artwork, every step of the journey is filled with passion, creativity, and a commitment to capturing your love story.
So, if you're planning a wedding in Bali, We know that some of the parts could be difficult to be prepared.
But don't worry, we are professional Bali wedding photographers. We are always ready for you if you need further guidance.
You can contact us through email or instant chat. We'd be so glad to assist with your Bali wedding photography needs, from the price, package, venue, and photoshoot list.
Then you can take a look at our wedding video portfolio in case you also need a wedding videographer in Bali as well.
Furthermore, We'd like to be your friends. Because it helps us to reach our hearts intimately. That way, We could create emotional, heartwarming wedding photographs.
Cheers.
— wynprmn