Bali Wedding Photographer and Videographer — Agra Photo & Film
A Story of Timeless Appeal Visual
Bali Wedding Photographer and Videographer — Agra Photo & Film
Our Story
We're a small team of visual story teller based in Bali. Our pure heart are passionated in documenting wedding, engagement, family portrait and maternity. We work based on two medium, both photography and videography. These two things are inseparable. While photographs give you a sense of freezing emotion, then the videos work will take it further. A wonderful joy of your happiness moments come alive when recorded in motion pictures. It's something that you would see for the rest of your entire life. The moments when you begin a new chapter in life.
In terms of style, photojournalism and fine art are the way we create our works. We'd like to call it as a subtle, airy, and evocative imagery that elicits light-filled, painterly portraits. At the basic, we love to use a fresh and simple composition, as well as the beauty of natural light.
Our creative process in documenting wedding or engagement is fully imaginative, industrious and detailed. In every capture, We aim for perfection and beauty.
Over the last seven years, my work has taken me to amazing intimate celebrations and sophisticated soirees in all over villa and resorts in Bali. That joy when we were witnessing all of those happy couple and families from all over the world. It's the key of our journey as Bali Wedding Photographer and Videographer.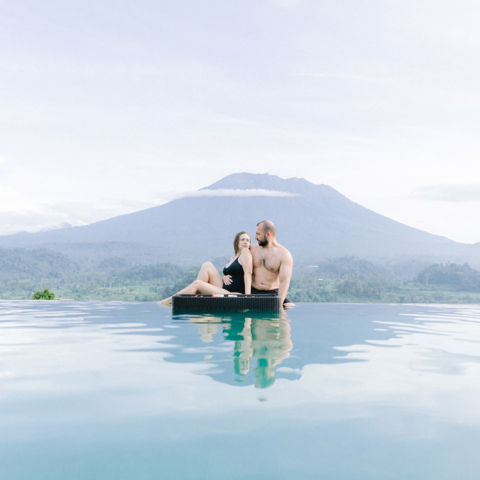 Hi, Nice to Meet You
Pleased to introduce myself, my name is Wayan your Bali Wedding Photographer and Videographer. I'm so happy to see you here. Surely, you come here to find the right solution for your photo and video needs. But don't worry, I'll be ready to assist with any of your inquiries. Furthermore, you can explore our blog and portfolio from here. Then find our contact info down below, and let's start to have a great conversation. 
Let's Talk
Why You Should Choose Us
Best Value Package
We offer you the Best Value Package. Amazing wedding photo and cinematic video works in Bali with the best affordable price. Also, you can customise the package base on your need.
Timeless Appeal Visual
If you're fan of timeless pieces work of art, then you're on the right track. Your wedding or engagement session in Bali would last for decades and more. As it was timeless appeal.
Photo Journalism Style
Or you might like some candid photography, no staging, and looks so natural. We here for you. Photo journalism is our way to create the works.
Testimonials
Emily's Honeymoon
He has a unique style and it truly fits bali's exotic mood. Whenever I see the pictures we have taken, it reminds me of the lovely moments in our honeymoon. And I could receive the original photo on the same day and edited one within 7 days.
I am really satisfied with this photo tour.
Shuxian's Wedding
Had my wedding photo and video shoot done by Agra at Ubud. My husband and I are very happy with the photos which are beyond our expectations. They are extremely professional, most importantly, I like the angle of how they took the photos. If you would like something unique, Agra and his team will be a good choice for you.
Highly recommended.
Mark's Wedding
Can't thank these guys enough, highly recommend by our hotel we booked them for 4 hours to photograph our wedding and the photos are just beautiful. Both speak great English and we had the prints and hundreds of images on a personalised memory stick within 2 days. Great value for money and easy to direct to make sure you get all the shots you want on your wedding day.
We highly recommend AGRA Photography you will not be disappointed.
Tanty's Family Portrait
Really love the photos and mini video created by Mr. Ote from Agra photography! Mr. Ote is a very professional and talented photographer. He is able to capture the precious moments that I have with my daughters during our holiday to Bali. All his photos look very natural but yet artistic. He is also very approachable and friendly.
I will definitely recommend Mr. Ote's service to everyone who wants to take nice and memorable photos.
Armayati's Engagement
Being their client was a great pleasure. They took my pre-wedding session in a fun way. Jokes, laughter, and happiness were shared during the session and which made the session more intimate.
The team are really professional and yet really friendly to work with
Simon's Romantic Dinner
Beautiful photos and great editing! We used this service for a romantic dinner proposal and it was extremely professional. A good range of different compositions across the evening.
Very happy we went with this team.
Stewart's Wedding
We absolutely recommend Ote and his team! They were very professional and friendly!
They did a great job and the photos very lovely. The photos came in a very cute personalized box and USB.
Roi's Couple Session
We have booked for a short notice dinner, but he did a fabulous job. We loved all of his clicks. He is a very nice person and makes you very comfortable during the shoot.
If we celebrate any future special occasion in Bali, we will definitely book him.
WE ARE ONE OF THE BEST BALI WEDDING PHOTOGRAPHER & VIDEOGRAPHER.
and We available WORLDWIDE