Bali Wedding Film Videography of Brenda and Stewart in Ubud
Brenda and Stewart have declared their wedding within a beautiful film in Ubud, Bali. That afternoon, the sun was shining bright, the air was so fresh, and the bride and groom themselves are so kind and easy to direct. It makes our work as their Bali wedding videographer a lot easier.
There are only the core families and a few close friends who attended their wedding. They are also keen on making the wedding look simple. So the intimacy is preserved very well.
Maybe You Like:
A Cinematic Film by Bali Wedding Videographer
In our term, we name it a cinematic wedding video. It's when the emotion, intimacy, and ambiance of the wedding venue were blending into harmony. All of those are the true essence of every couple's dream wedding goals—what a dreamy Bali wedding film.
Then here they are, the bride and groom celebrating their union as husband and wife.
The Wedding Venue
Brenda and Stewart choose serenity and the ambiance of Alila Ubud as the wedding venue.
It's on the northern side of Ubud. Surrounded by the great hill and forest.
The wedding venue is filled with greenery, and grass, then the hill as the background.
Obviously, a perfect venue for wedding videography in Bali.
For more wedding venues, you can jump to our Bali wedding photography ultimate guide.
More Like This :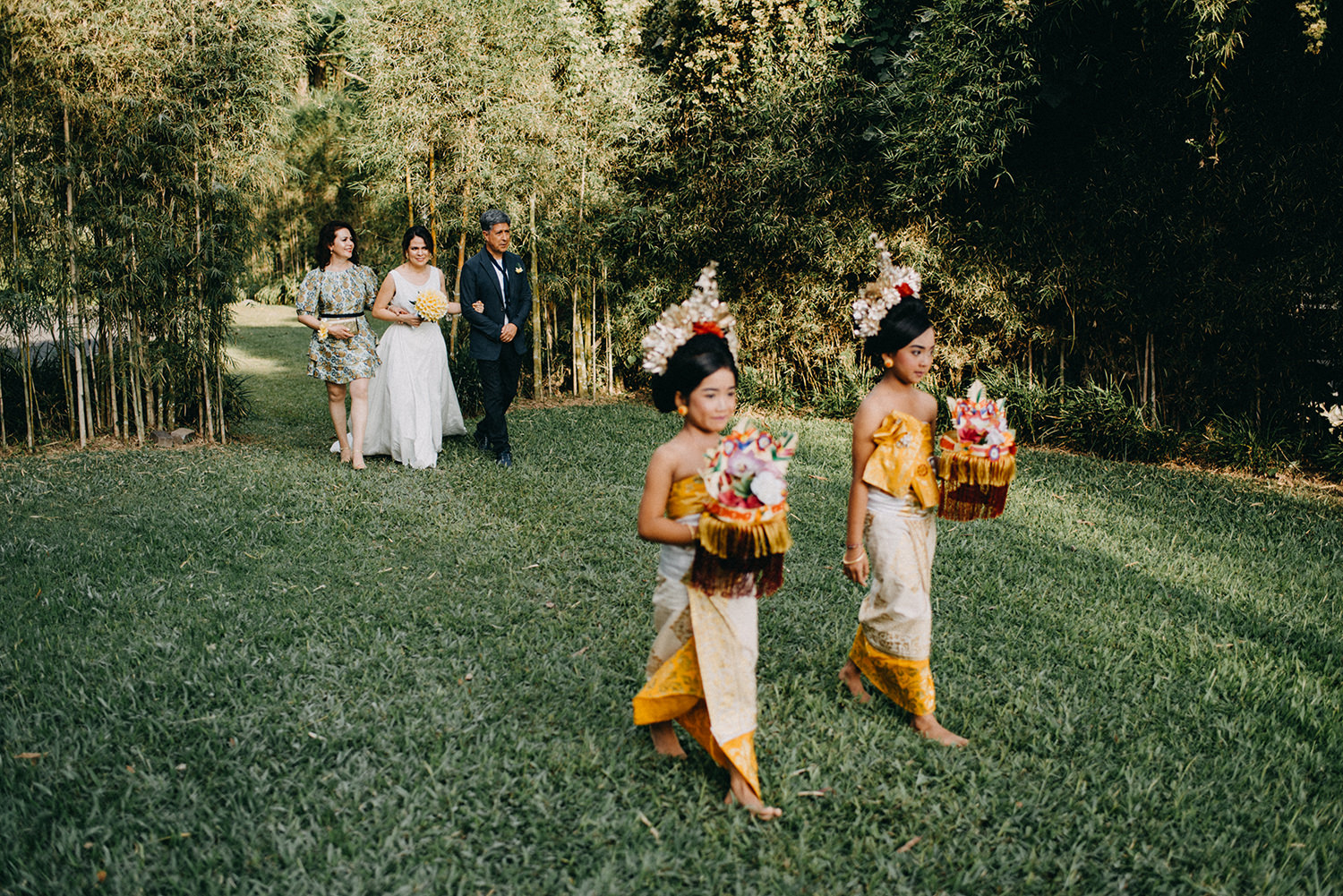 The Groom Unique Outfit
What we love to film their wedding is the outfit of the groom and groomsman. They wear the classic Highland Dress. It's unique, classy, yet so gorgeous as well. Truly represent the Isle of Scotland.
This unique outfit surely looks really well in their Bali wedding videography.
The Dinner Reception
The wedding dinner was another best thing. Because it took place beside Alila Ubud's infinity pool. The table reception arranges in one line, with no separation. So the intimacy was more prominent.
Every member of the family and friend shares a great story about the bride and groom. That night became a wonderful joy, full of laughter.
We couldn't be happier to witness such a wedding like this.
Final Words
So, We hope that you'll enjoy our Bali wedding film work.
Therefore, do you plan to have a wedding in Bali? We are ready to serve you with the best Bali wedding videographer service. So for further inquiries, you can contact us here, and don't forget to explore our blog and portfolio pages as well. You'll never regret it.
Home » Film — Videography »