Wedding Photography at Ayana Resort Bali: C + J
Surrounded by the Jimbaran cliff and the sunset behind it. Cathy and Jenkin have declared their vows on blissful wedding photography at Ayana Resort Bali. It's rather small in size, but less means more intimacy. As it will preserve the intimate ambiance between the bride, groom, friends, and the family itself.
Actually, this is the first time I'm shooting a wedding with myself alone. Usually, I use a minimum of two photographers for such a quite big wedding like this.
The pressure is so imminent, though. But thankfully I can handle it all very well.
The Love Story — In Brief
Jenkin originally comes from Hongkong. But he has been living in Canada for a long time. So do Cathy, the only difference is their origin. Cathy comes from Seoul, in the heart of South Korea.
Well, long story short. These gorgeous lovebirds moved to Canada on occasion for their college degree school of business. They accidentally met each other on their campus annual anniversary. In which most of the Asian student community took part. Soon after that, all the things seem to look right for them. The great love stories begin along in their timeline.
Since then, Canada is being a witness to their love stories. Afterward, Bali becomes the witness to their beautiful wedding photography.
Related Post:
Wedding Preparation
Here we go now into their real wedding photography at Ayana Resort Bali.
First, of course, is the wedding preparation. As usual, I took all the details before going to shoot the bride and groom portraits. The wedding gown is on my first list. Because it could take longer to shoot than the other details. I need to find a sweet spot around the resort. Hang it somewhere that the groom will not be able to see it. While keep retaining the great background for the gown itself.
It's quite tricky tough, and risky as well. You don't want the gown to fall down to the ground. Or even make any smudge on the beautiful gown. It will destroy your day and the bride for sure. So keep remaining cautious.
My favorite spot would be to hang it on tree branches. In this case, you need the strong one like you've seen in the beautiful gown image below. I hang it on a Frangipani tree near the bride's preparation room. It is strong and has a lovely green leaf that adds sparkle to the picture.
Such a sweet and gorgeous wedding gown photography.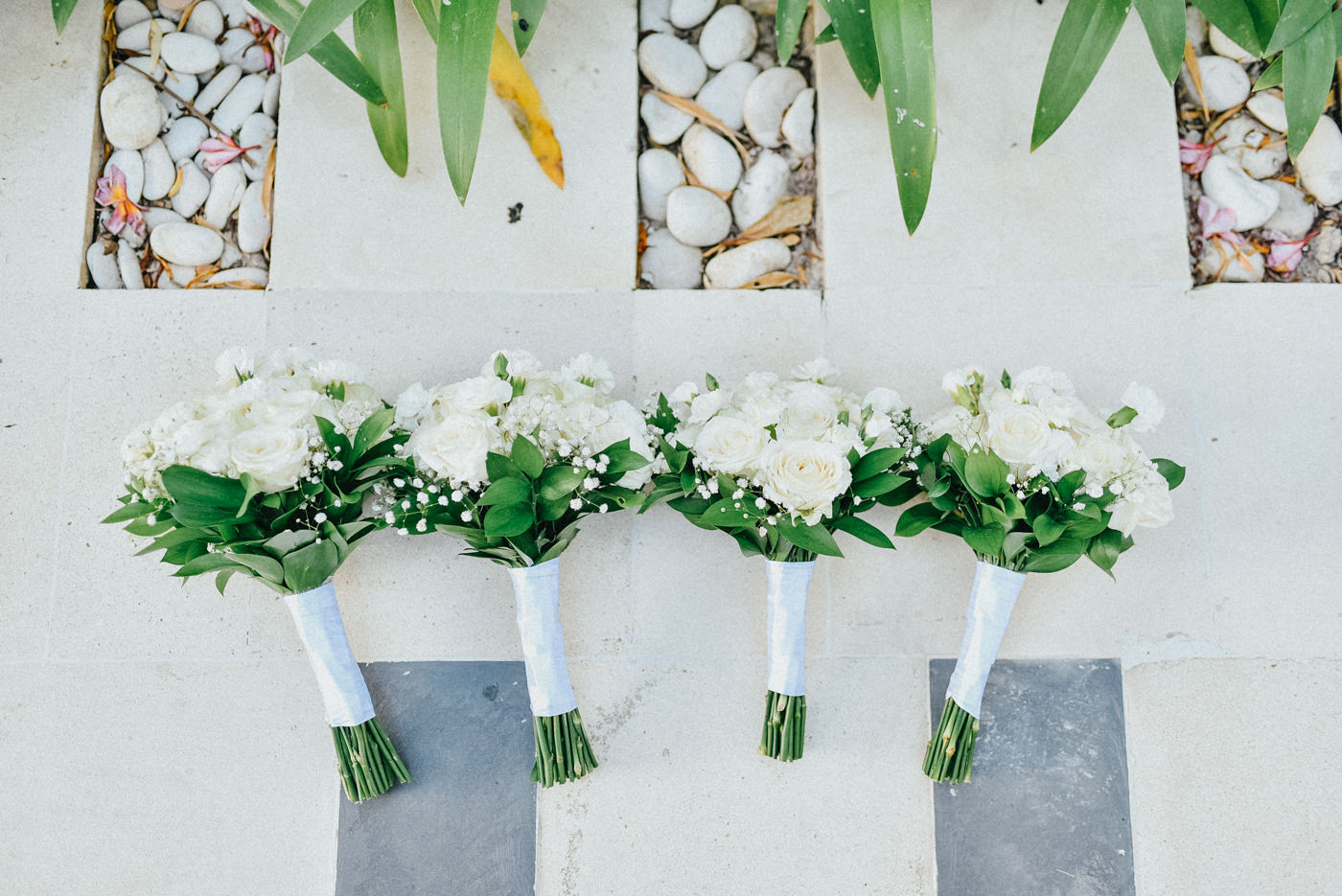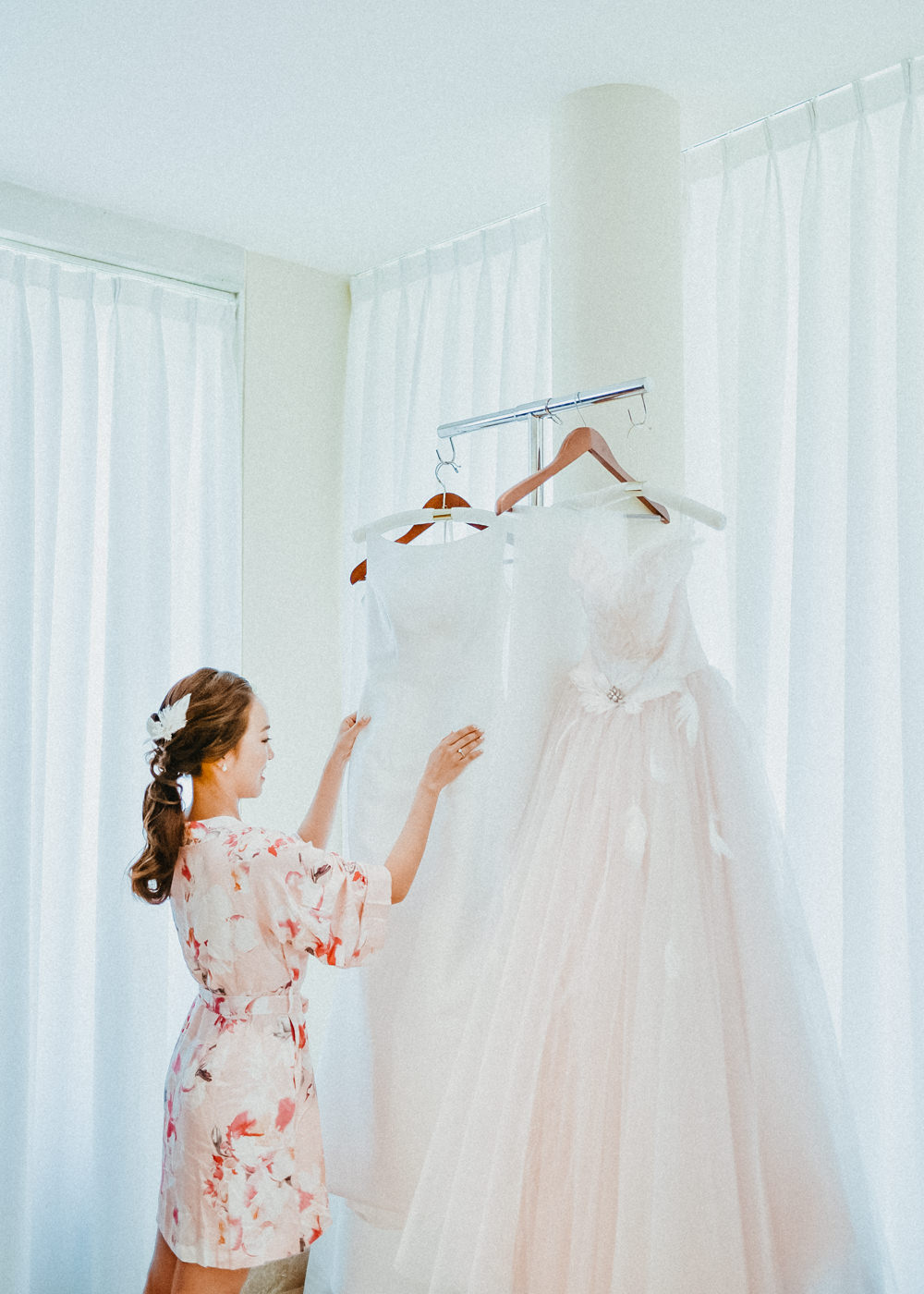 Candid of the Bride
Later, after all the details are done. I start to take some pictures of the bride while preparing her gown and getting changed. This is when the tension in my work as a wedding photographer will arise.
It's candid time and no more staging. You can't have a lot of options here. Making great candid and photo journalism is the key here. Your brain needs to be focused and aware of some intricate moments. It mostly happens in a very short time and suddenly past like wind.
In some ways, the luck factor will be dominant here. If you are in the right time and right place, you'll get a great result as well. Perhaps some of the wedding photography at Ayana Resort below describe it very well.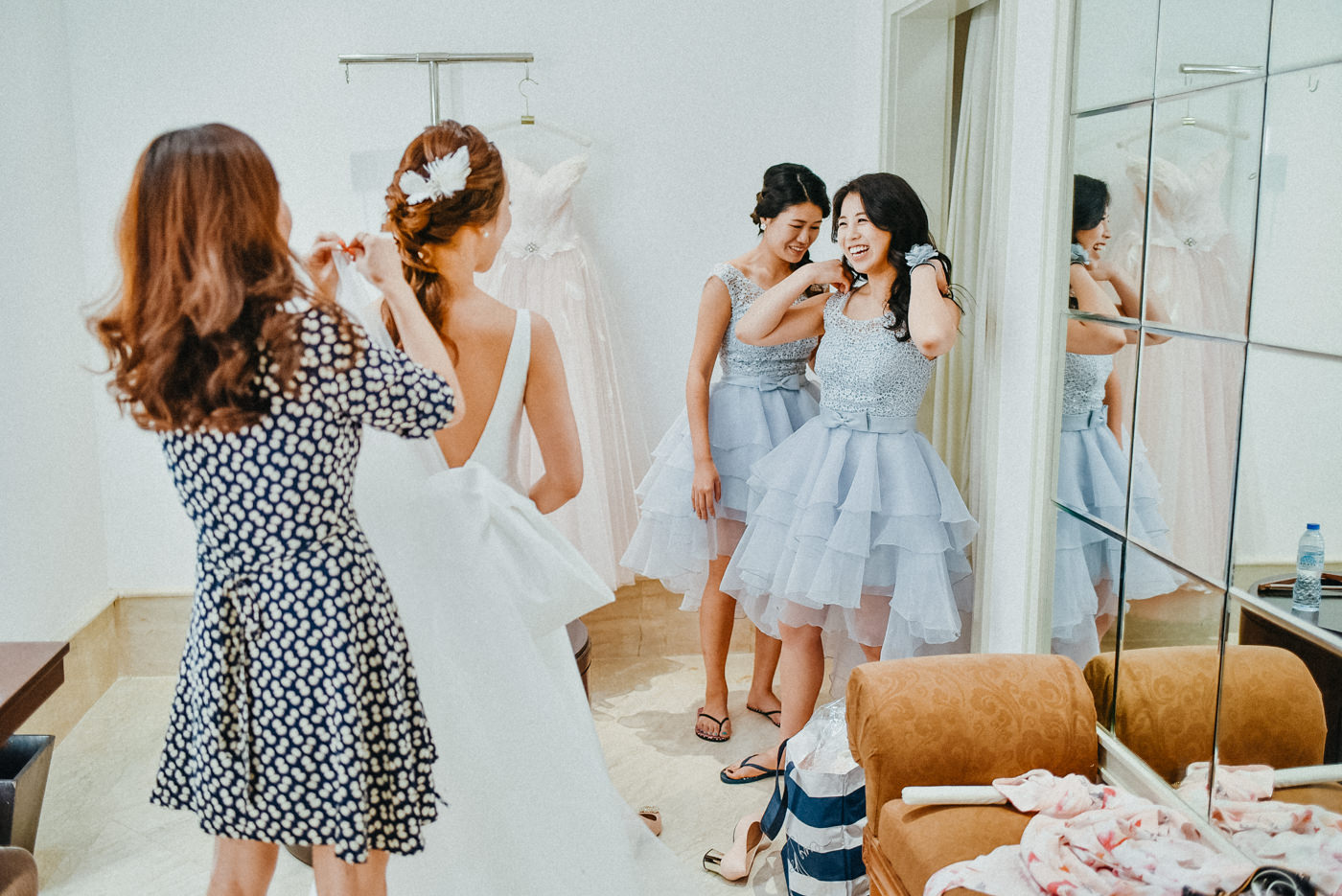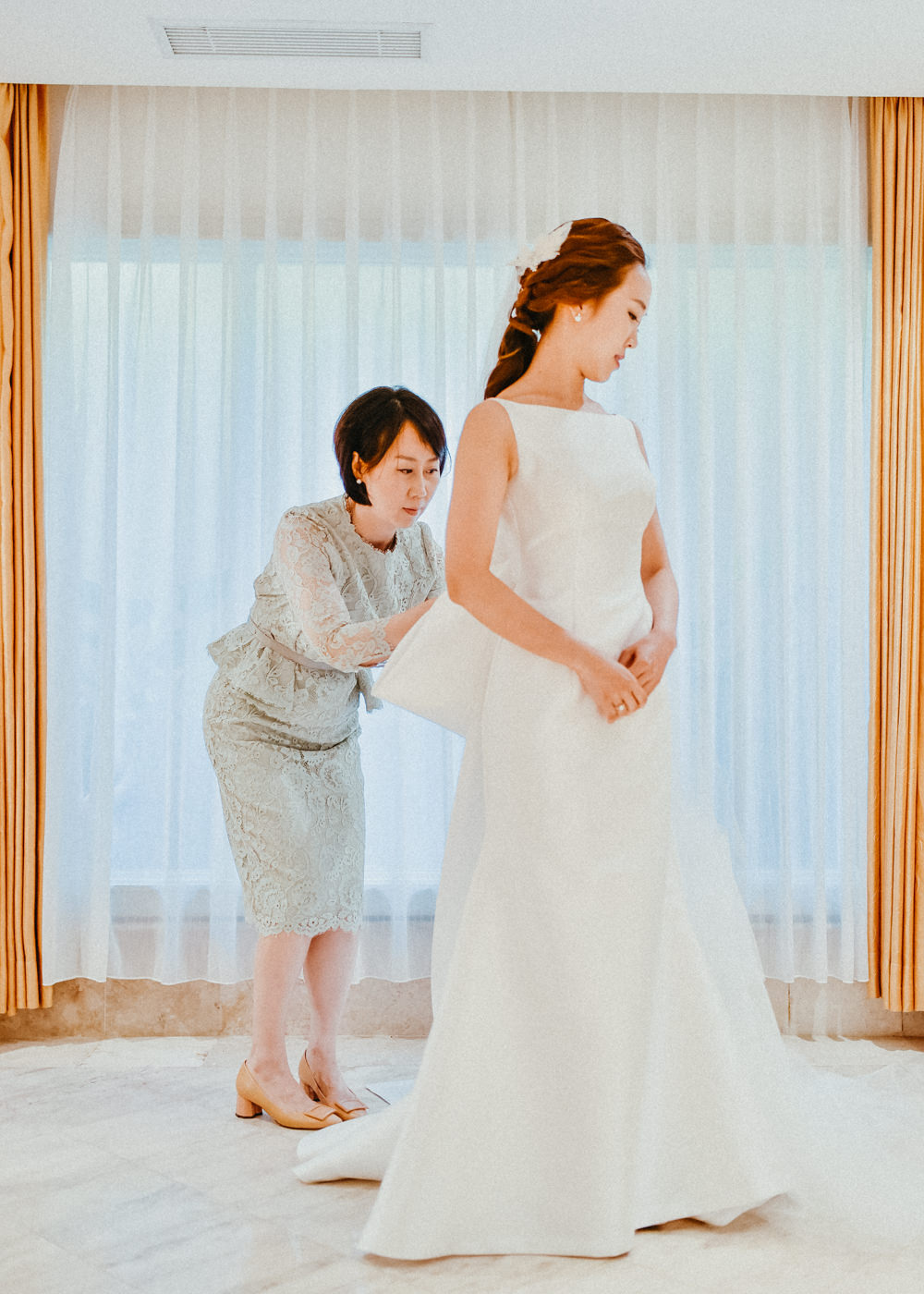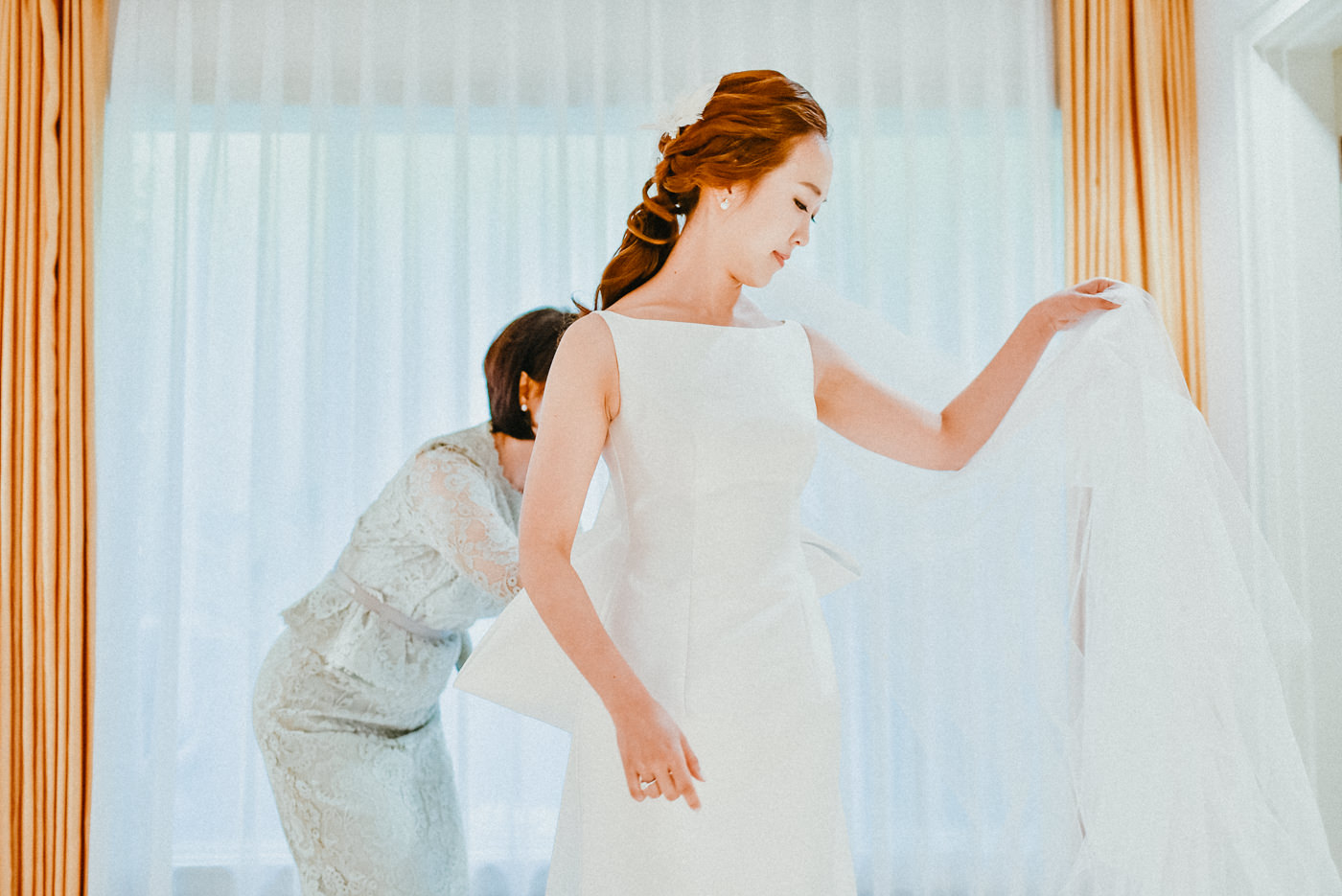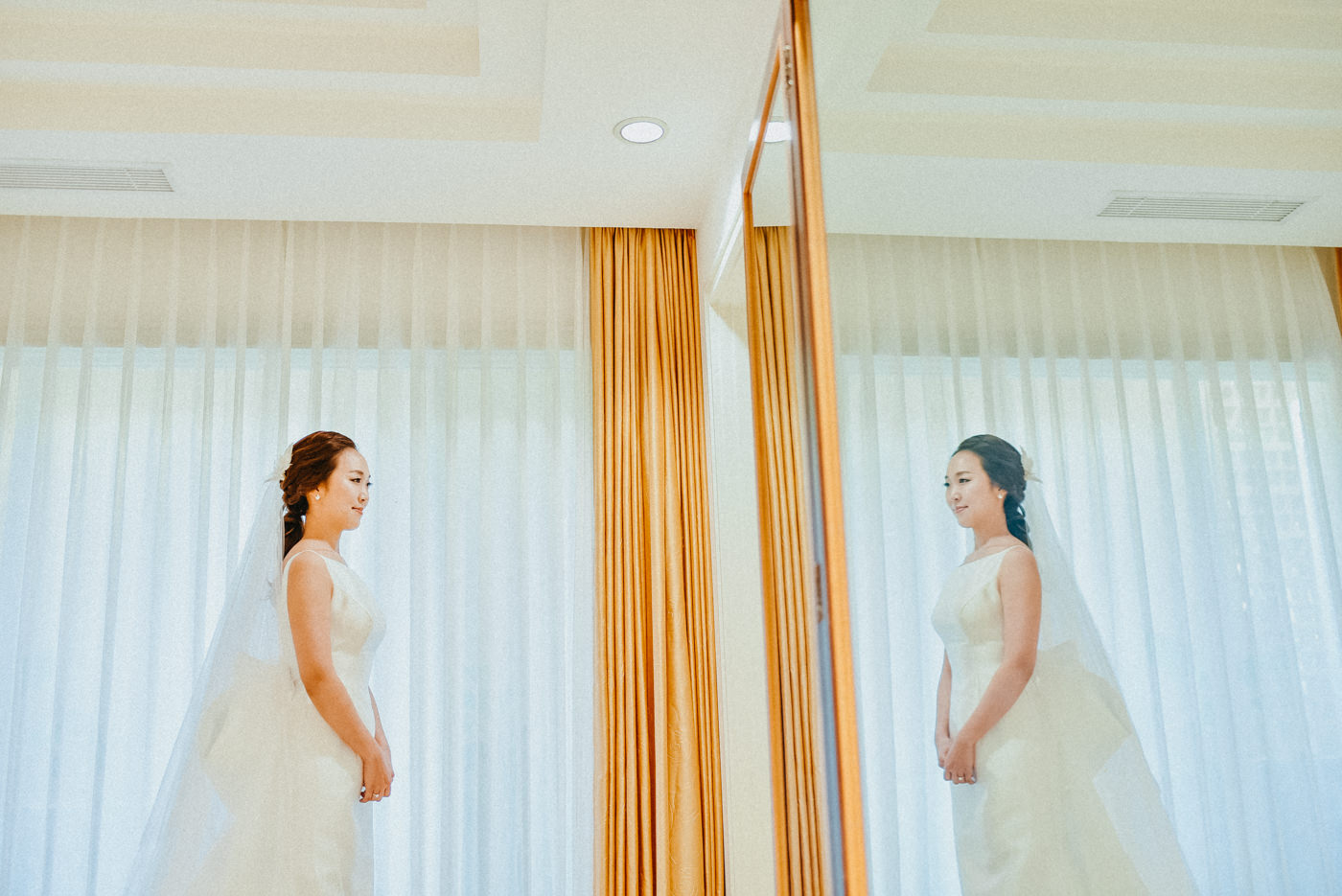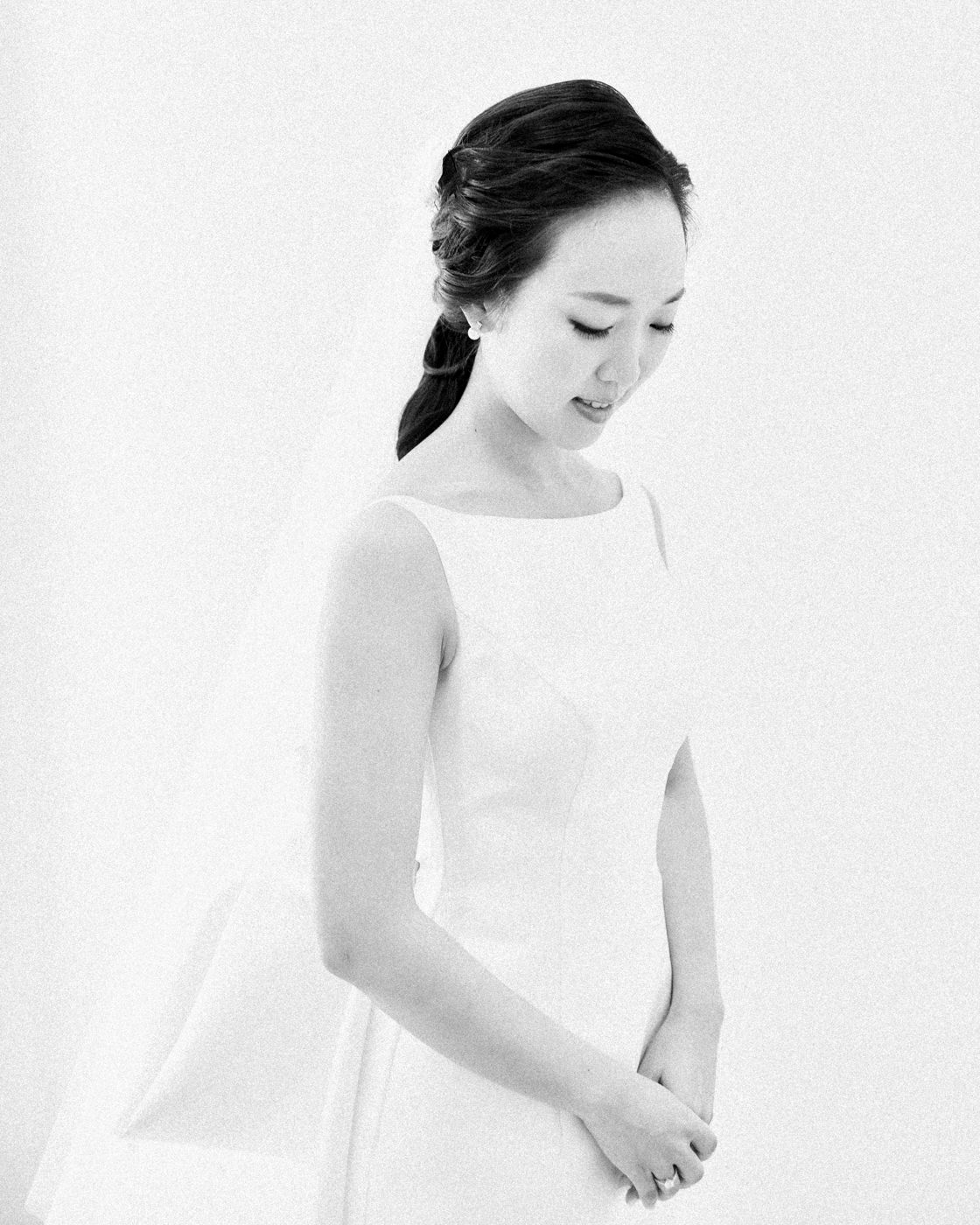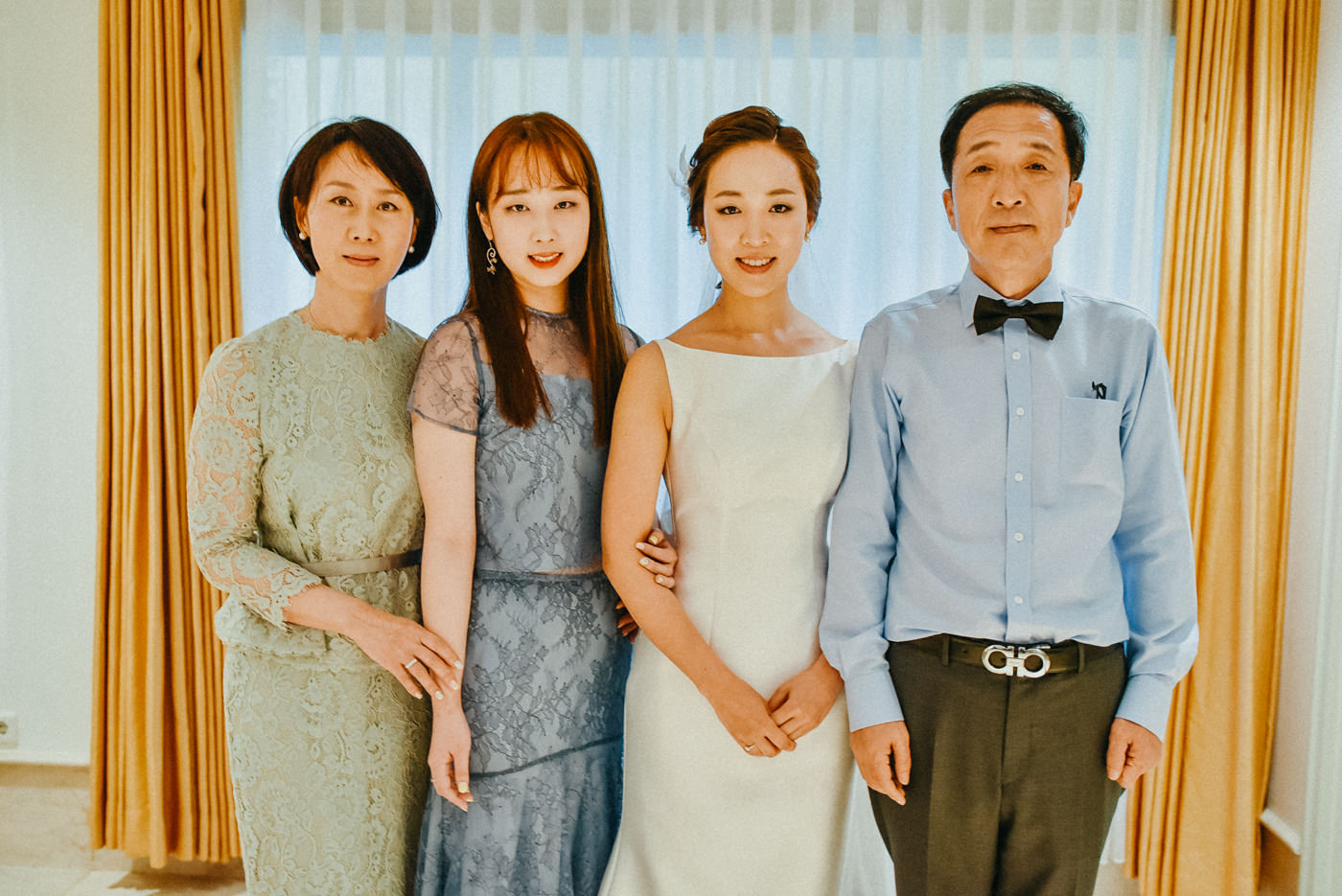 When getting ready was done, it took back the time to be slower and relaxed. The workflow comes into staging a portrait of the bride alone. Some of us call it a "beauty shot". Then followed by a couple of photos with her family.
Groom Preparation
I did the shoot for this wedding photography at Ayana Resort Bali just by myself. So it was rush hour from start to finish.
When everything seems been completely taken, I ran into the groom's preparation room. Thankfully, I've discussed the rundown with Jenkin. So that I know and be able to shoot both the bride and groom preparation simultaneously.
There are not many details that need to be captured here. Then I prefer to get the candid of their preparation. There's a lot different actually. While the bride's side goes so flowing and more subtlety, the groom's side tends to bewilder. More laughter, more fun, and more "chaos" instead.
They're more like a team player. They help each other to get everything done in time. This is one of my favorite parts. That I could take as many good candid wedding photography of them.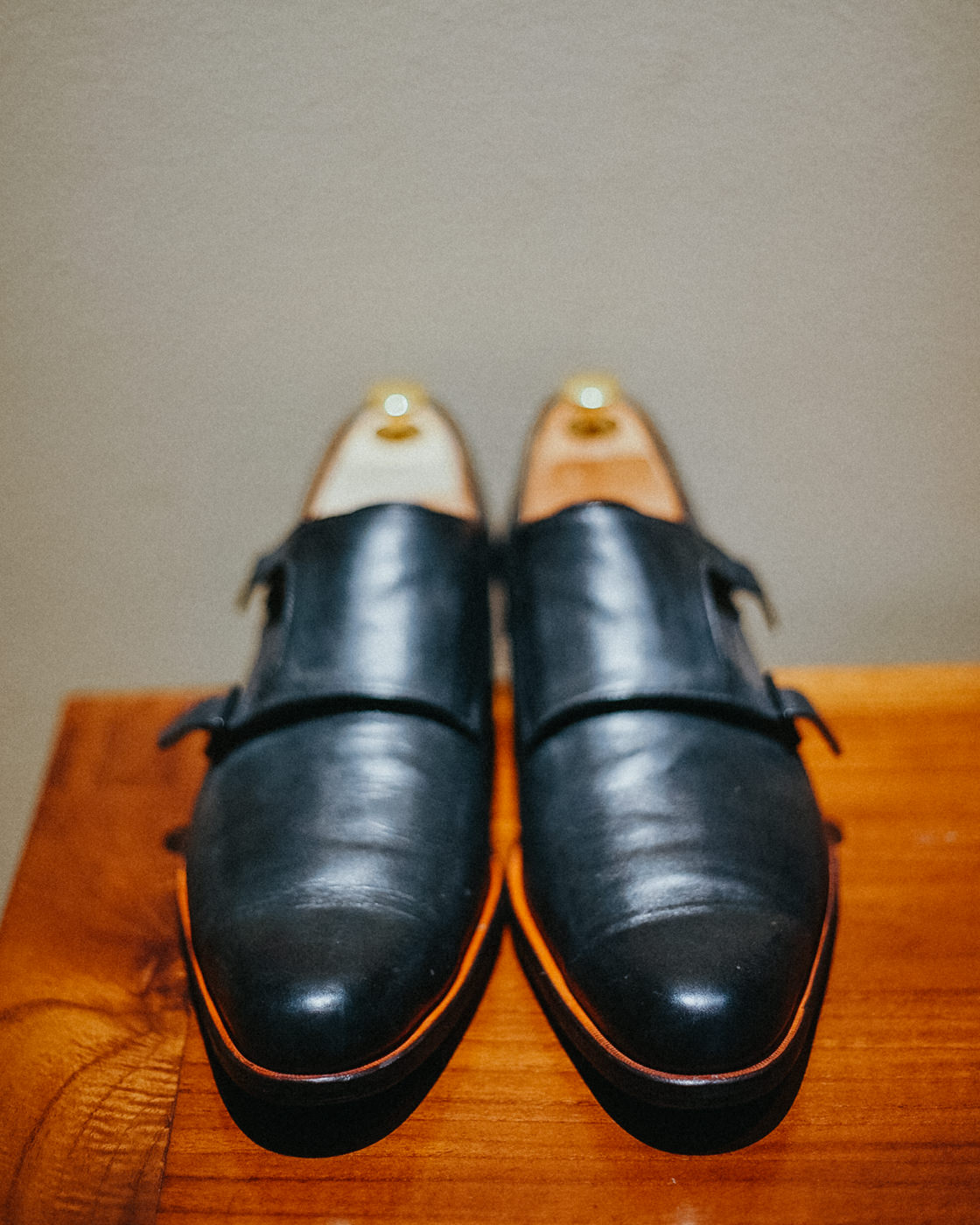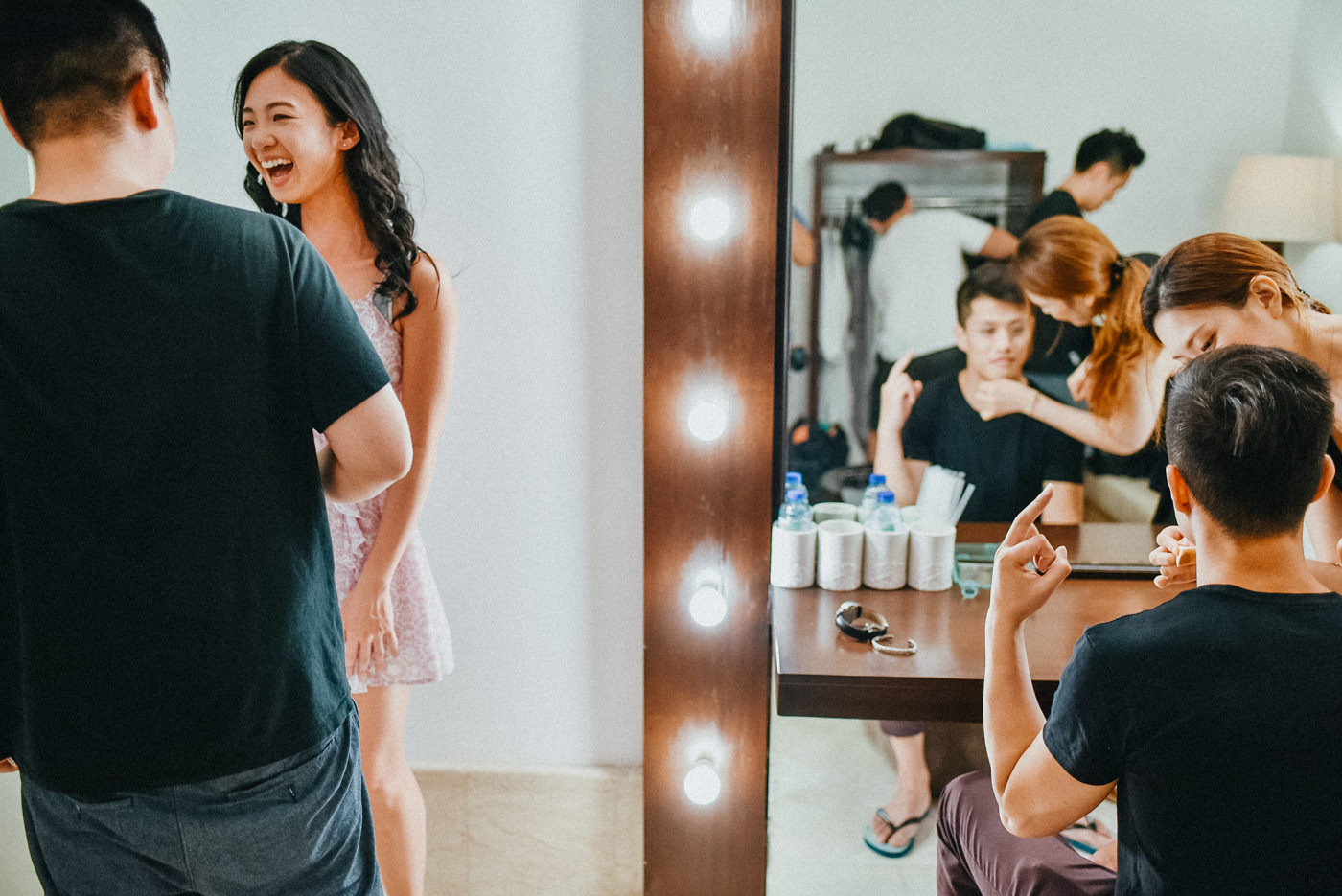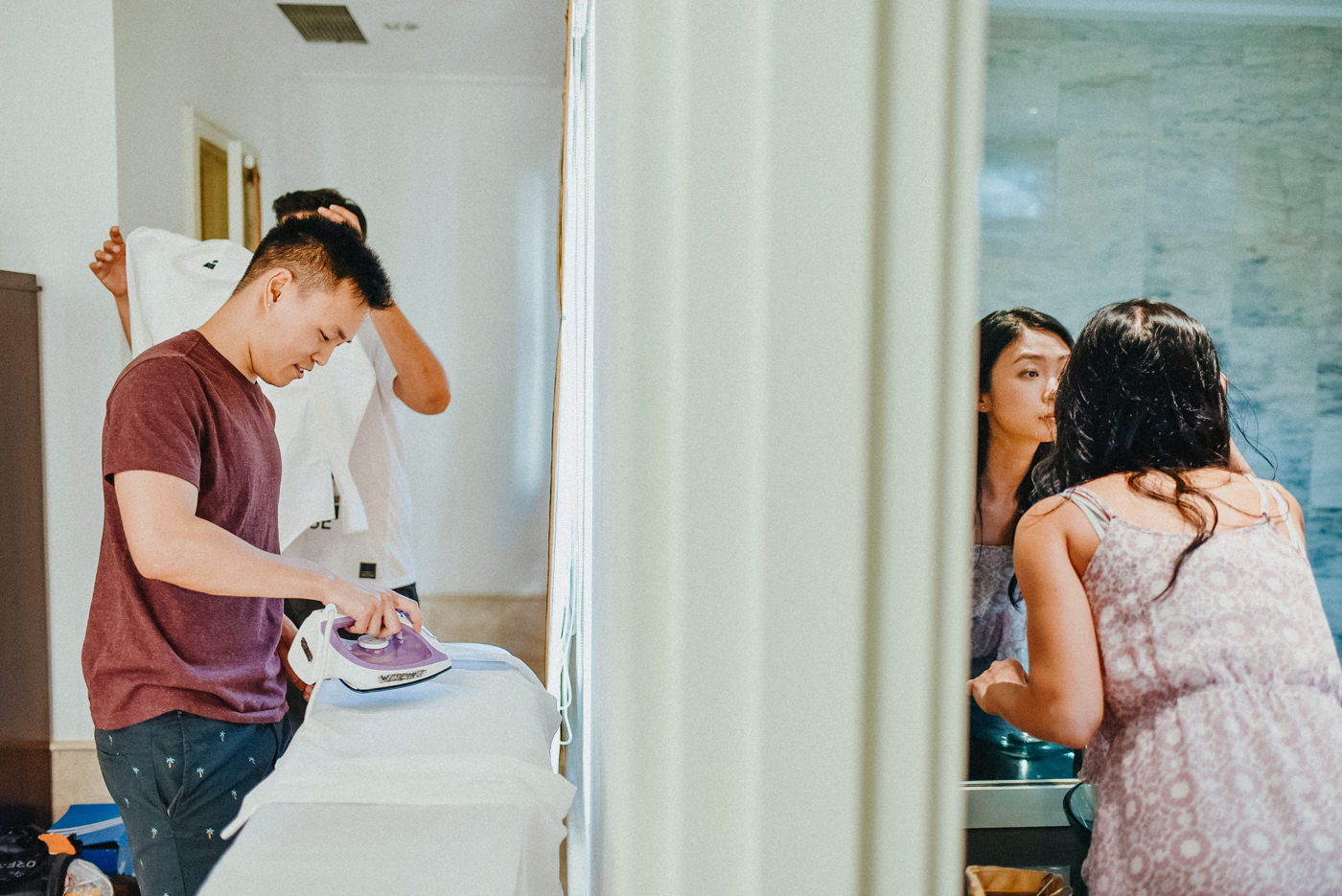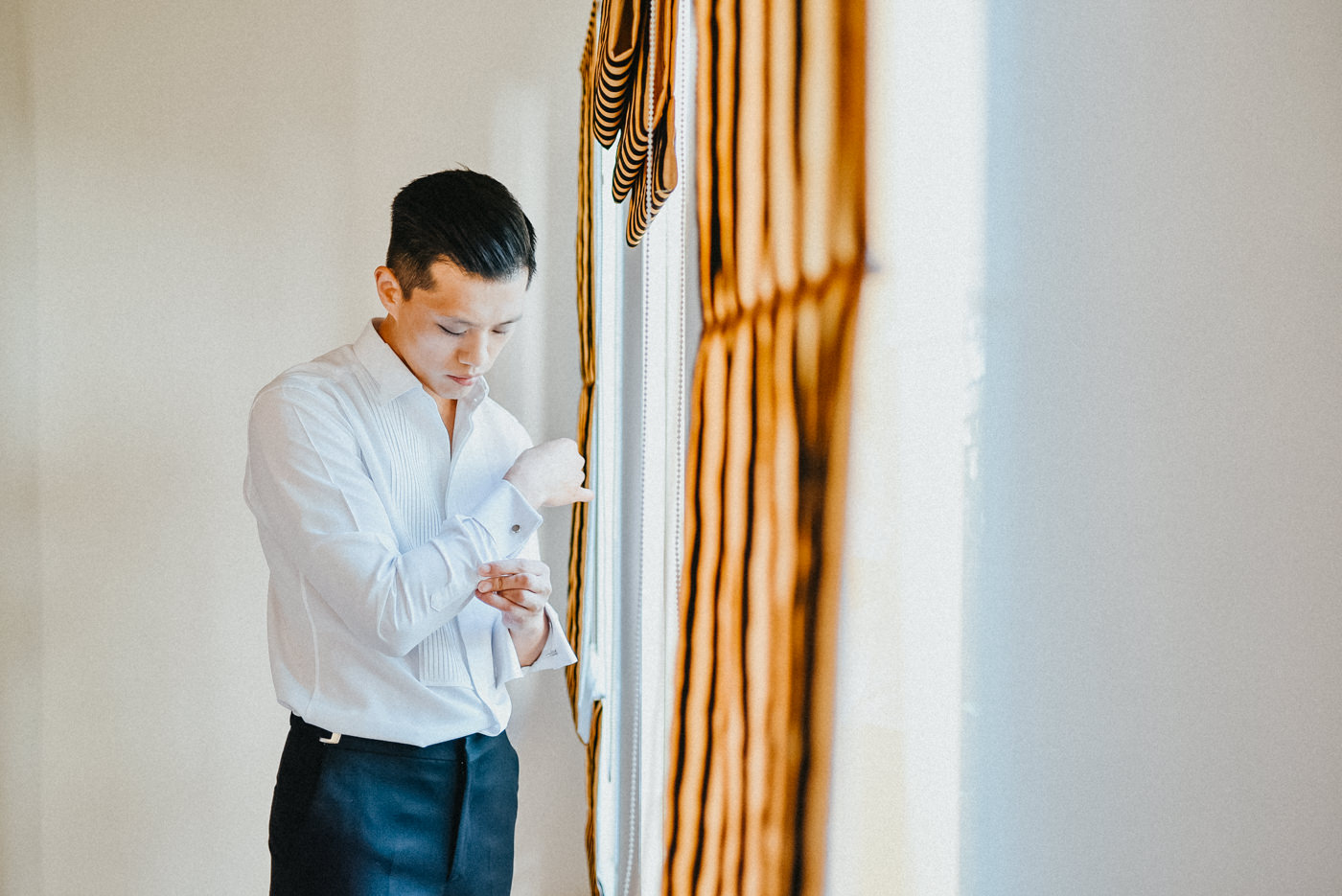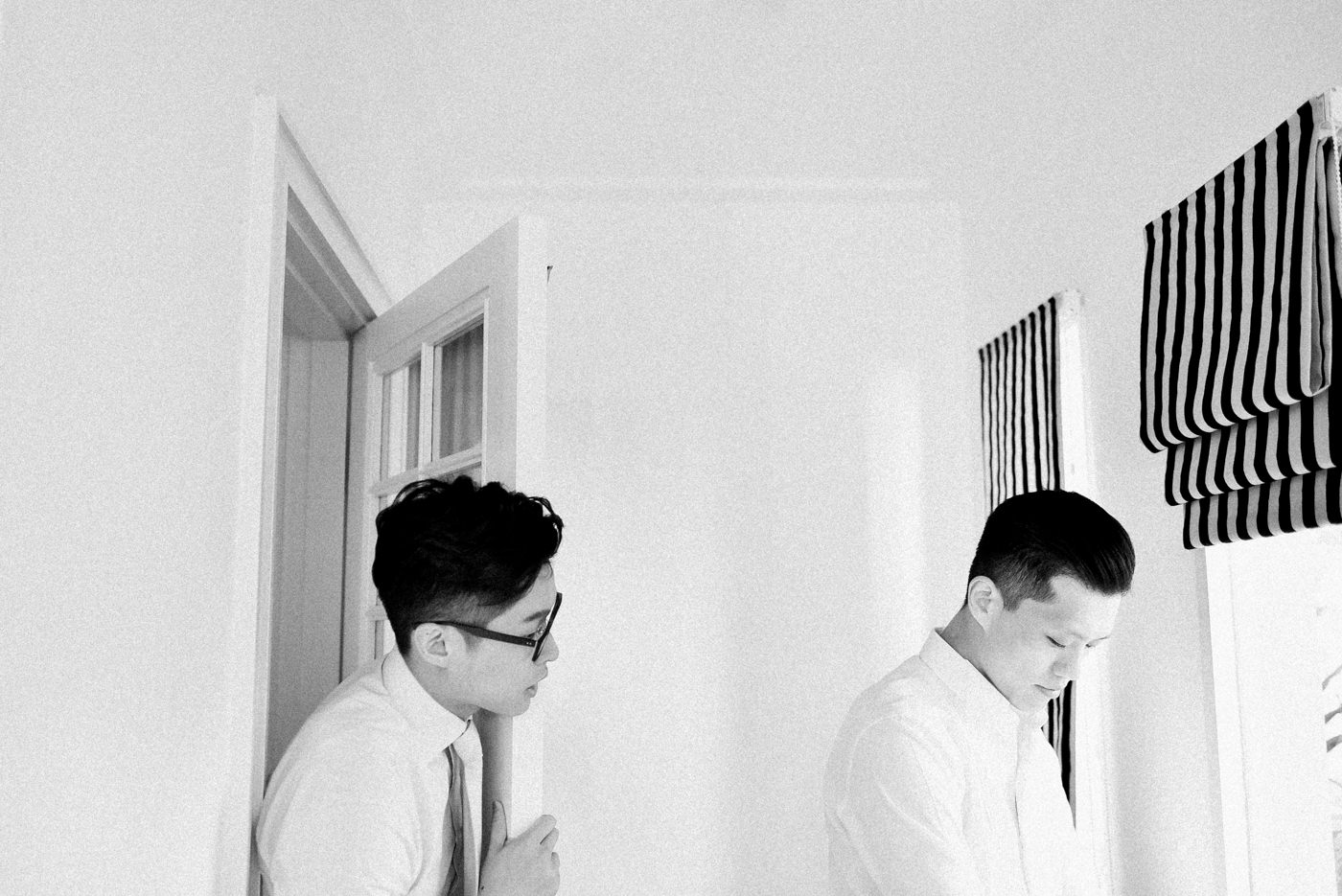 Wedding Ceremony
There it comes the wedding ceremony begins. After rushing on the bride and groom's preparations. It's time to get the wedding chapel's detailed photographs. I did it just before the wedding ceremony started. I love the wedding chapel at Ayana Resort because it is so magical in their wedding photography.
Most couples love it very much. The wedding chapel will be remembered for the rest of their life. As the place where all the intentions and vows are declared.
And there we go, the ceremony finally begins. All the guests are coming inside the chapel.
Afterward, the flower baby, the groom's man, the groom and followed by the bride at last.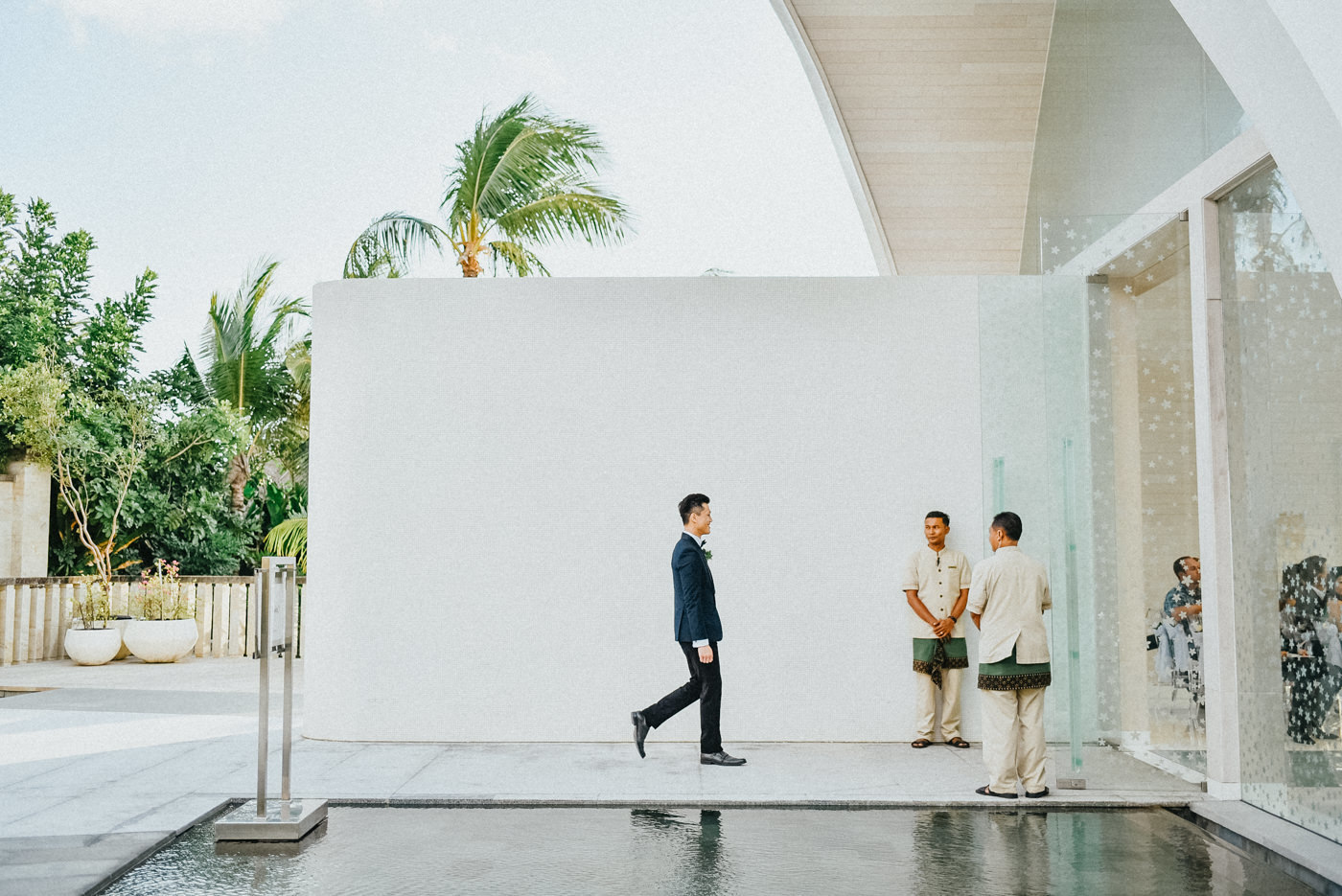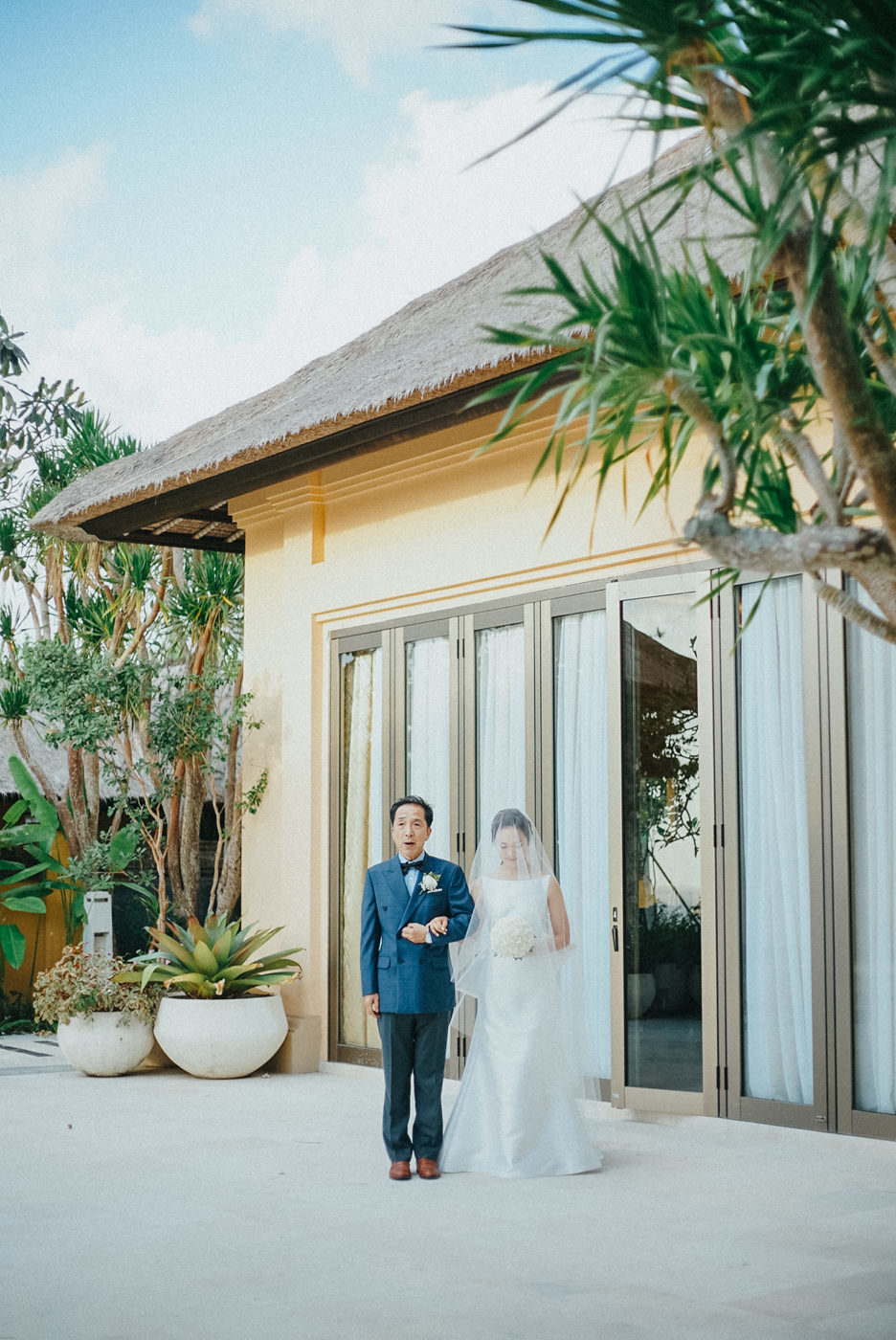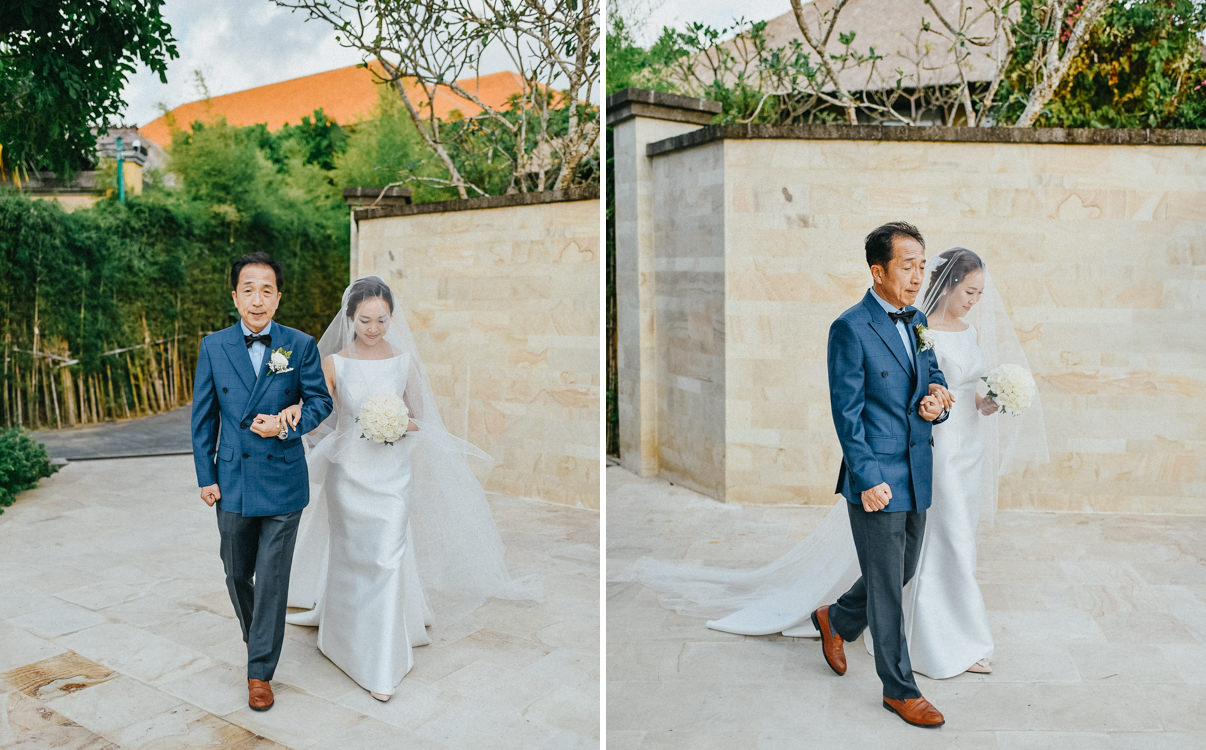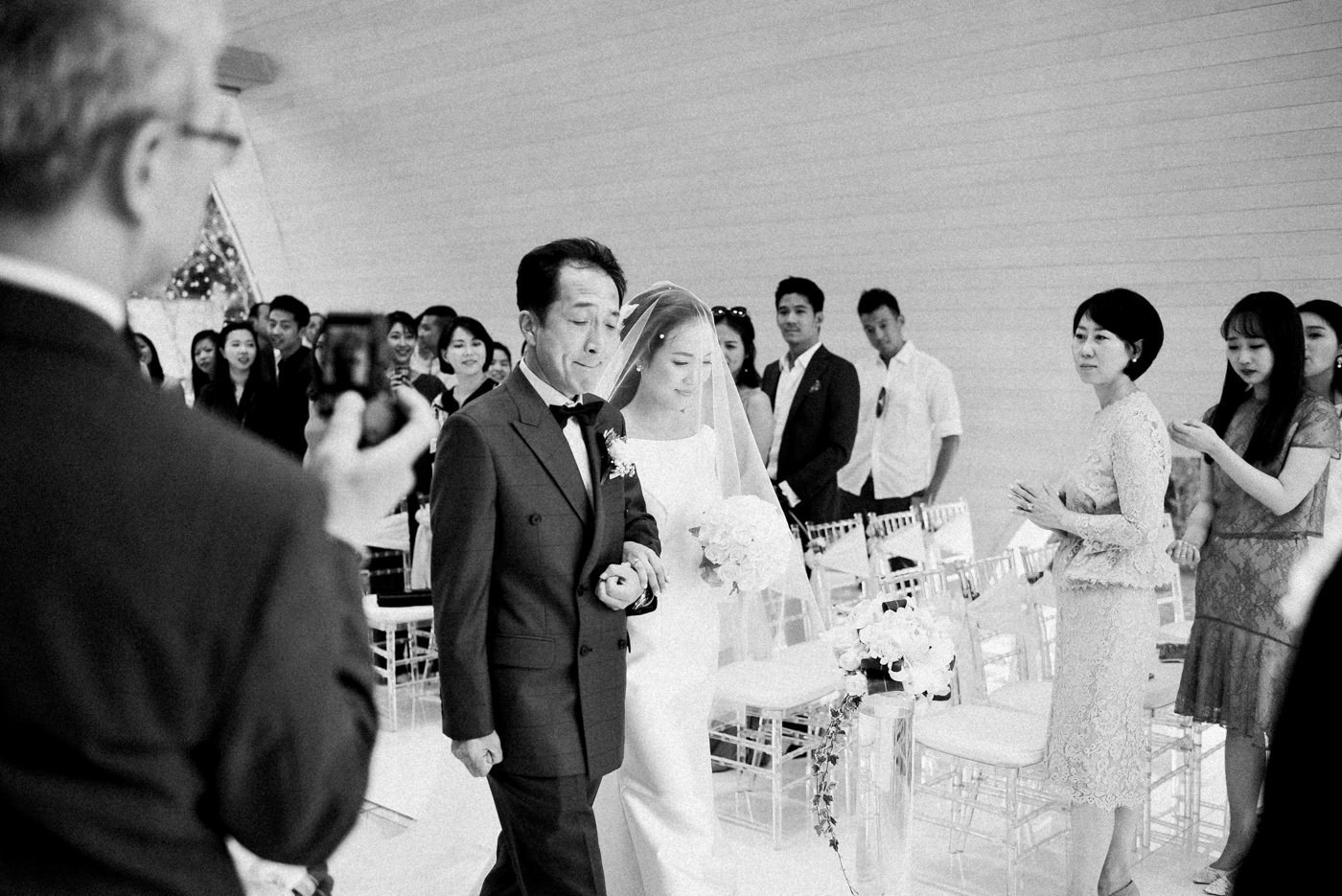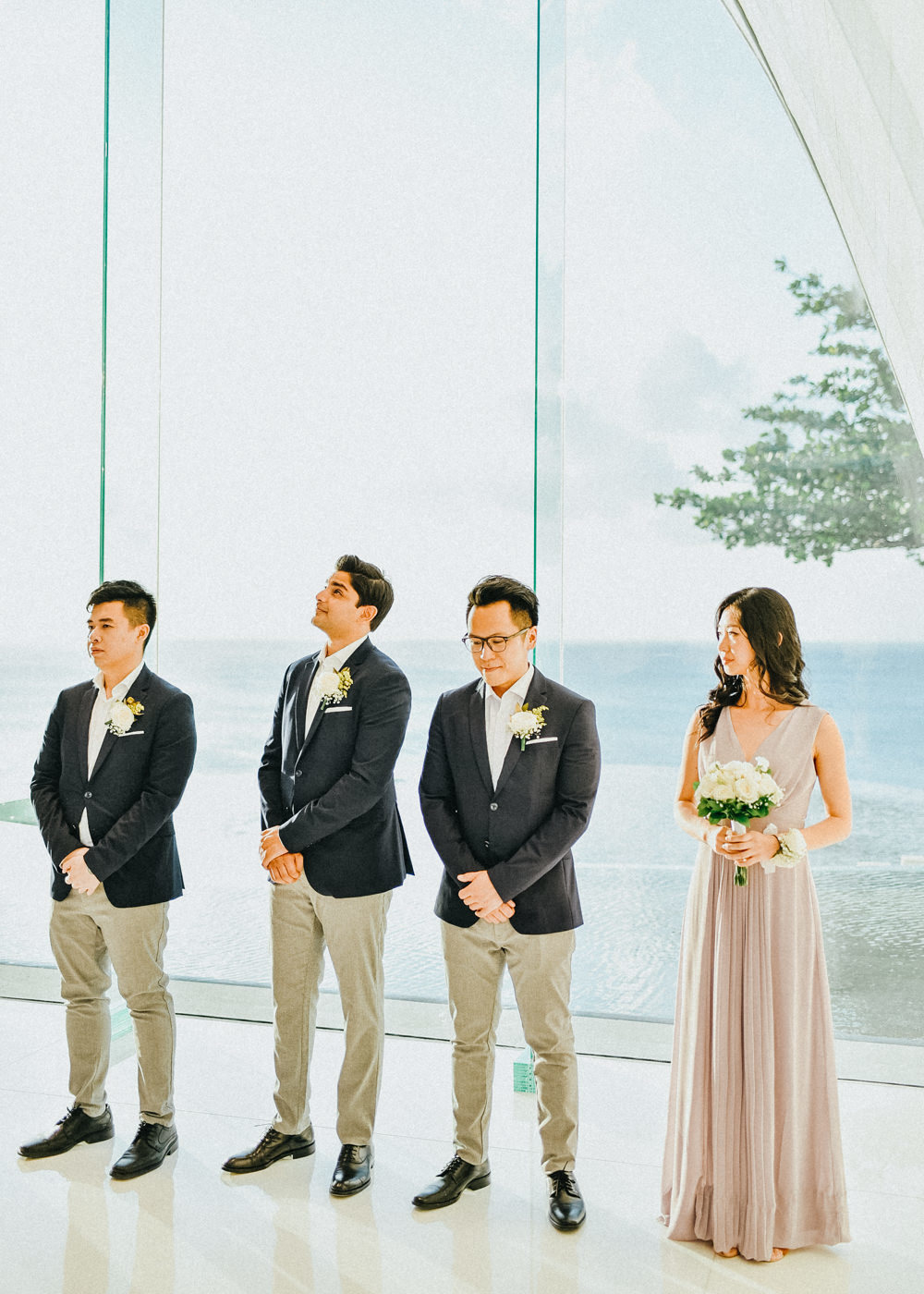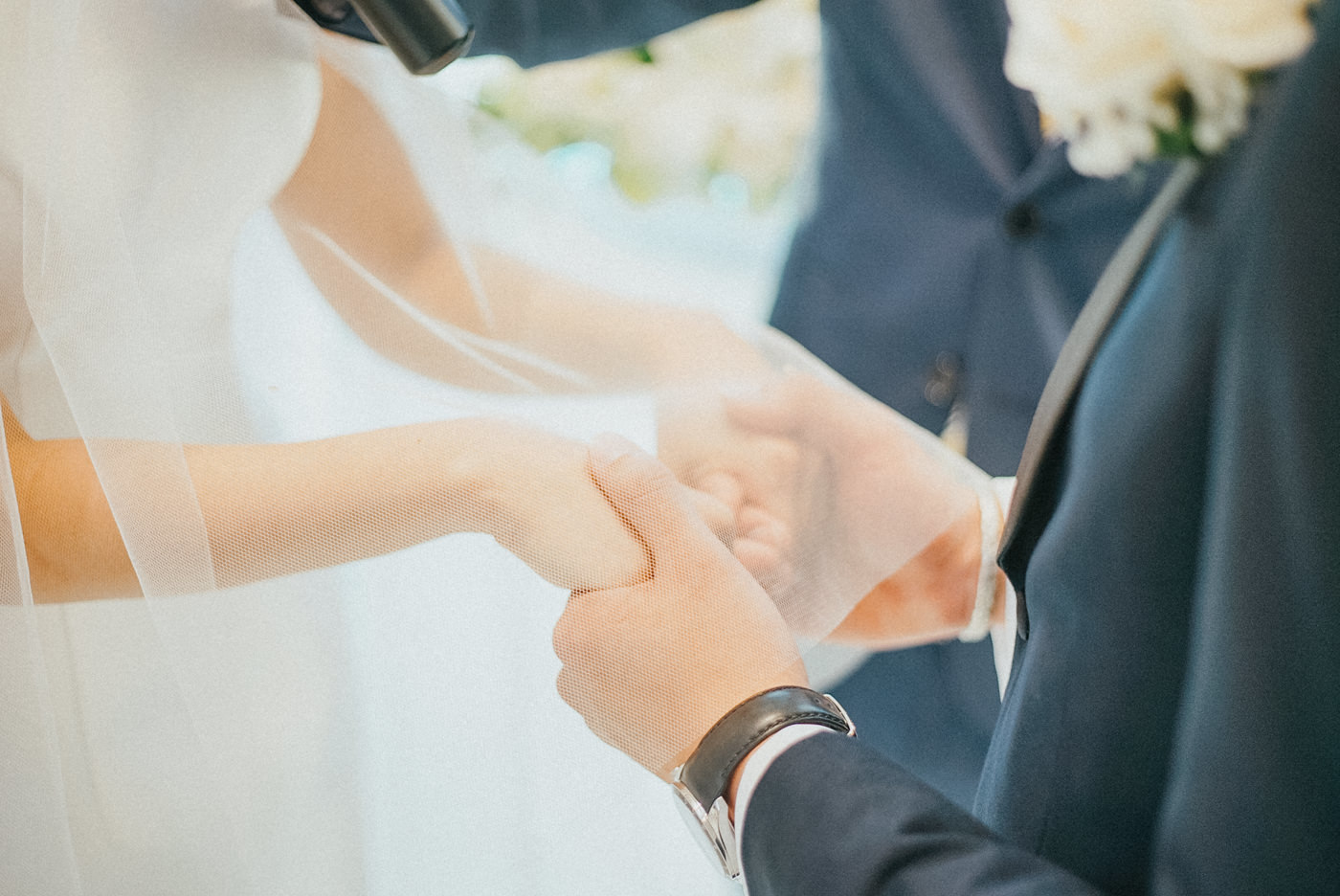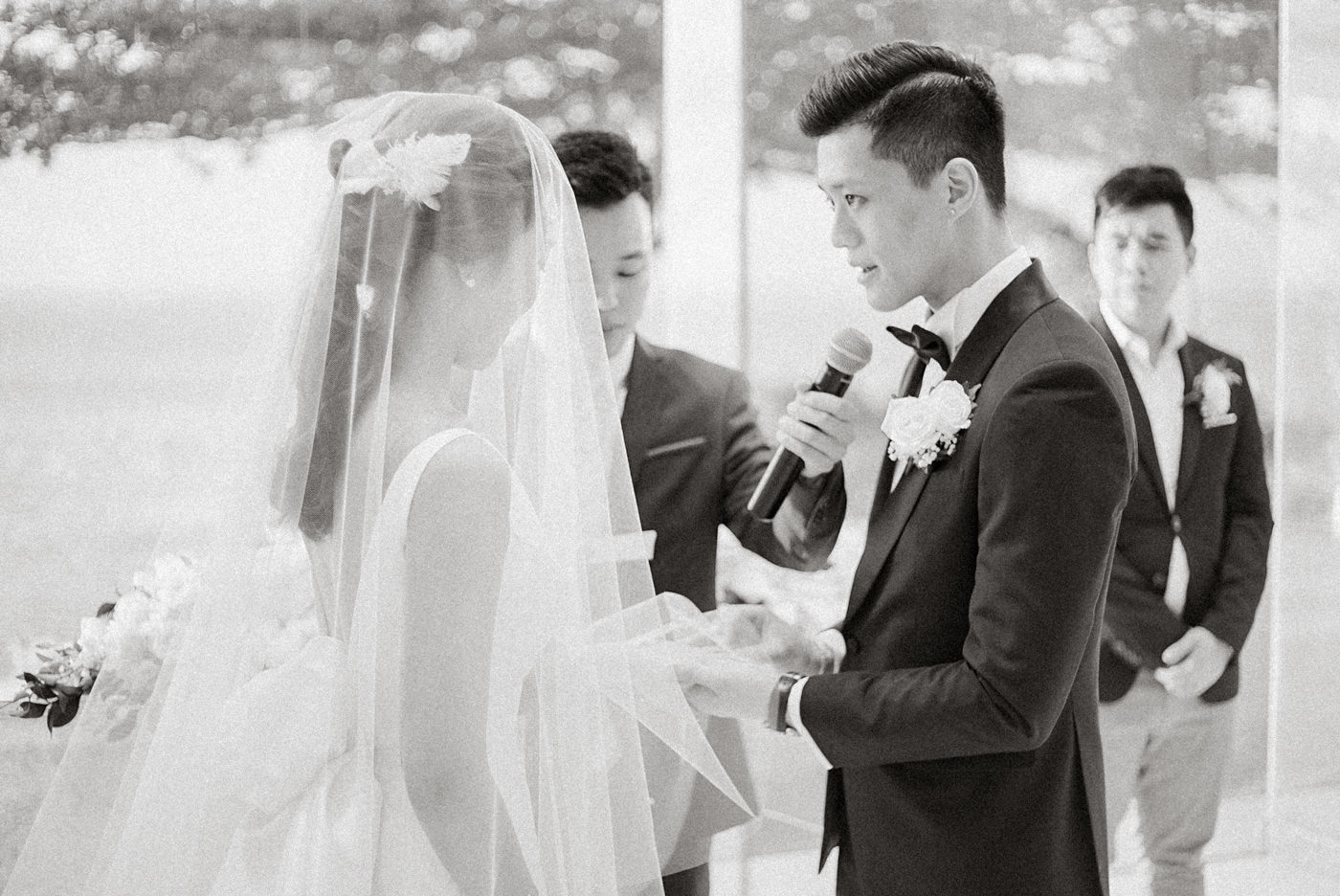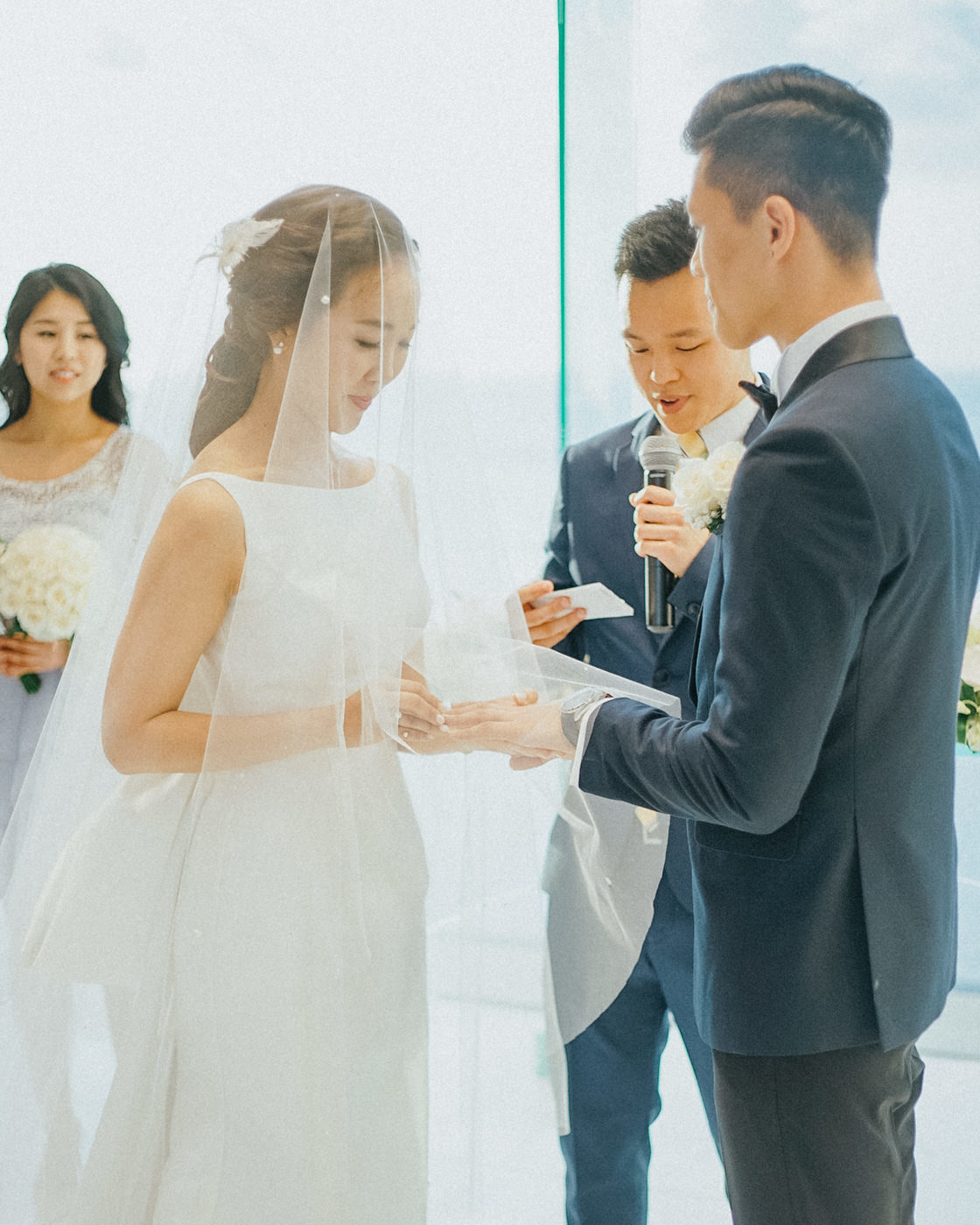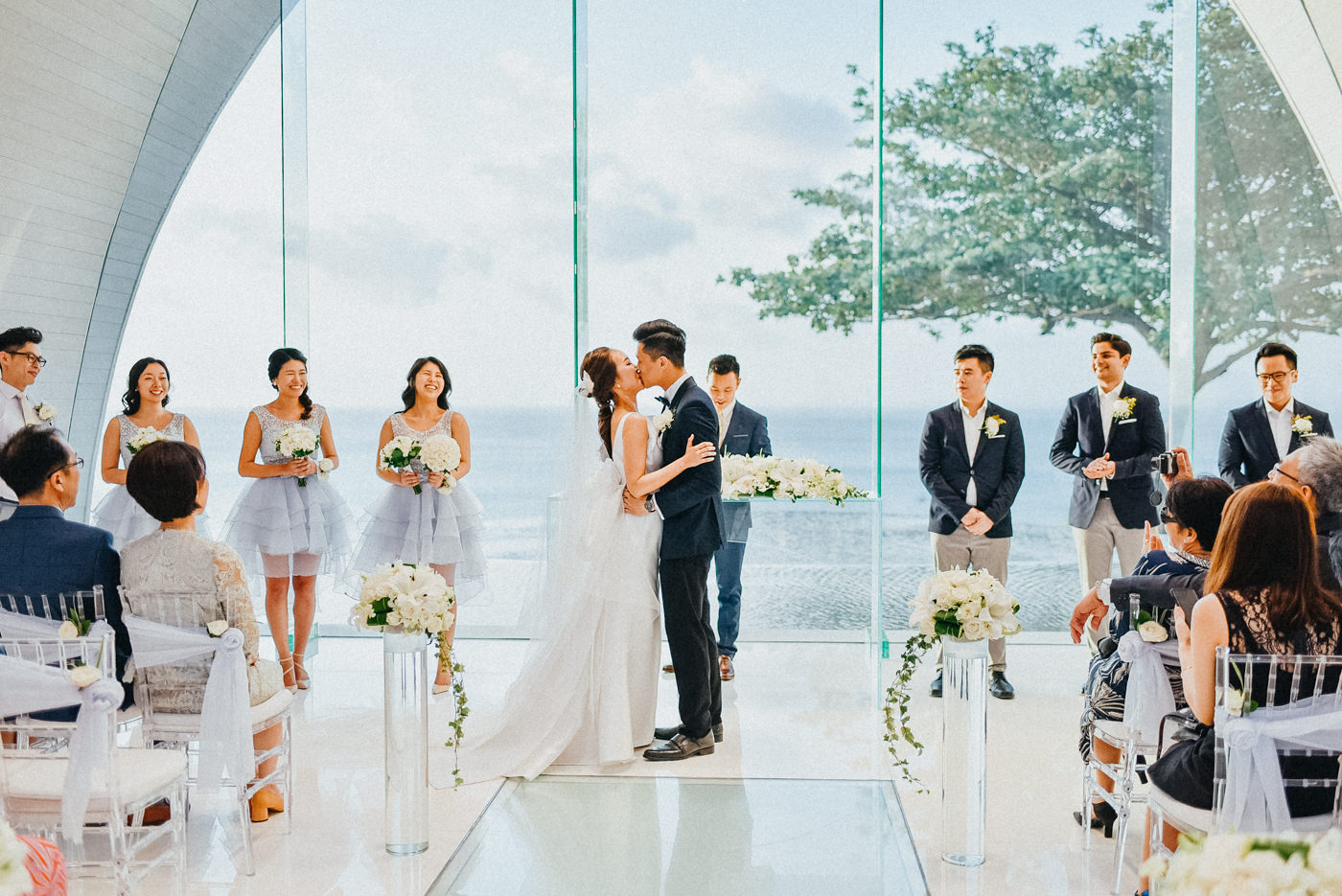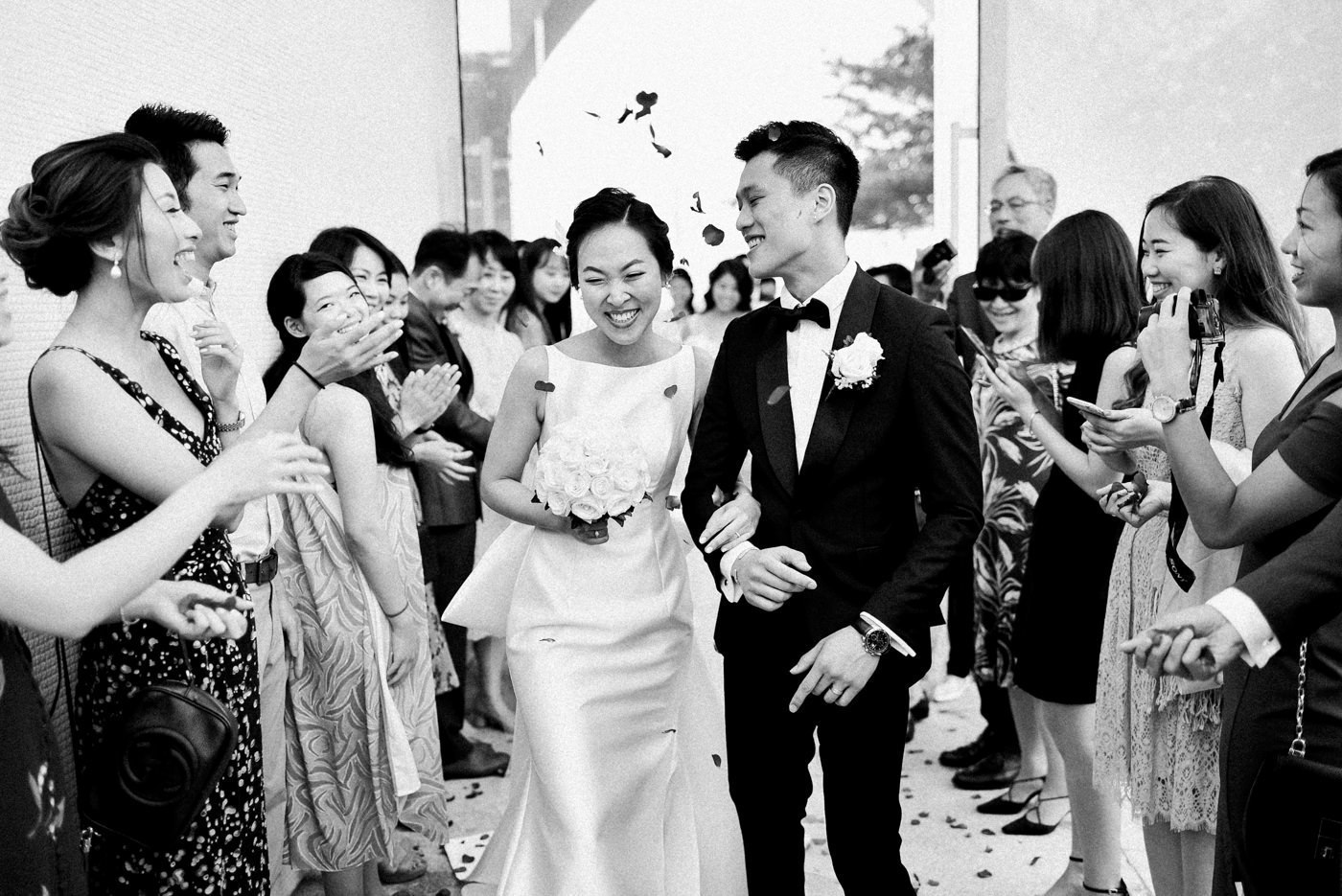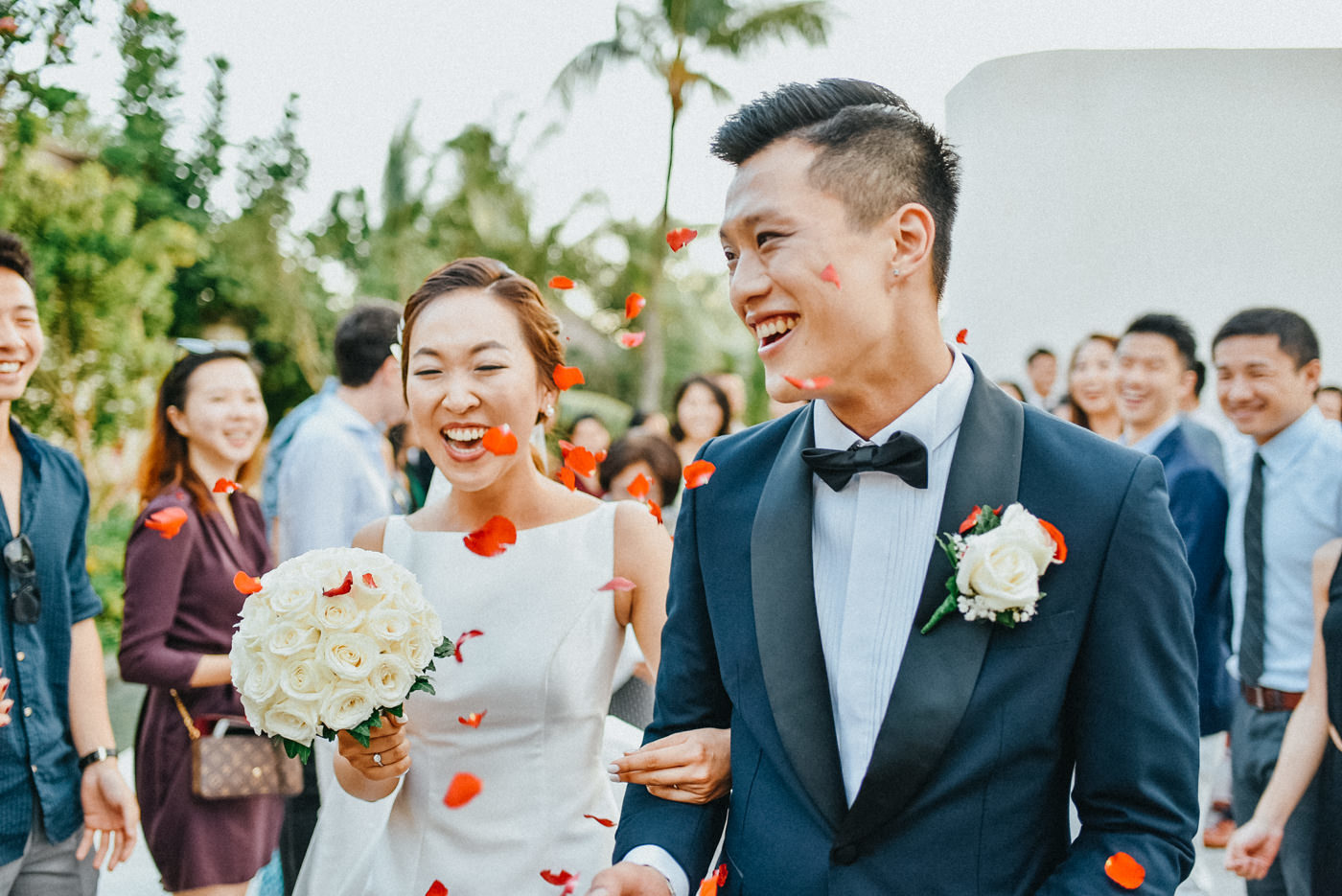 The wedding ceremony took place solemnly and full of joy. As you can see Cathy and Jenkin's smiles are sparkling all the way. With tears of happiness when the vows were echoed.
I couldn't be happier to witness and feel their wonderful emotion as a wedding photographer. I pushed my camera's shutter without stopping. As I see their best moment at the end of the wedding ceremony.
Bridal Party Photo Session
It's the most exciting part of a wedding session. We can stage them as creatively as we want. Of course, We can request them to do some fun things for the bride and groom. They're easy to direct (thank God) and met my sense of creativity. So all are in my command.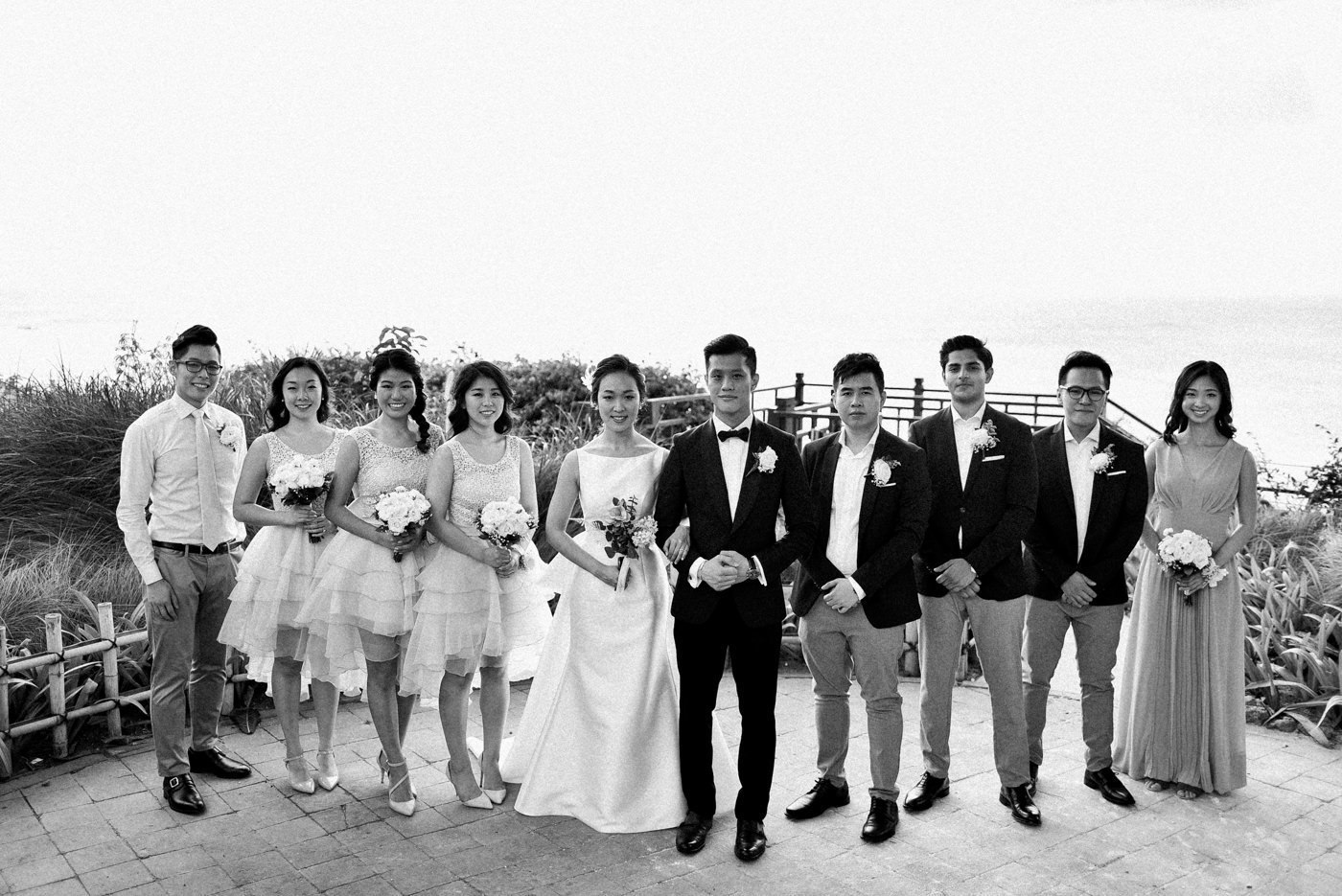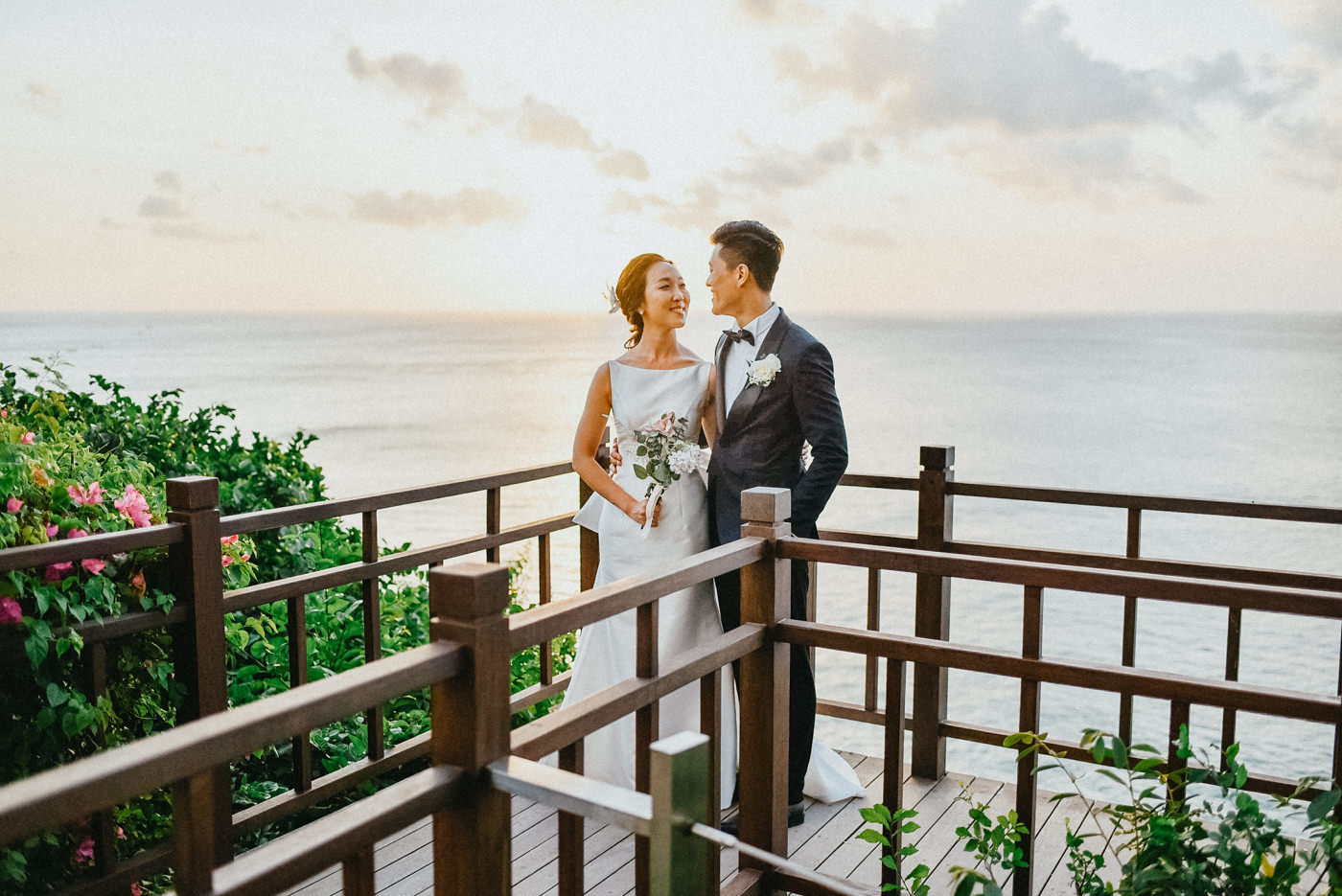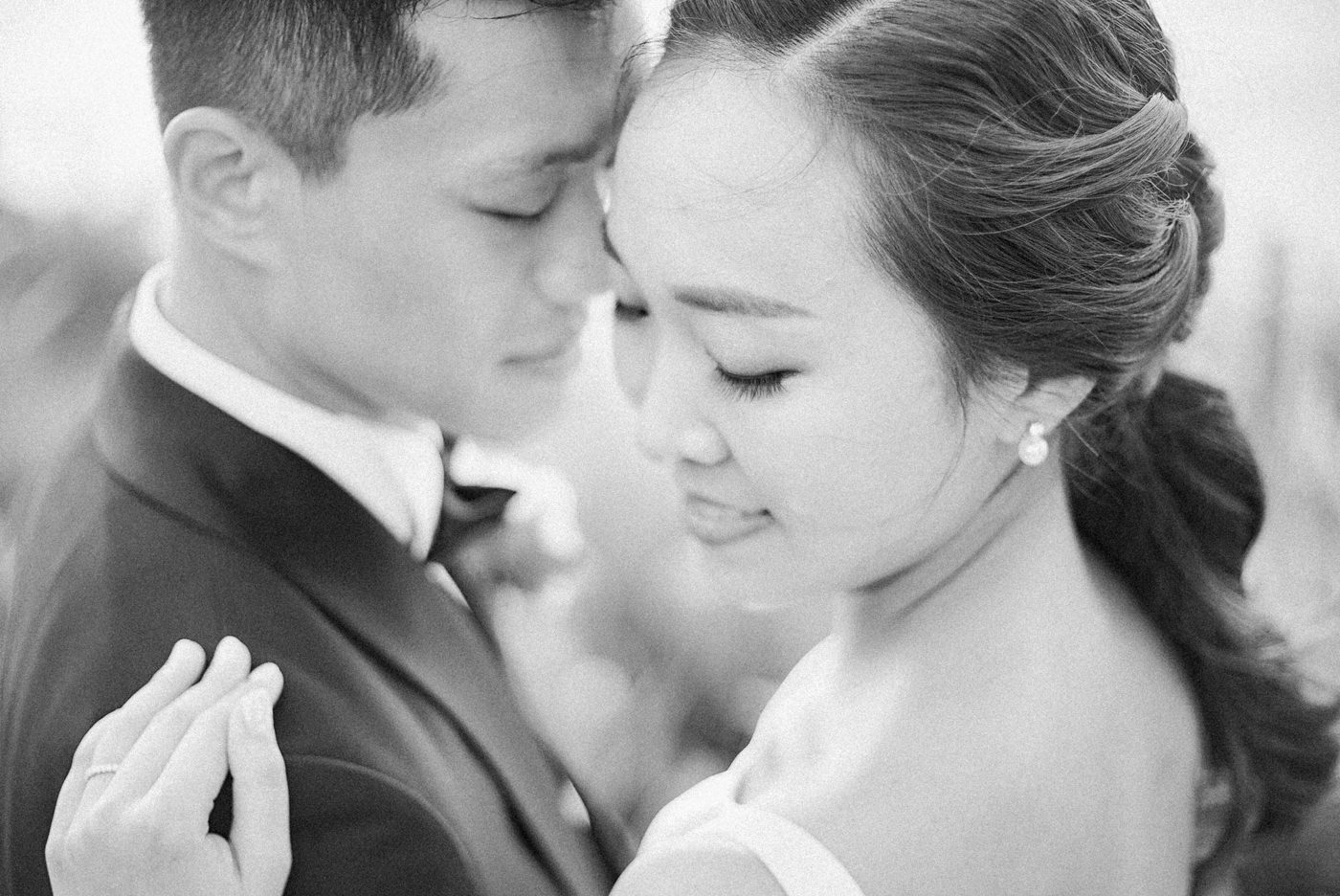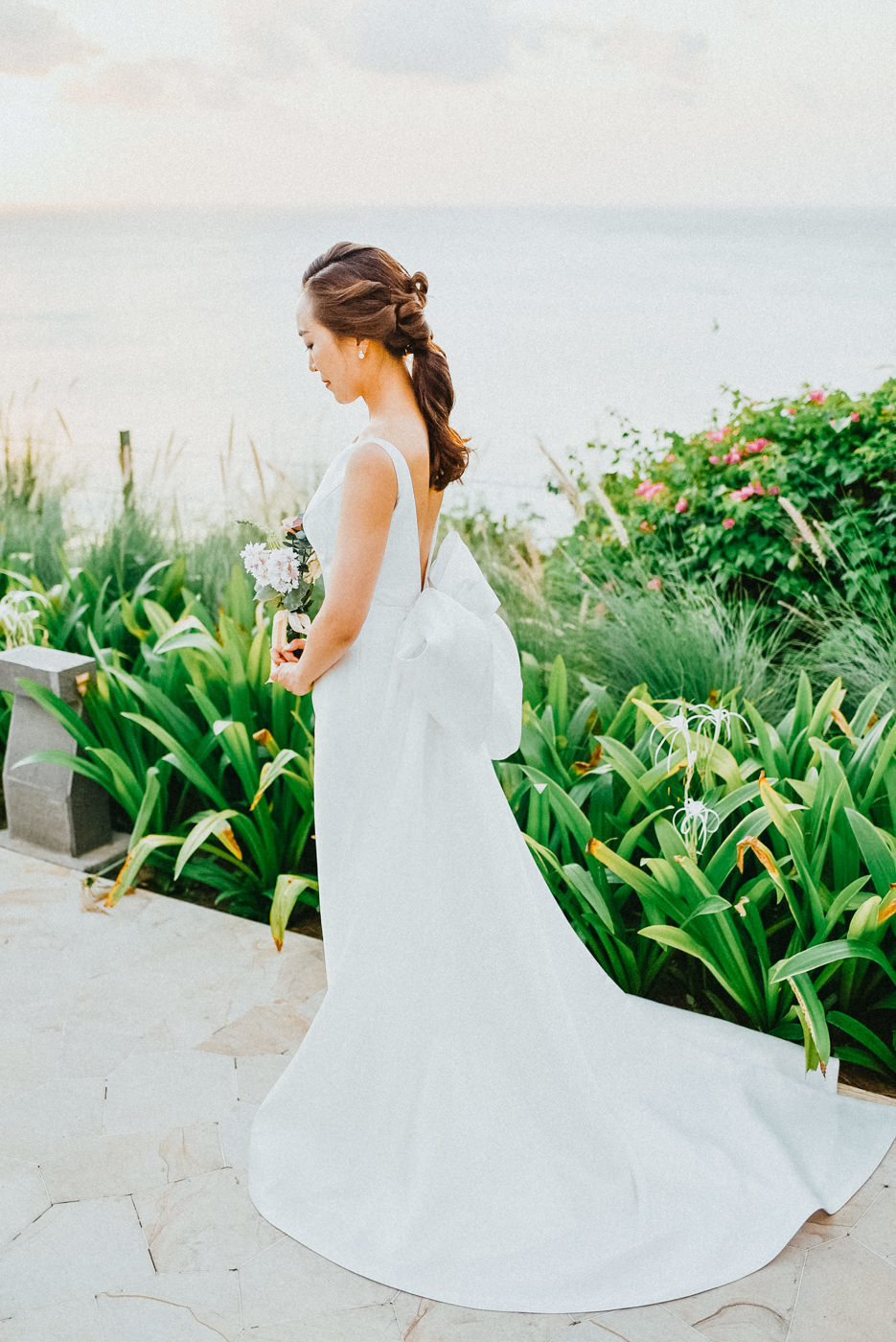 A few shots of the bridal party are enough. Finally, I'm going to shoot the wedding couple only. I need to find their best emotion as well as their expression. Thankfully another God's will here.  Everything was gone very smoothly and flawlessly. I've got the best of Cathy and Jenkin's portrayal at the right time, just before the sunset. The warm soft light covers most of my frame with them in between. My happiness multiplied by 1000%. Because I know that it would turn into a great wedding photograph.
The Dinner Reception
The sun completely set. Therefore We finished the bride and groom photo session. Here they come to the dinner reception. Cathy and Jenkin have carefully chosen the best flowers and reception setup. All the table is full of beautiful white roses with fresh green leaves. Moreover, they are designed with unique setup equipment. It's so amazing with the blue hour sky as the backdrop.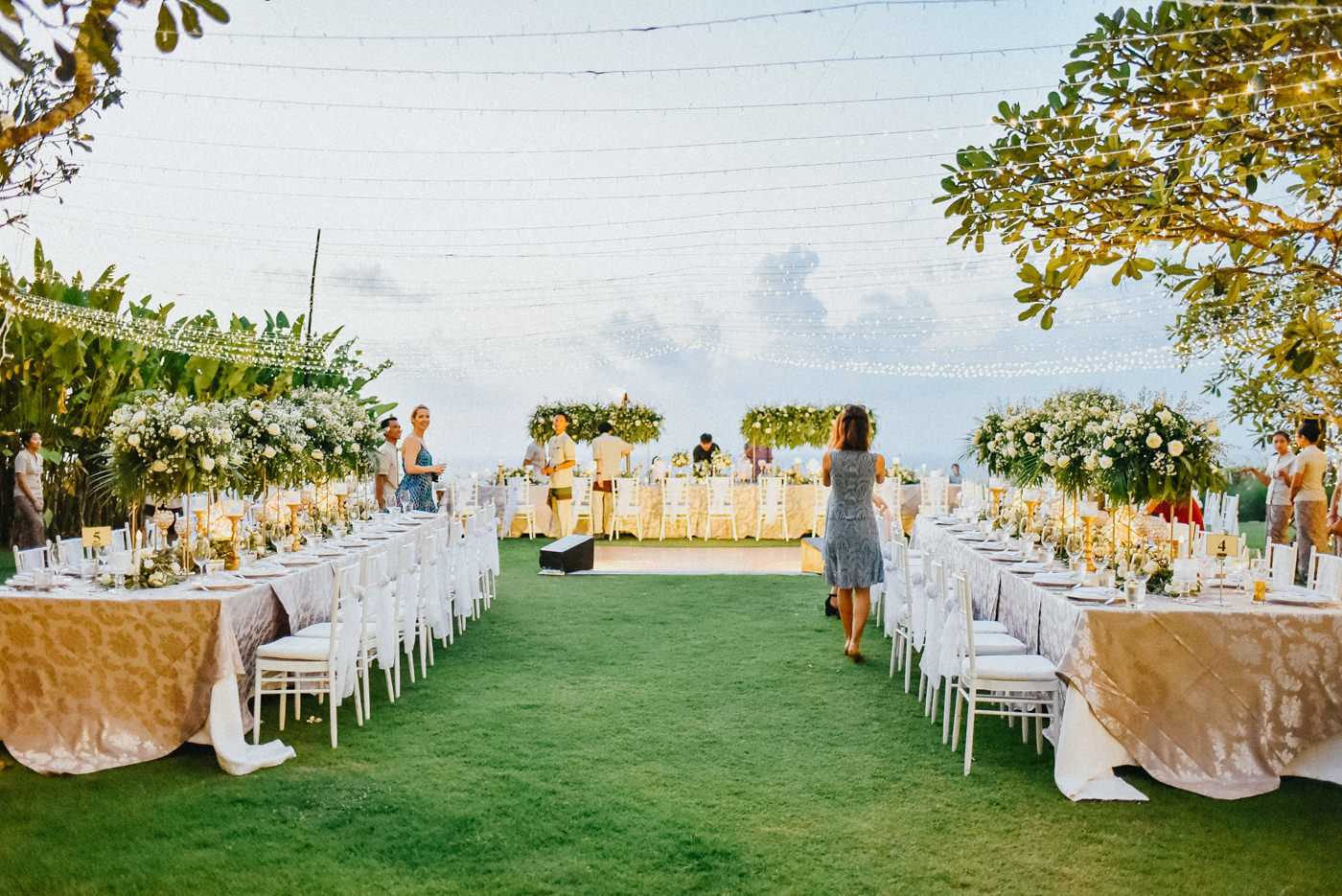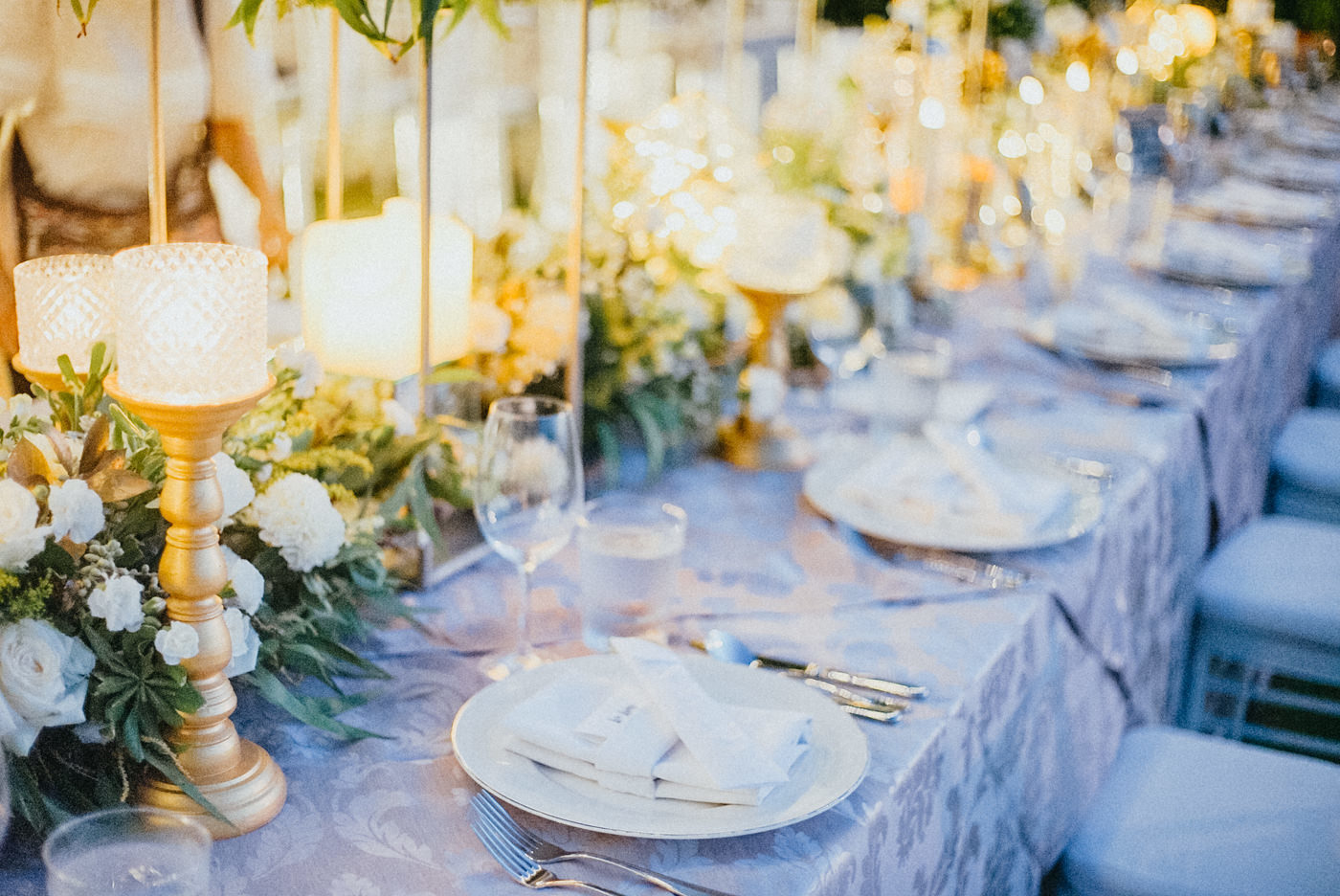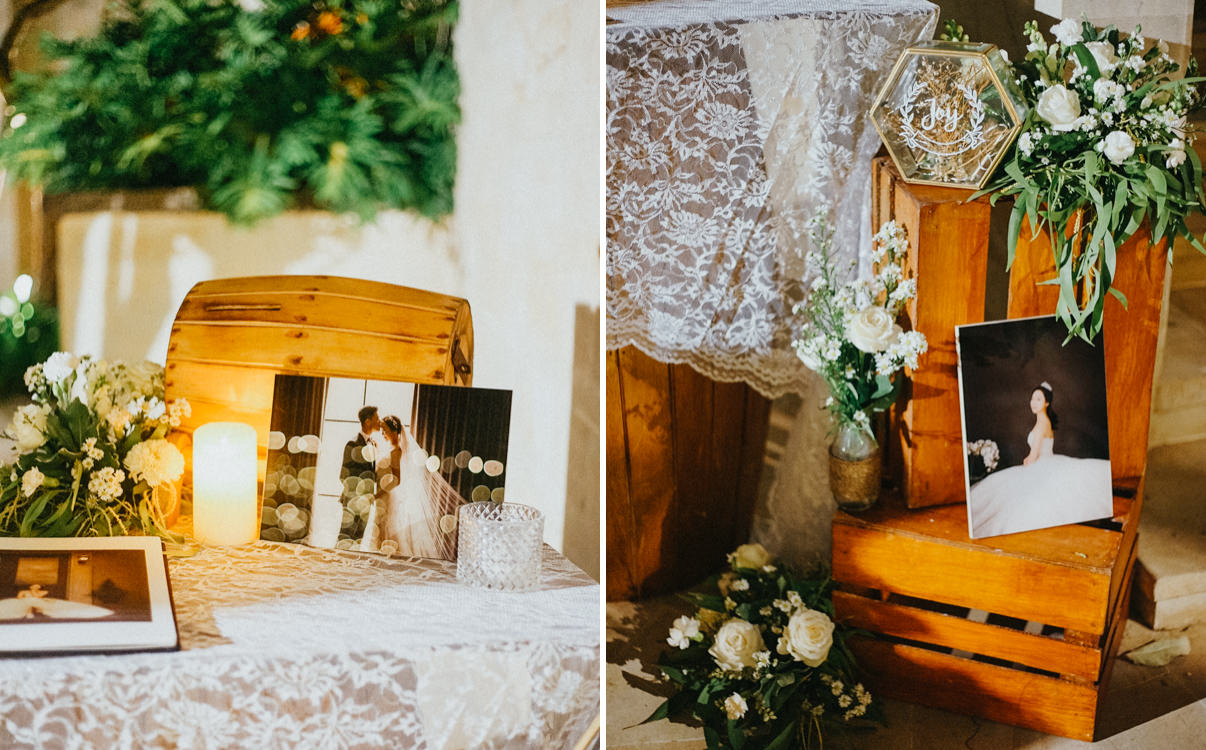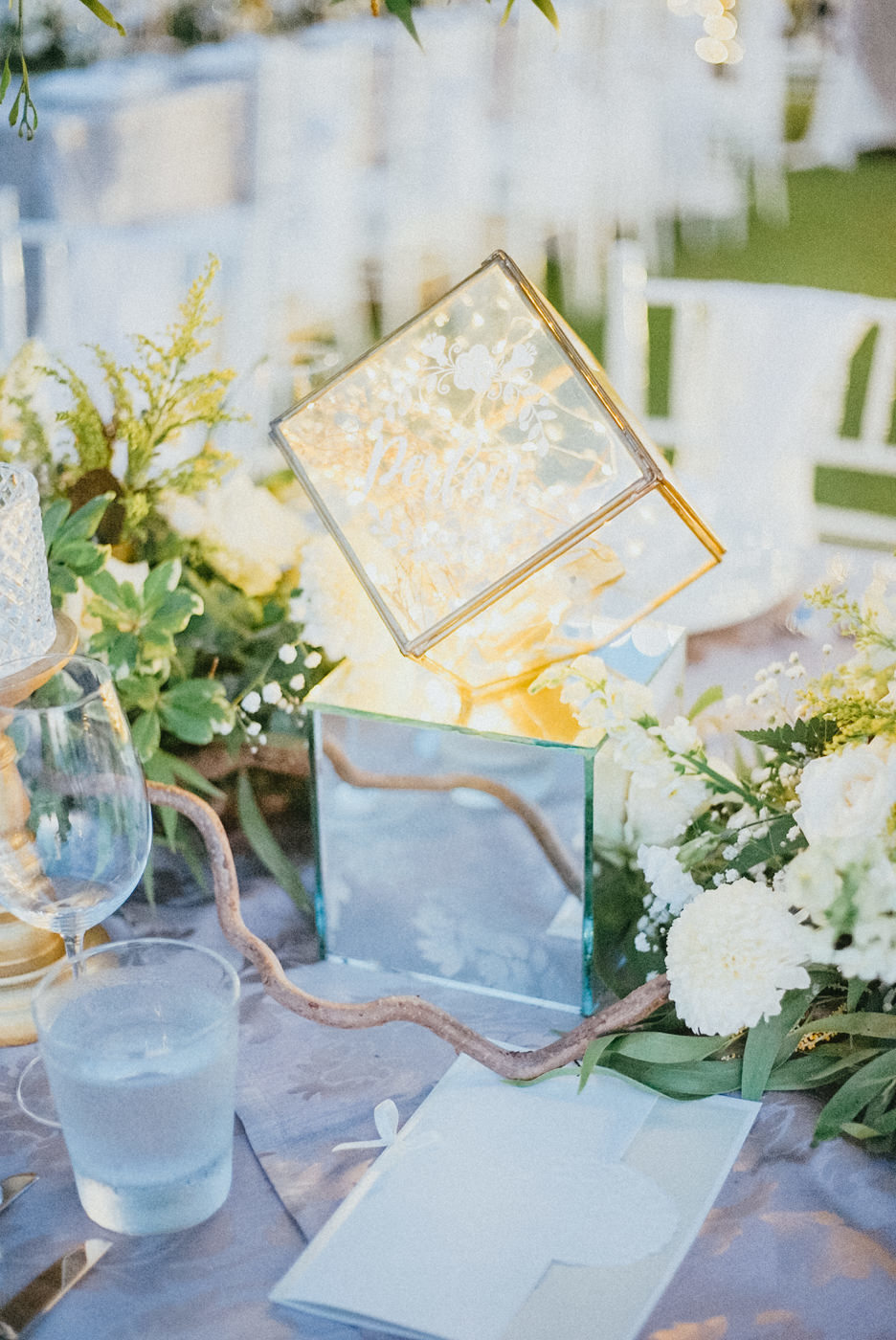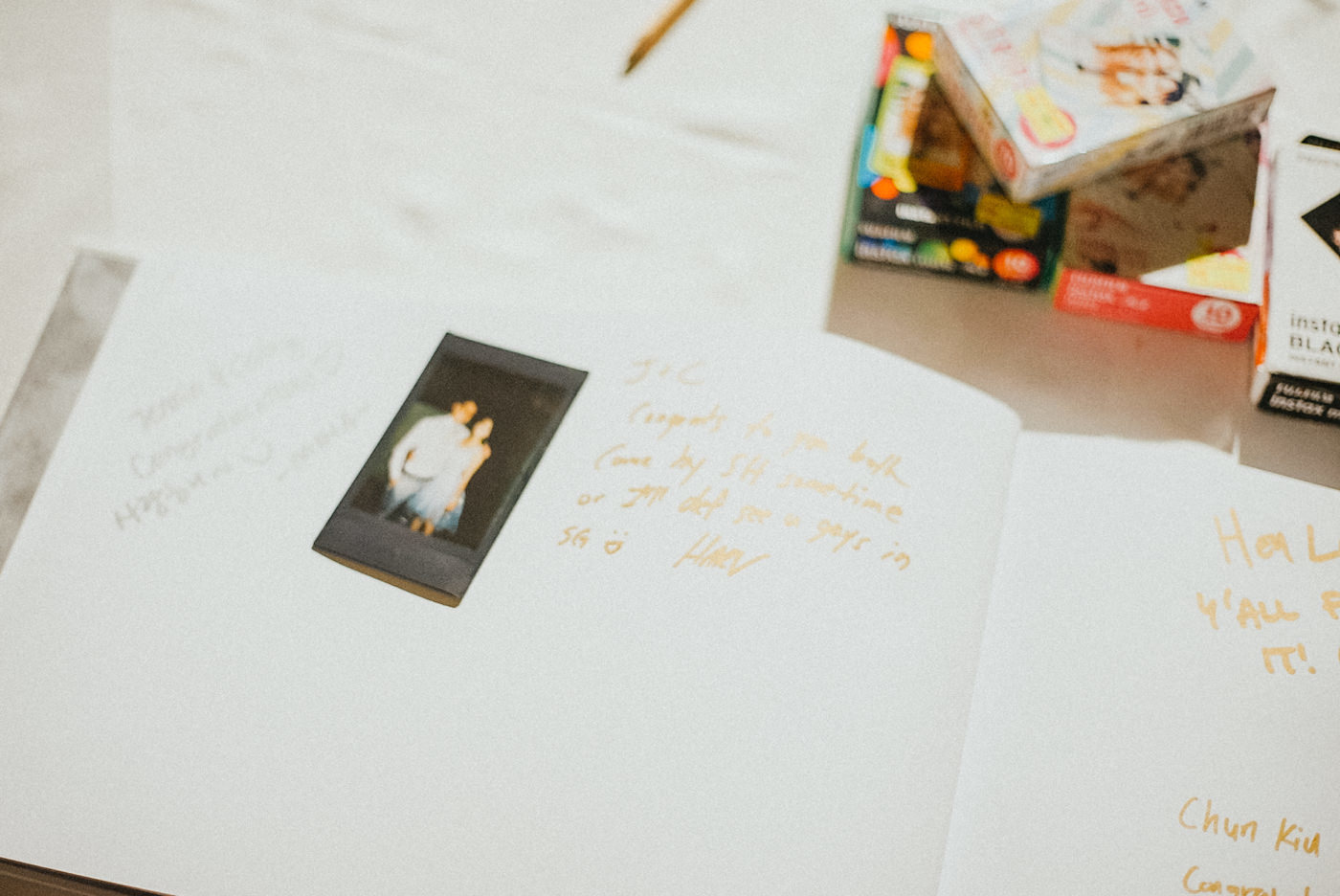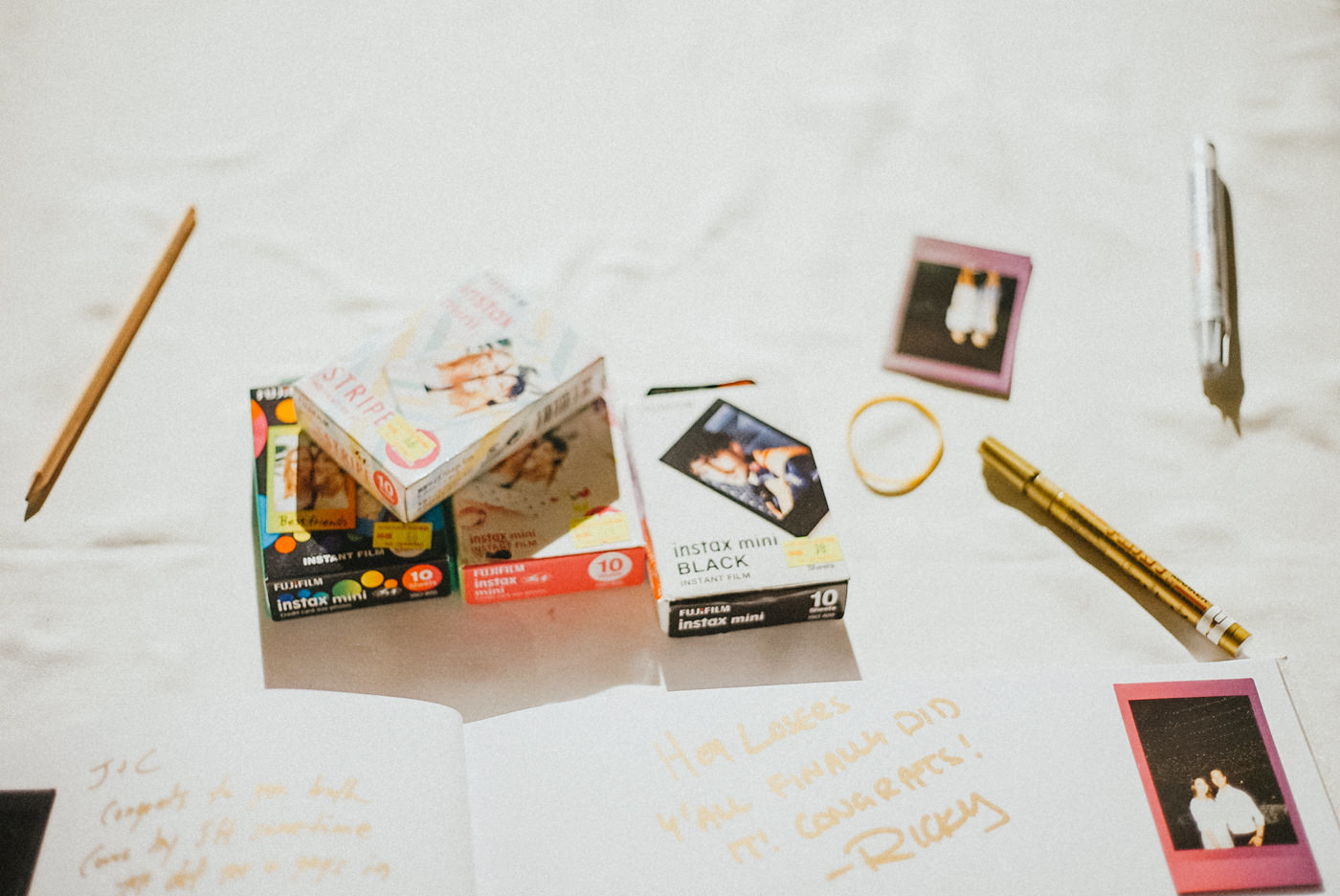 Then please welcome the newly wedding couple. Cathy and Jenkin were at the grand entrance.
Cathy has changed her outfit with a gorgeous pinky dinner gown. Just like the swan princess. They walked into the dinner area with a lot of joy and happiness. More smiles on every step they take further. This blissful wedding at Ayana Bali finally getting its peak. All the guests and friends were carried away in the atmosphere.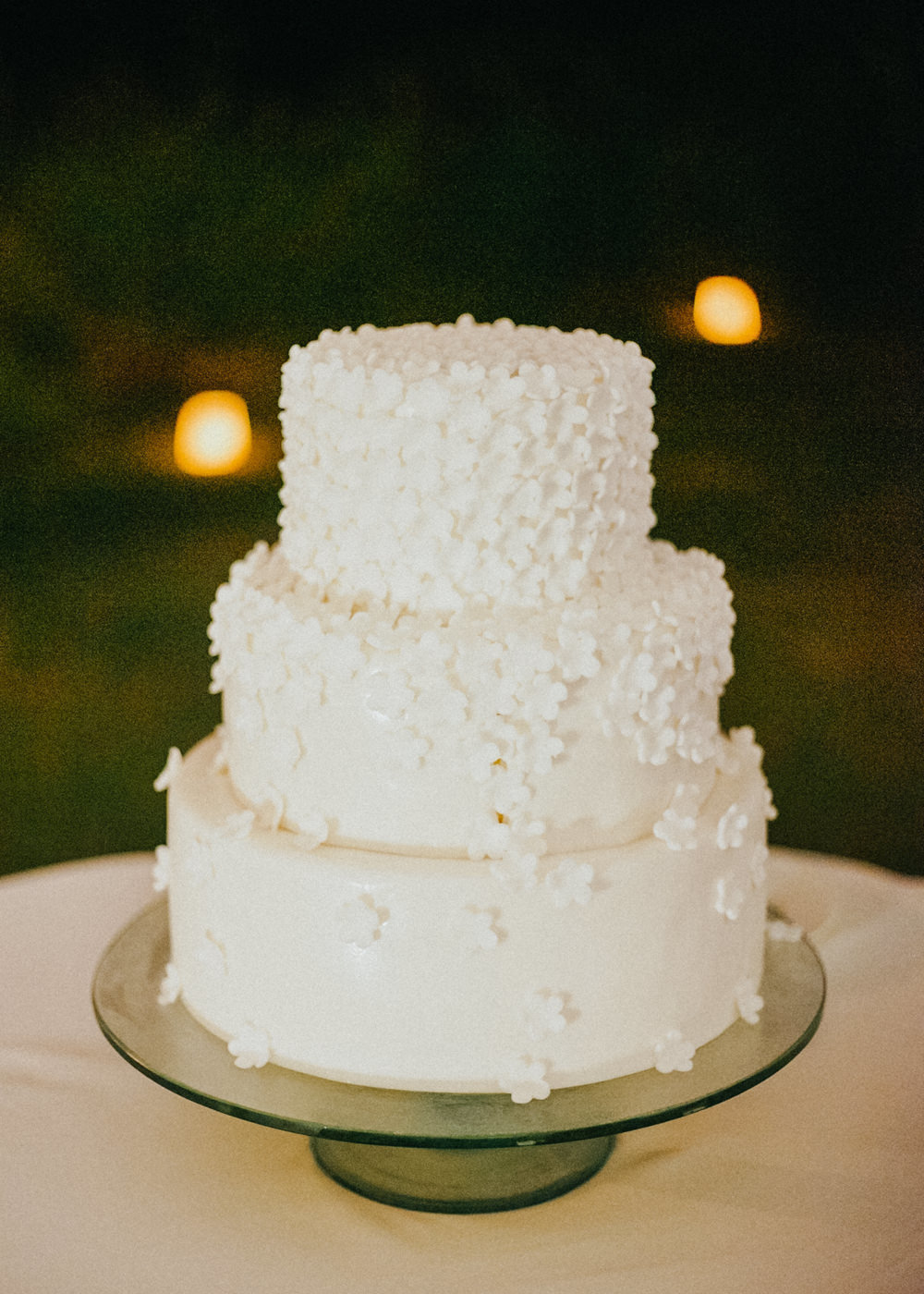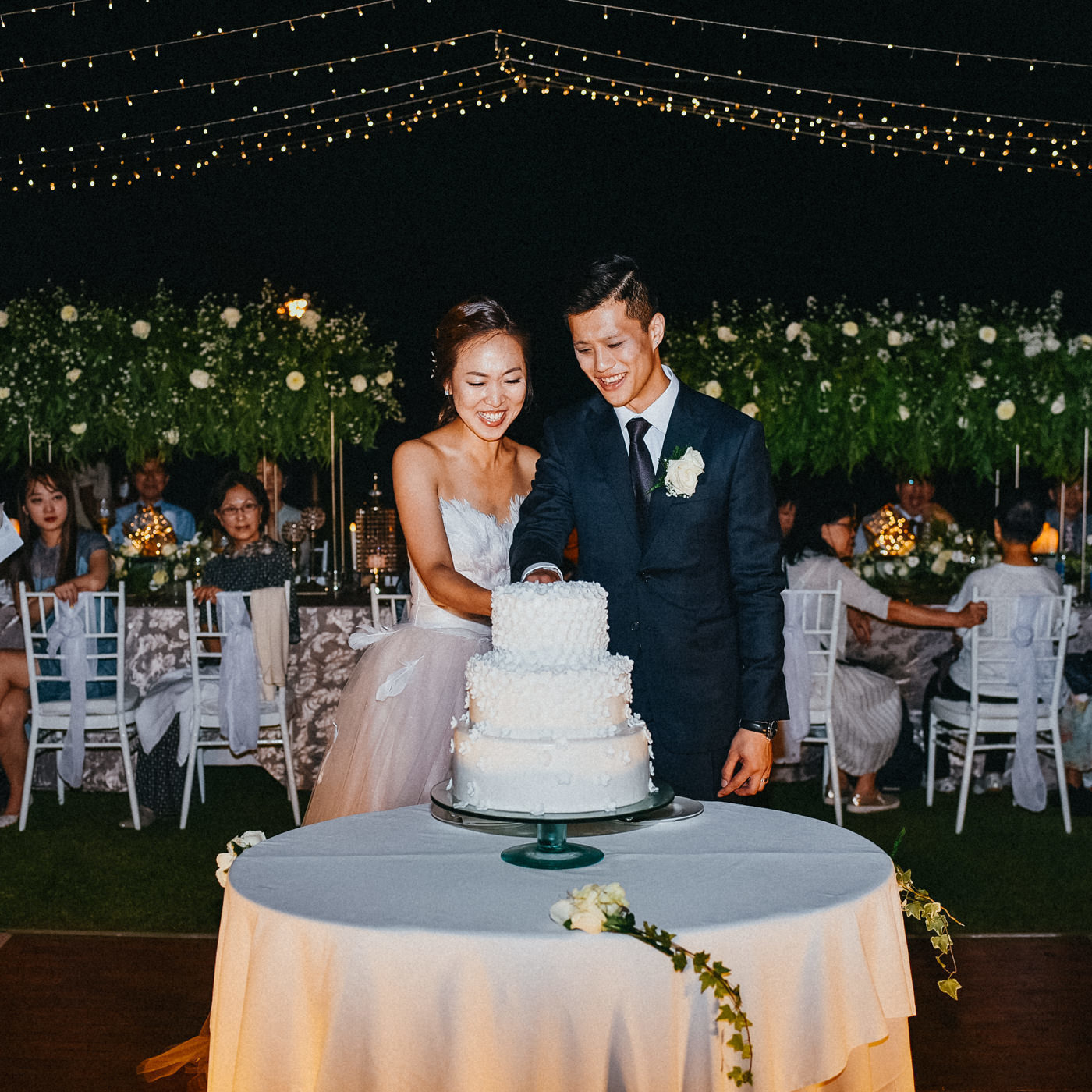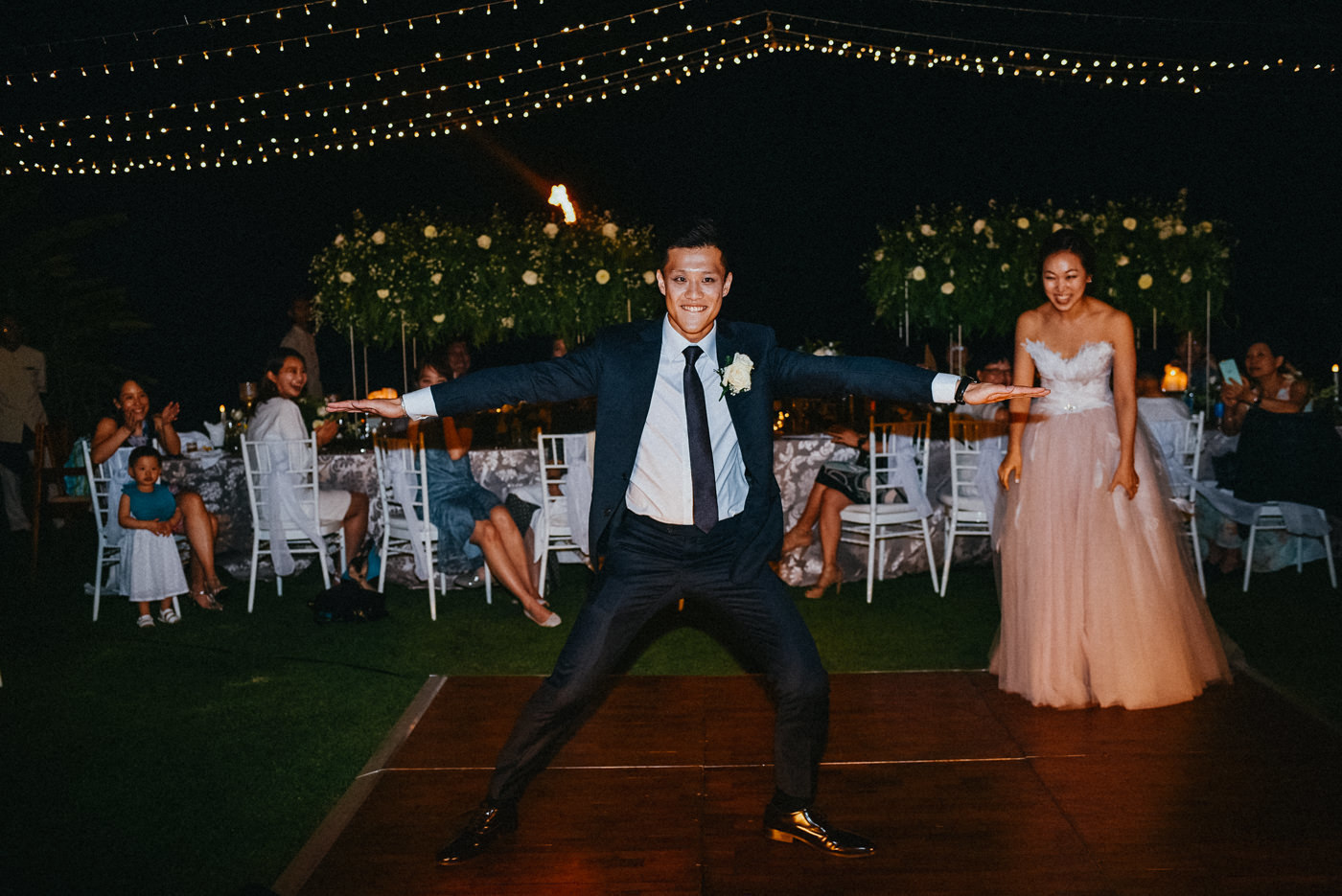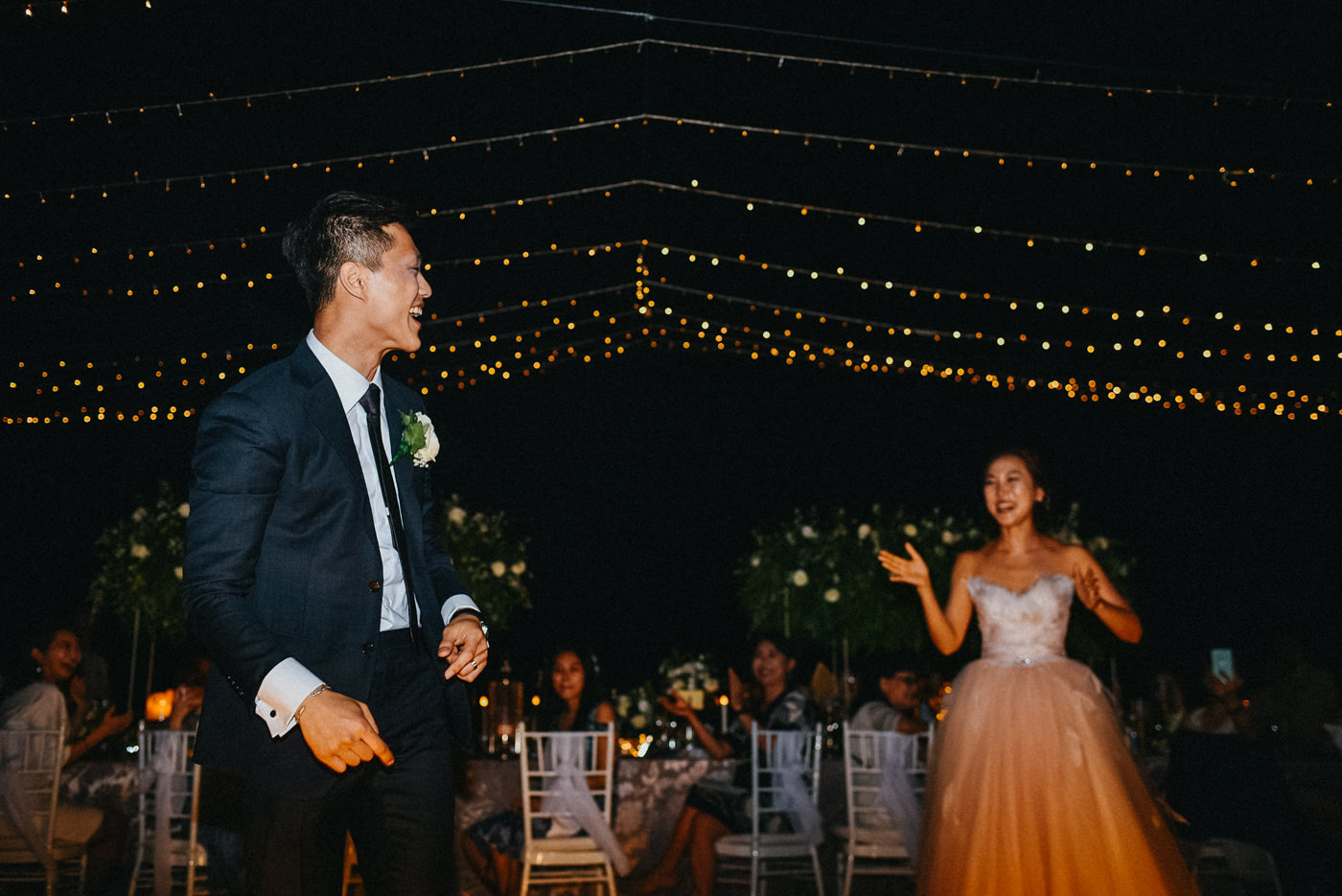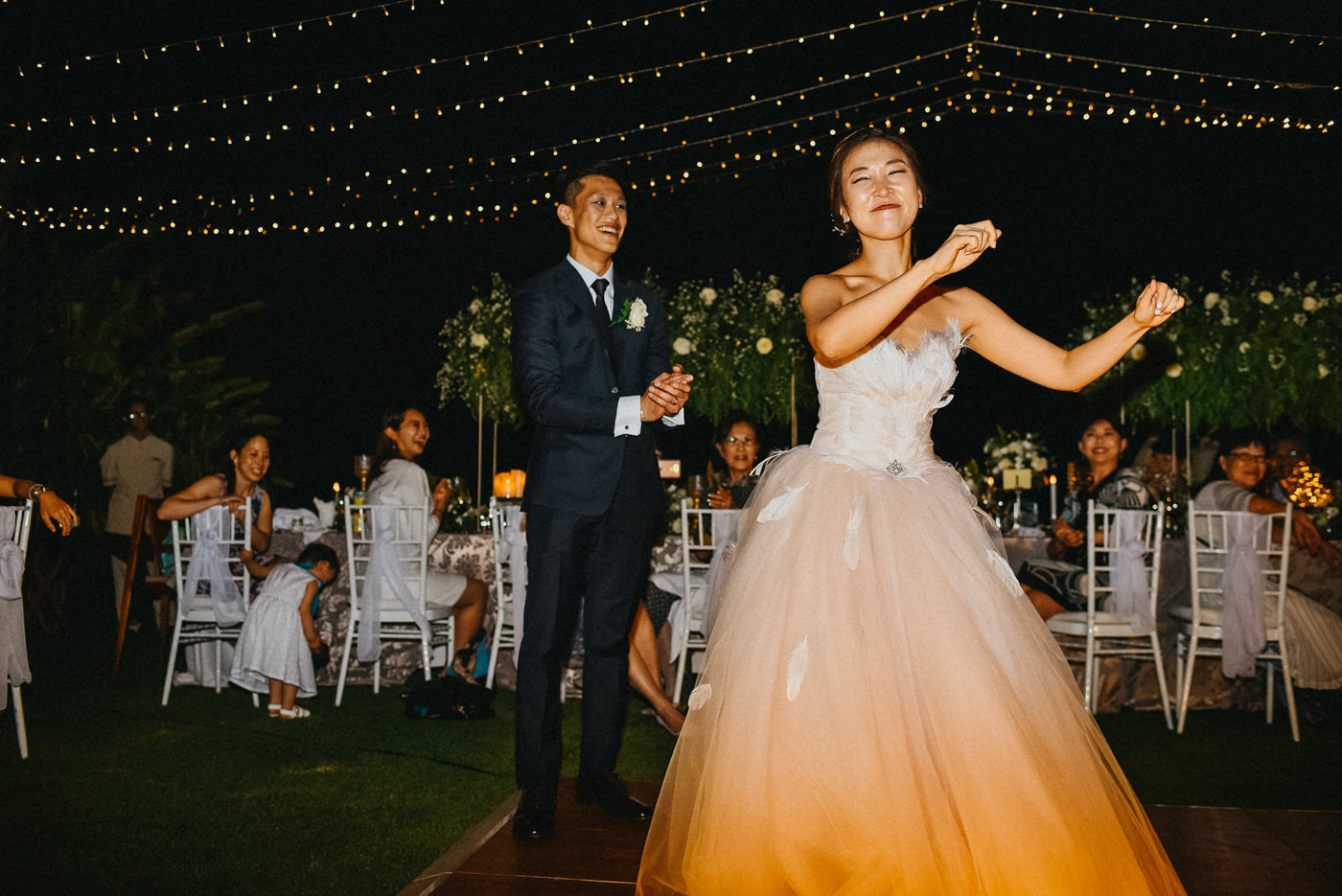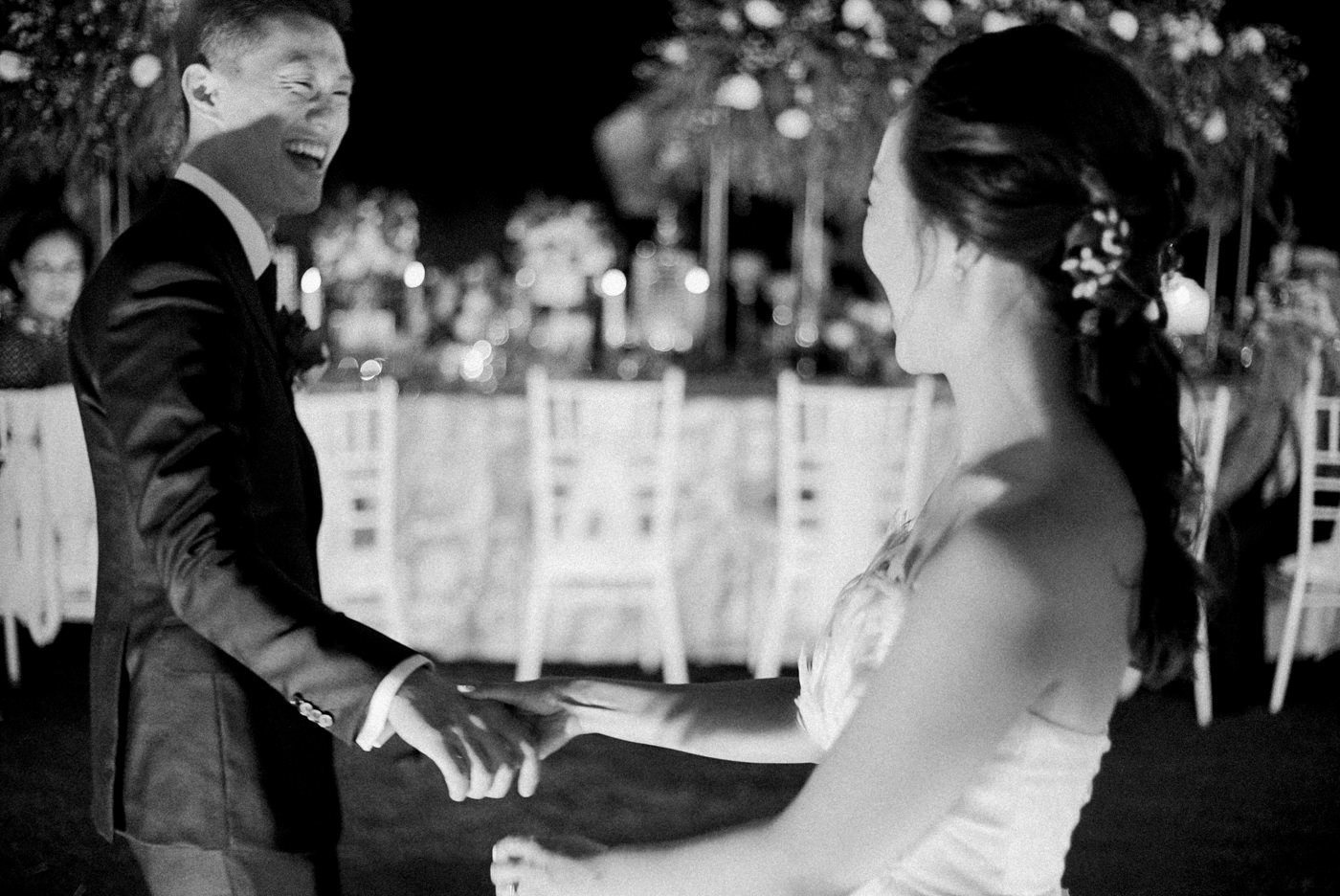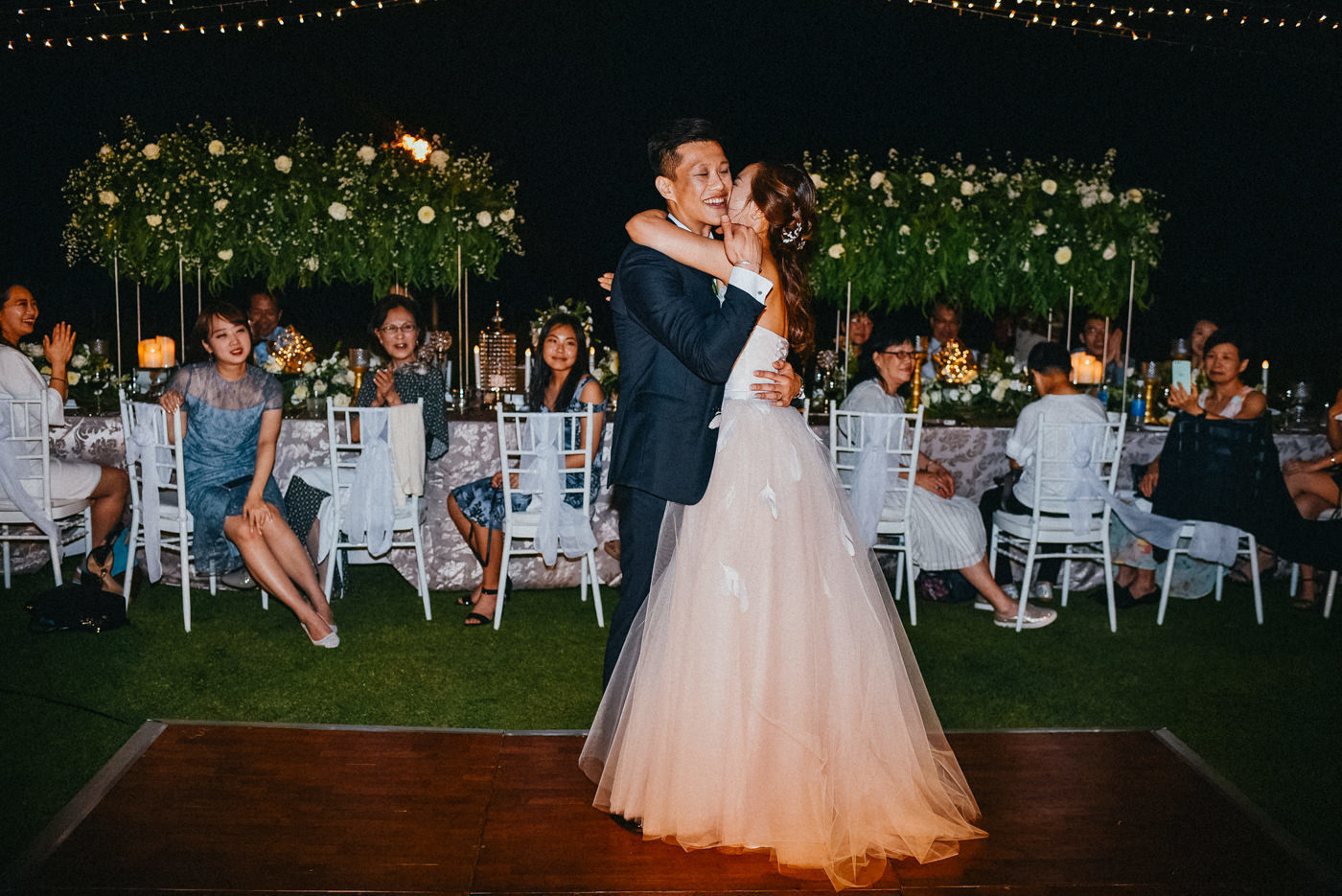 What is the most exciting moment at the wedding reception? Yes, It's the bouquet toss! Every wedding photographer waiting list.
It was another level of hype. Most single ladies and men are gathered together. Surely the purpose is to get the bride bouquet. Most people said that If you were to get those bouquets, you could be the next guy who will get married. Very soon! 😀
Unfortunately, there is not much space in those dinner areas. But they've seems managed it very well. All goes fun and loud.
And The Real Party Begins
Well, there are no great words to illustrate the hegemony here. Everybody was going wild and dancing all the way.
It's the time where I could move freely and follow the music as well. I'm trying to capture every possible moment. I spent the rest of my energy before it's over.
Just party until you drop.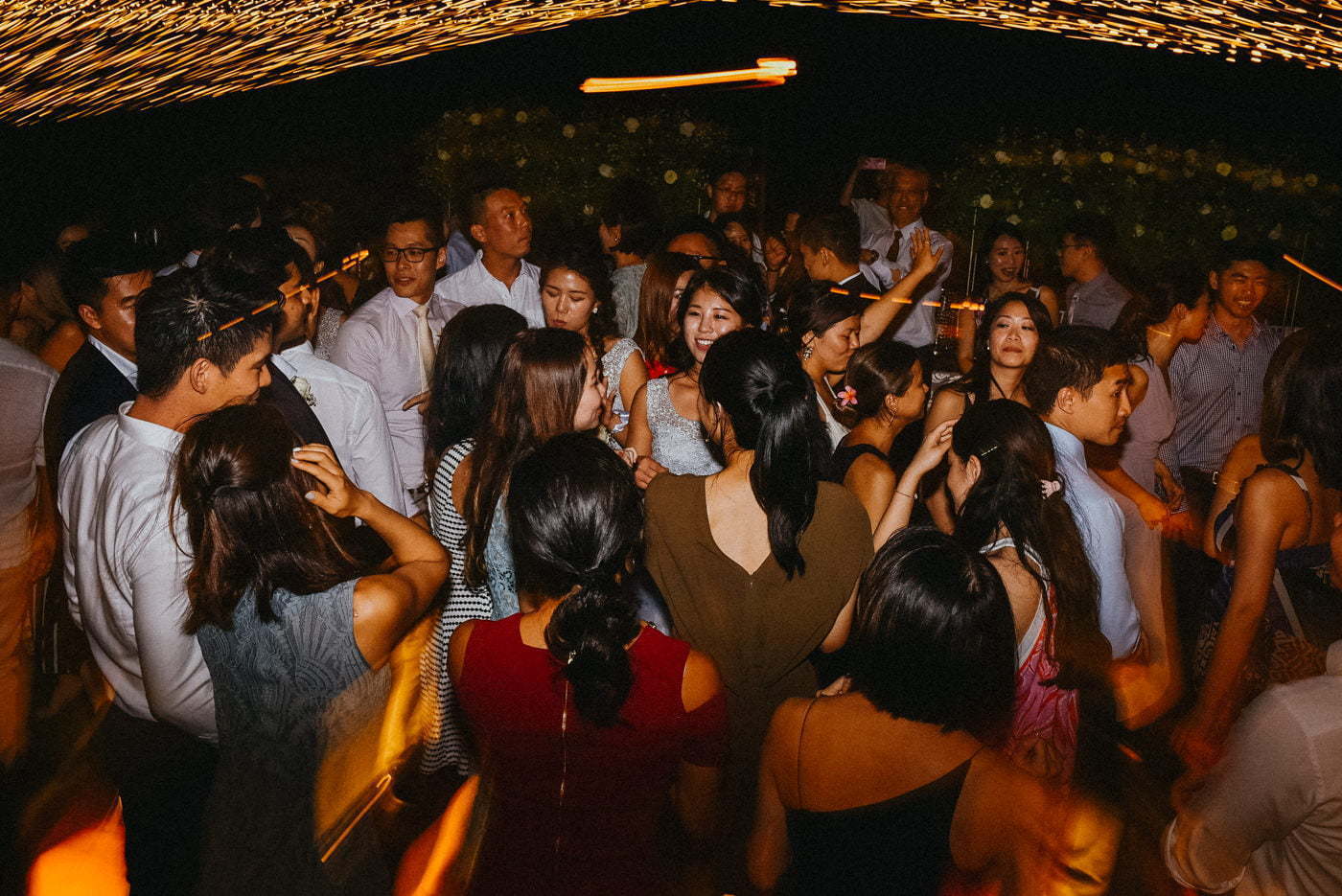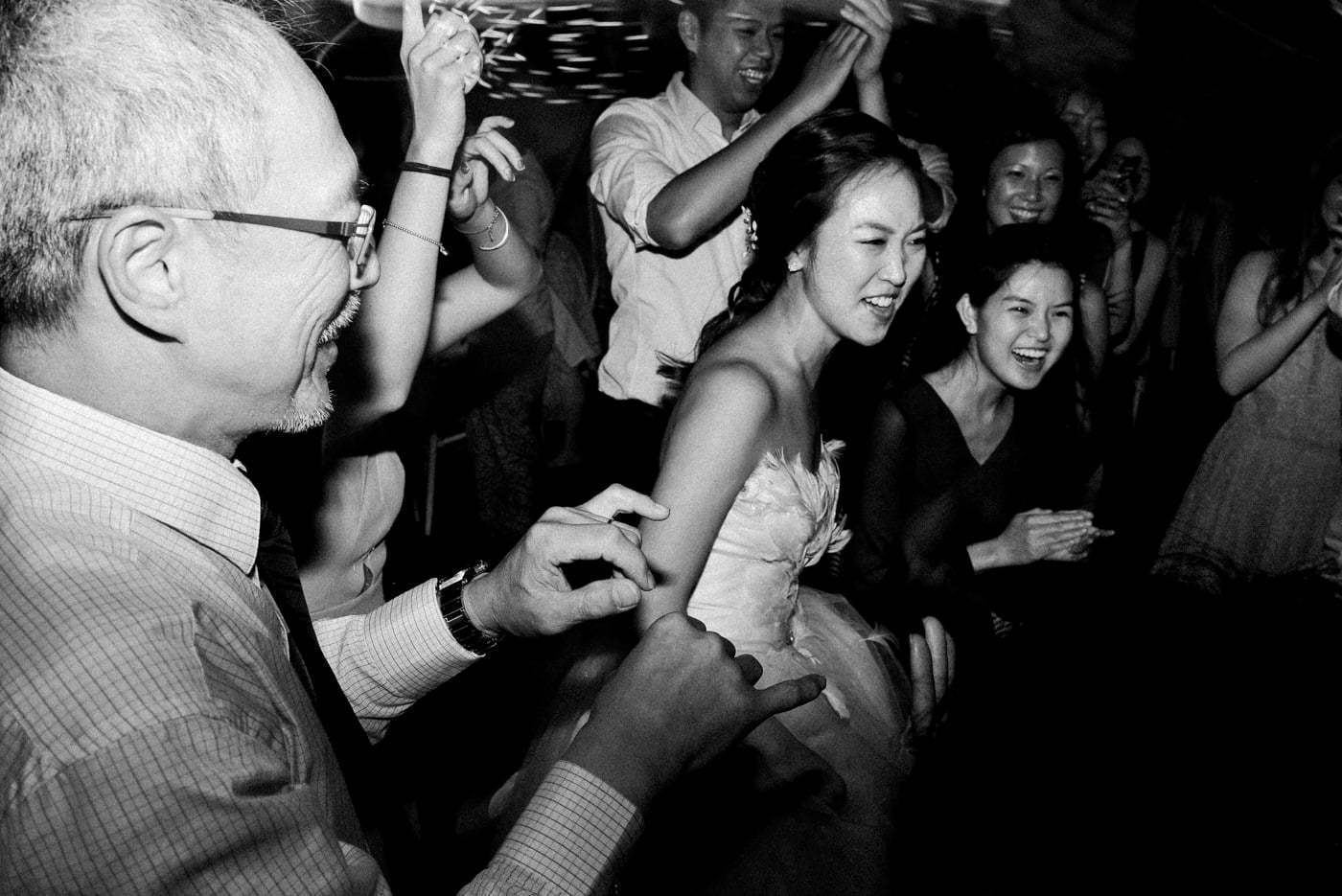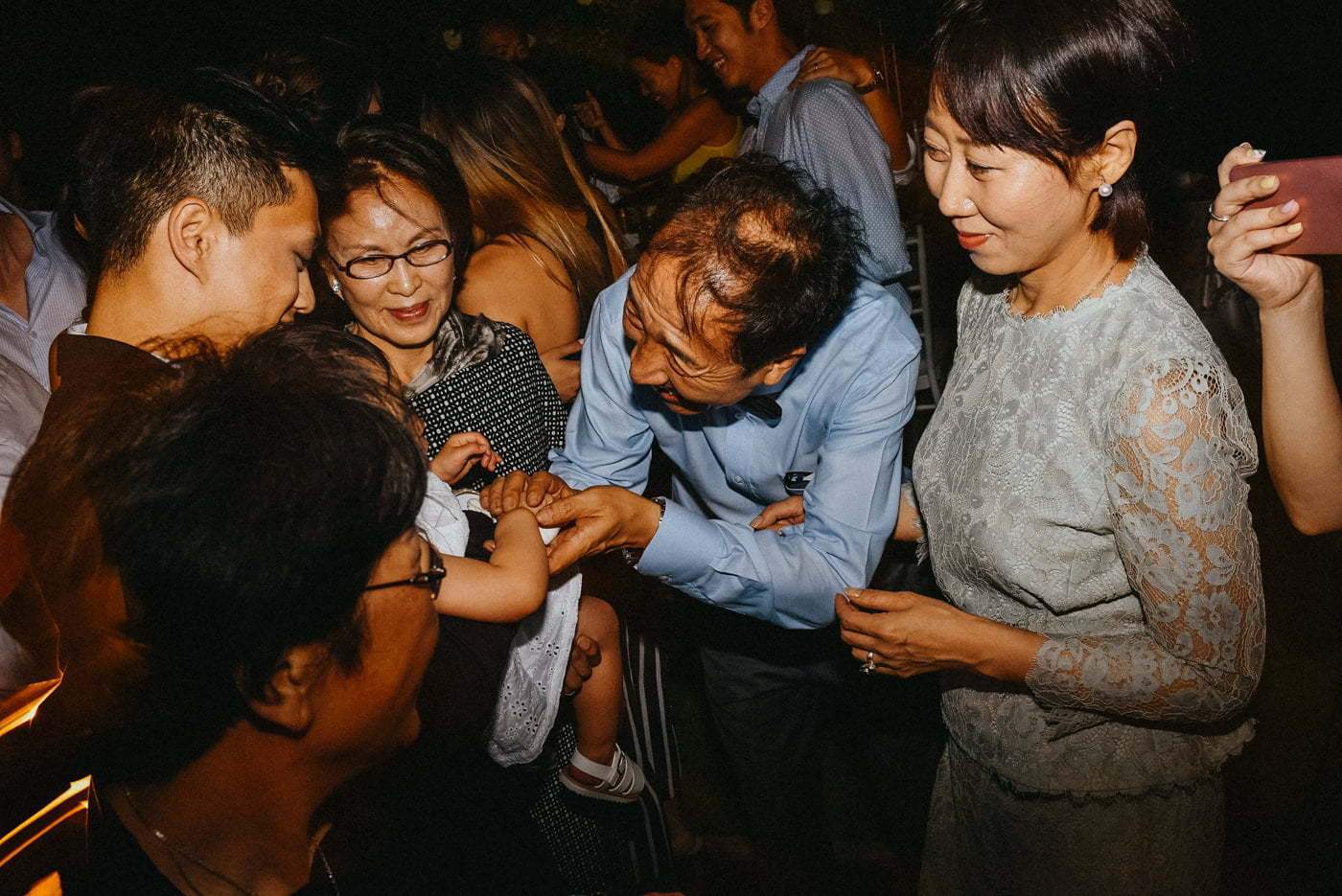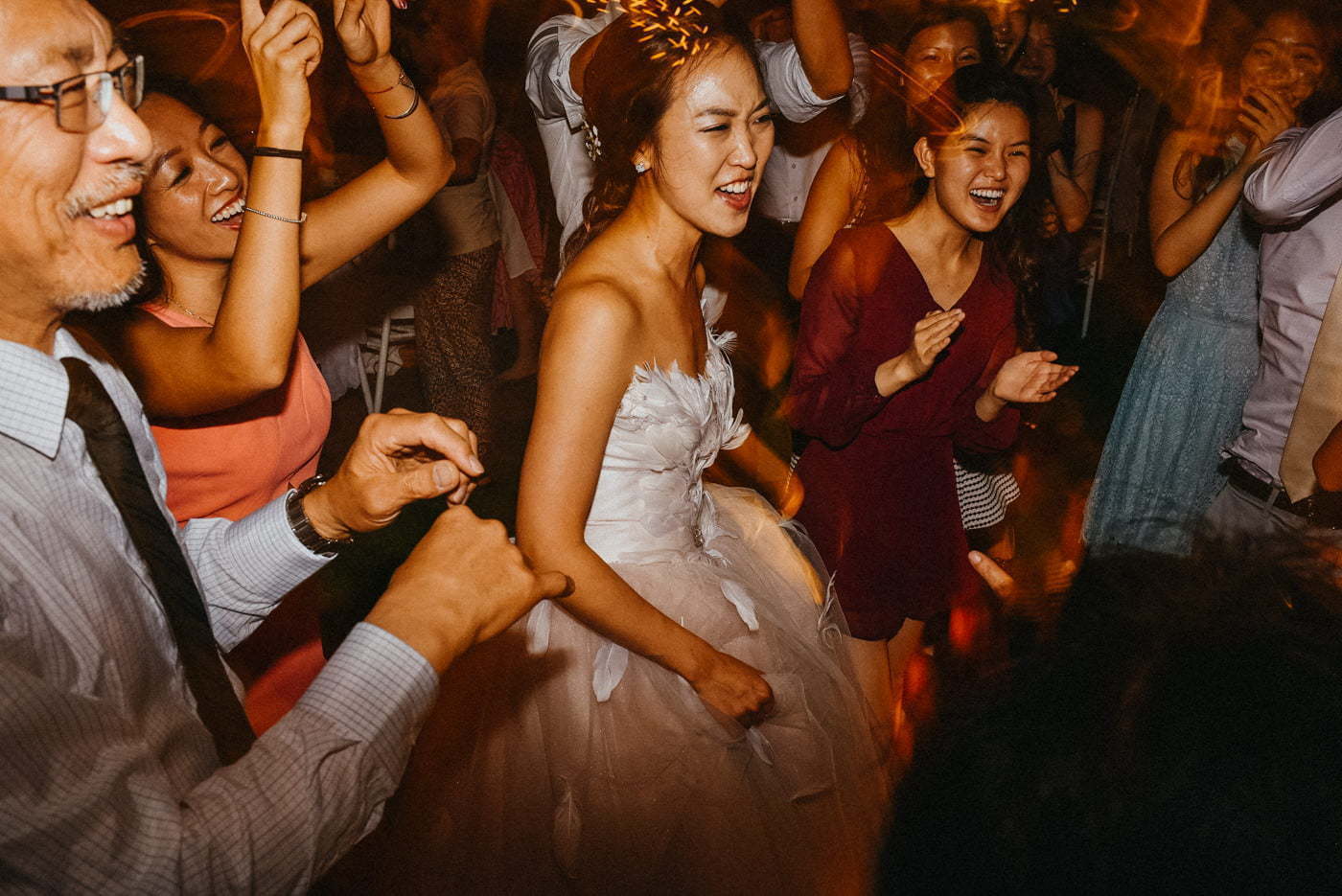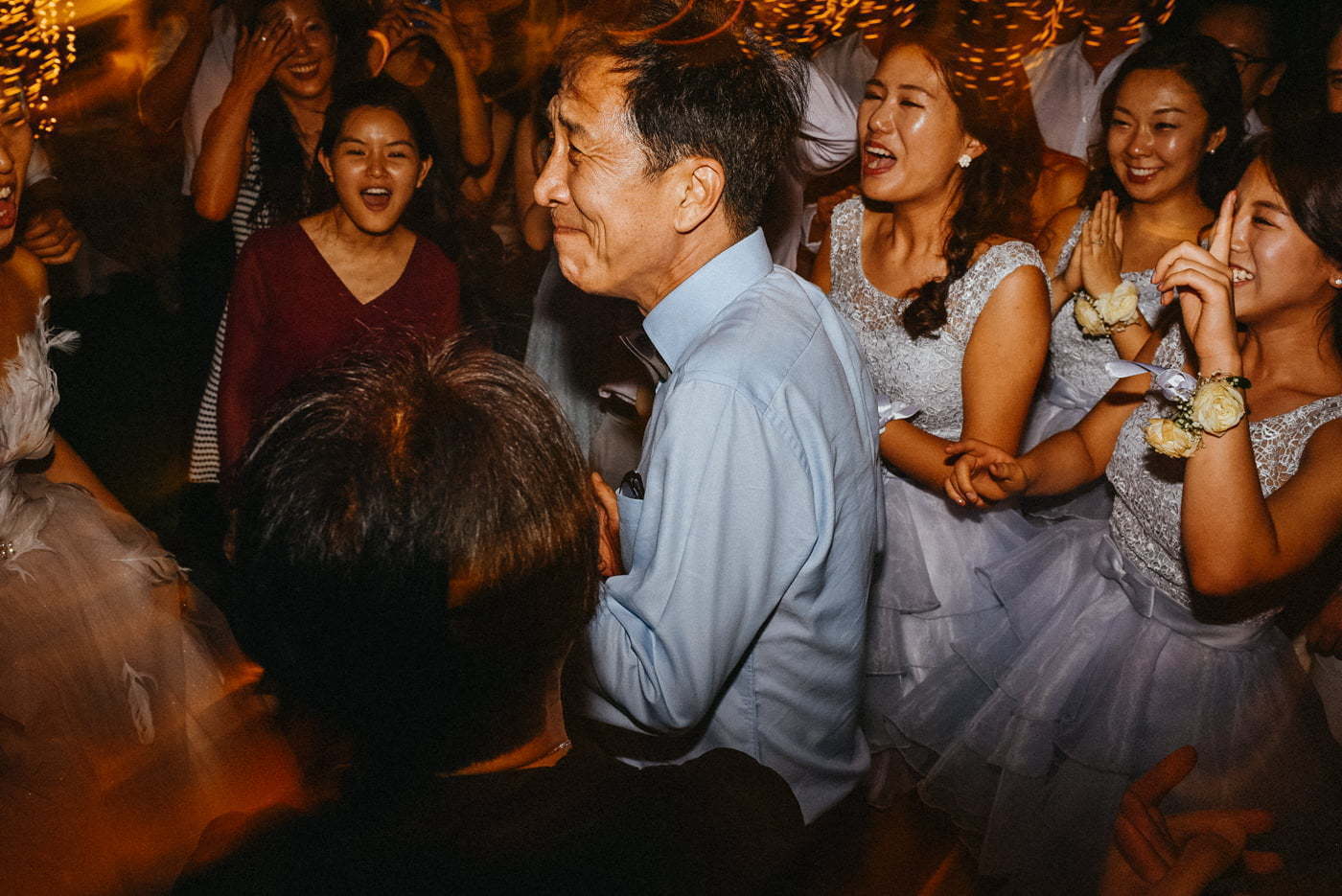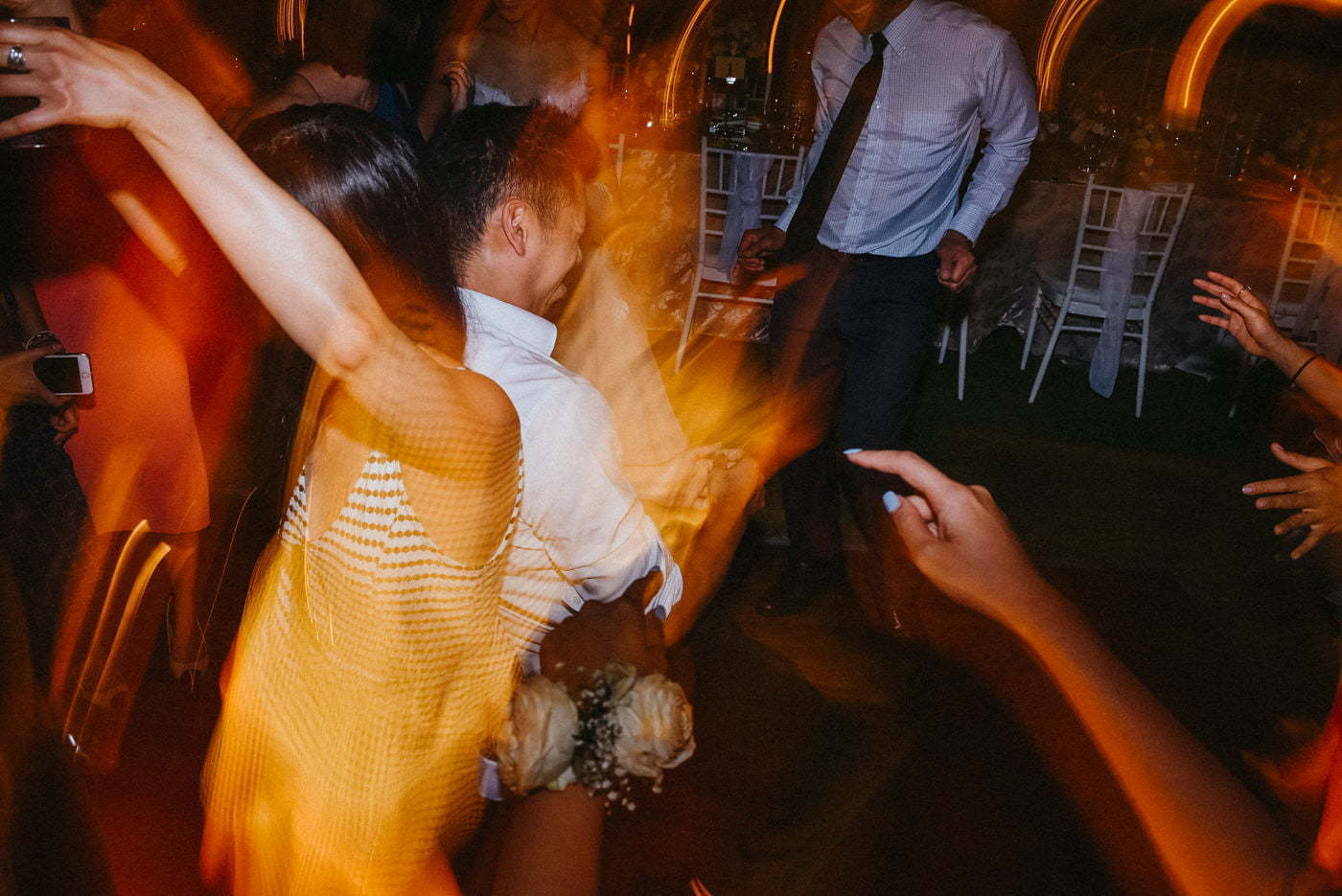 I hope you'll enjoy my wedding photography works at Ayana Resort Bali. If you have any sort of questions, please don't hesitate to write them down in the comments below. Don't forget to take a look at my recent videography portfolio too. Satisfied guaranteed :D.
Furthermore, you can contact me if you need a wedding photographer in Bali. I'll be glad to be your wedding companion.
I know every wedding needs a great plan. I'd be so glad to assist your inquiries further. Simply you can check our ultimate guide to wedding photography in Bali as a starting point.
See also our recent Film — Videography portfolio here.
Cheers.
— wynprmn
Agra Photo & Film — blog | portfolio | contact us
Home » Wedding » Wedding Photography at Ayana Resort Bali: C + J