Bali Honeymoon: The Definitive Guide in 2023
Do you plan a honeymoon and look for the best packages and resorts in Bali? Moreover, do you want to know where to go? Do you like island vacations? There are lots of waterfalls, cheap food, a lively, colorful culture, and a lot of sunshine, then here we are.
On your honeymoon in Bali, you can fill your days with as much romance and adventure as you want. It could be a great place for you and your partner to go on your honeymoon.
Bali is surrounded by the bright blue waters of the Indian Ocean. It has been a favorite travel destination for a long time.
Paradise Island is still the best place to go on a honeymoon if you want the best of both worlds. It has beautiful views, fun things to do, and prices that are easy on the wallet. Their Bali honeymoon didn't cost an arm and a leg, but it was still very nice.
A Romantic Guide for Your Bali Honeymoon
Bali has something for every type of couple on their honeymoon. Whether you like yoga or riding quad bikes, if you like to eat or if you like to try new things, instead of going to religious sites or some of the most exciting bars in the world, don't forget about those amazing beaches!
Maybe you're like us and want all of these things. You won't be sorry if you spend your honeymoon in Bali. Because it is so romantic, Bali should be at the top of your list of places to go on your honeymoon.
Indonesia has more than 14,000 islands, and you'll be right in the middle. It means you can easily go to other islands for a day trip. Slow, like how people used to live on the island of Lombok, which is to the east. Dance the night away on Gili Trawangan. Nusa Menjangan and Nusa Penida are two of the best places to dive.
Immerse yourself in a new and rich culture and do things you've never done before. It's all about new experiences. Explore the Tegalalang rice terraces, colorful reefs, and tall volcanoes and try new foods. Read on to find out the best tips, tricks, and secrets of our ultimate Bali honeymoon guide for the most romantic honeymoon trip.
About Bali
Bali is an island in Indonesia that is very popular for all the right reasons. Most people in Bali speak English, which makes it much easier to get around than on some other remote islands.
People worldwide know the Balinese for their great hospitality and spirit. I can also tell you that they are one of the nicest cultures in the world because I have lived there.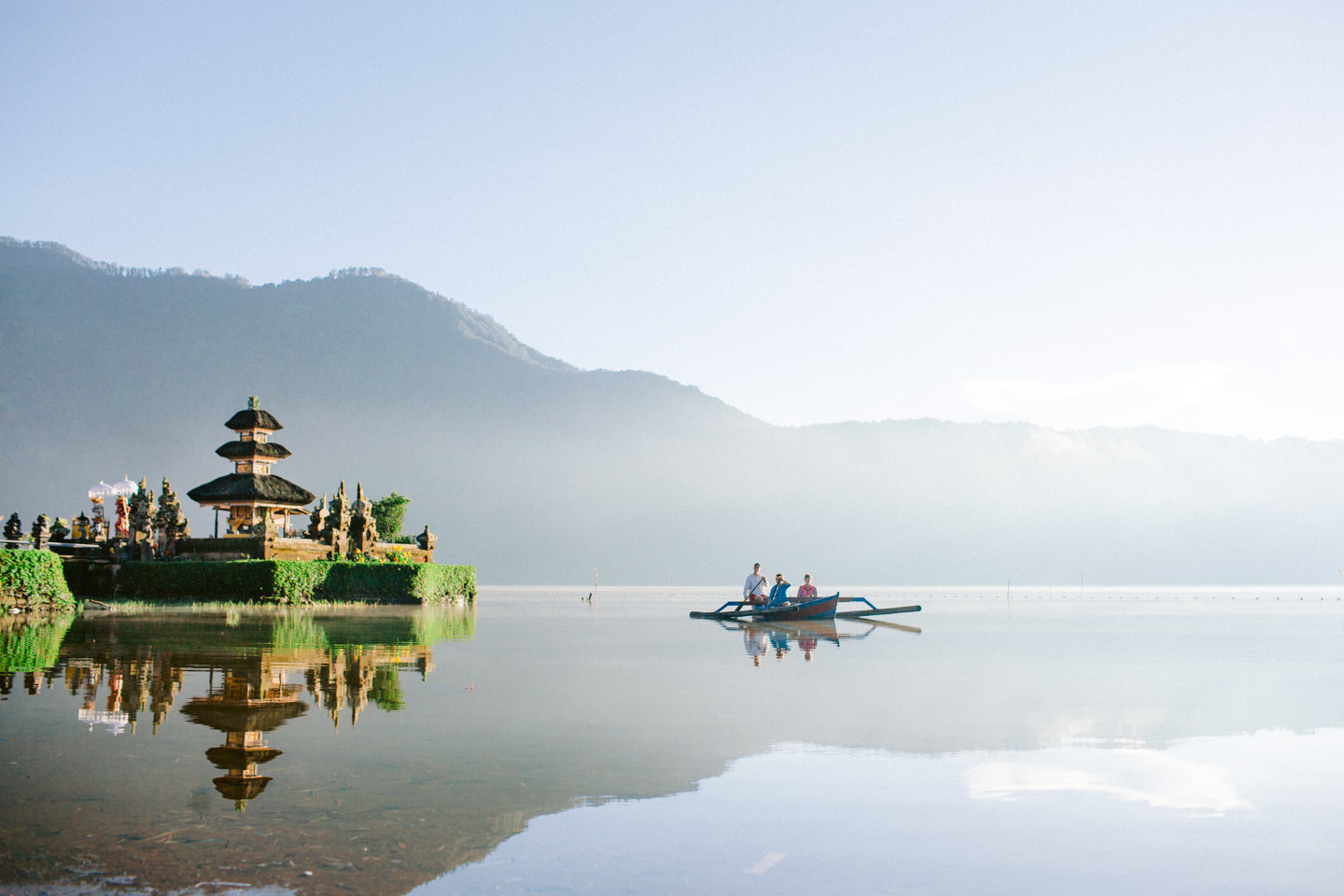 Some parts of Bali, like Kuta and Seminyak, have a lot of tourists and are heavily influenced by the West. It means that there are a lot of home comforts and important buildings. But this also means that these cities will be much busier than others on the island.
Bali is mostly Hindu, and there are a lot of beautiful religious sites and traditions to be amazed by. If you treat the locals with respect and try to learn a few words of Bahasa Indonesian, they will welcome you into their beautiful island life and culture with open arms during your honeymoon in Bali.
What is the best time to visit Bali?
Bali has a beautiful tropical island climate all year, but some months have less humidity and fewer people.
Bali has both wet and dry seasons. During the wet season, it rains more, but the weather is cooler, and there are fewer people.
So, if you want to spend your honeymoon on an island in Bali without dealing with hot weather and long lines at attractions, the best time to go is between November and March, as long as a little rain doesn't bother you! April to September, when it's dry, is the best time to visit Bali. During the dry season, the weather is beautiful, with the high 20s to mid-30s Celsius.
This means that water sports like scuba diving and snorkeling will be able to see better. After the weather got better, there were a few more people around, but that was for a good reason. The least rain falls in the middle of the year.
From my experience, April to May or September to October are the best times to visit Bali. The weather is great, and it doesn't rain much during these months. Since there aren't as many tourists, you might even be able to find cheaper rooms.
Bali Honeymoon Cost
There is a huge range of prices when you look at how much a honeymoon in Bali costs. You can spend as little as $50 a night at an Airbnb, but the best luxury resorts can cost $1,000 or more.
Look at Google Flights first to get an idea of flights as you plan your trip. Economy fares from the US west coast will cost around $1000 round trip.
A big part of the cost of a honeymoon is where you stay. Even if you don't have much money, you can stay at an Airbnb for $50 a night. Most resorts cost between $75 and $150 per night.
If you want to stay at one of the most famous high-end resorts, it will cost you between $350 and $750 or more. Activities are another thing to think about.
If you want to relax on the beach and do a few things, this won't make a big difference in the cost. Your ticket price can go up by a lot if you go on a private or exclusive tour.
You can see that it's hard to say how much a Bali honeymoon will cost because the prices vary so much, but hopefully, this gives you an idea.
Honeymoon Accommodation In Bali
It's pretty easy and cheap to get around Bali. There are many taxi services on the island, but Blue Bird taxis are the safest. But we recommend taking Grab because it costs half as much as a regular taxi.
Blue Bird taxis are light blue, have working taxi meters, and are driven by qualified people. You could also hire a driver from your hotel (most do) to take you around for the day or pick you up at the airport and drop you off there. Take the stress out of your Bali honeymoon.
Book your ride from Denpasar airport to your honeymoon hotel in Bali. People qualified to do so also like to rent mopheads to get around the island quickly.
This can be helpful for people with a license to know how to ride a motorcycle, including on the roads in Bali, and have the correct travel insurance. Otherwise, renting bicycles for your honeymoon in Bali is a great alternative that is much safer.
You can ride your bike through rice paddies and waterfalls, watch the sun go down, and local markets.
Hire Bali Photographer and Videographer for Your Honeymoon
Obviously, everyone is aware that the honeymoon is a unique and joyous occasion following the wedding. So, it would be great to hire a photographer or videographer in between your honeymoon sessions.
We can help you memorize all the happiness, fun, romantic, and intimate moments.
We suggest a short photo or video session that lasts only two hours. It would be enough to capture all the nice things you do together. Moreover, be sure to pick the best honeymoon photo & video packages in Bali down below.
You can choose some beautiful places to go with it. As a reference, you can look at our detailed guide to the best places in Bali for honeymoon photos and videos.
If you want more personalized help finding a place, please don't hesitate to contact us. Therefore, here you can find our simple yet the best Bali honeymoon packages for your need.
You can check out the new, updated posts about the honeymoon photography guide in Bali and Bali Photography Pricing and Packages for further guidance.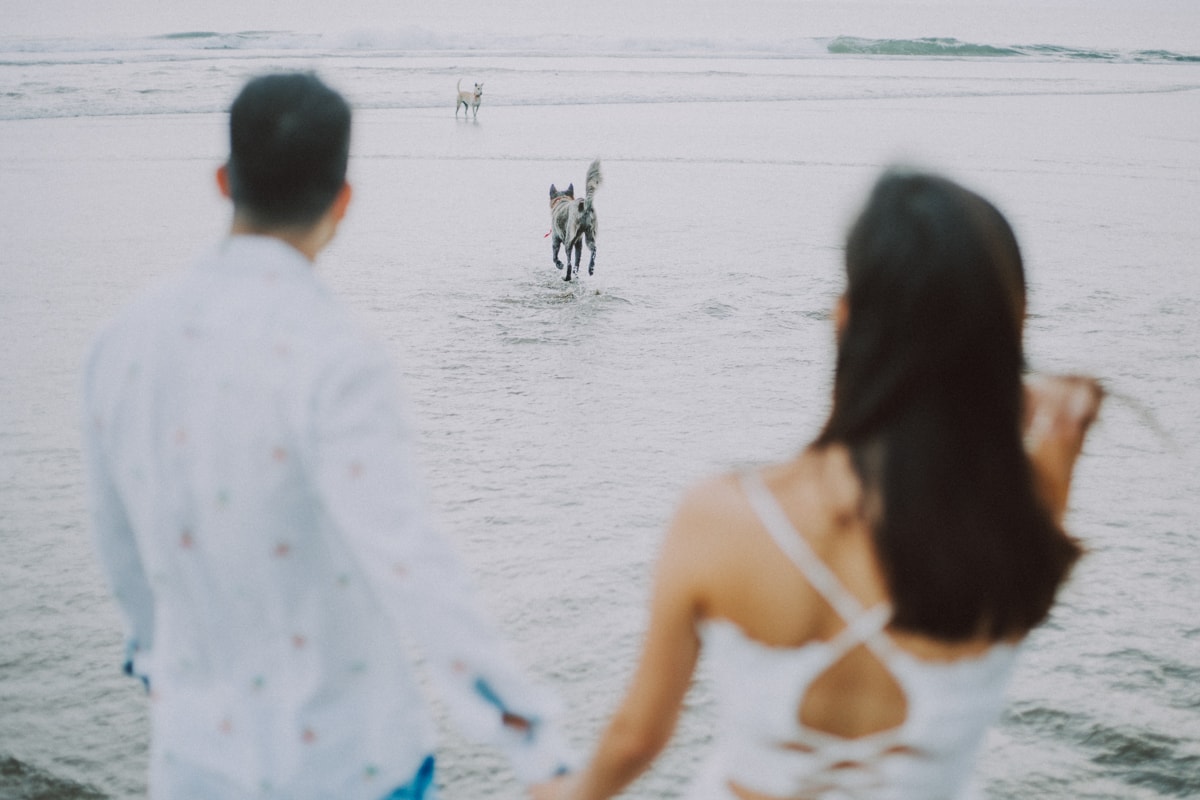 Related Post:
Bali Honeymoon Destinations
It's easy to feel overwhelmed when planning your honeymoon, especially if you're trying to make a detailed itinerary for a short trip.
You've been worried about your wedding for the last few weeks, so let us plan your Bali honeymoon. We think you should see a little bit of everything, whether you love the water or hiking.
Keeping your and your partner's interests in mind, the itinerary below ensures everyone is happy and gives you a life-changing honeymoon in Bali.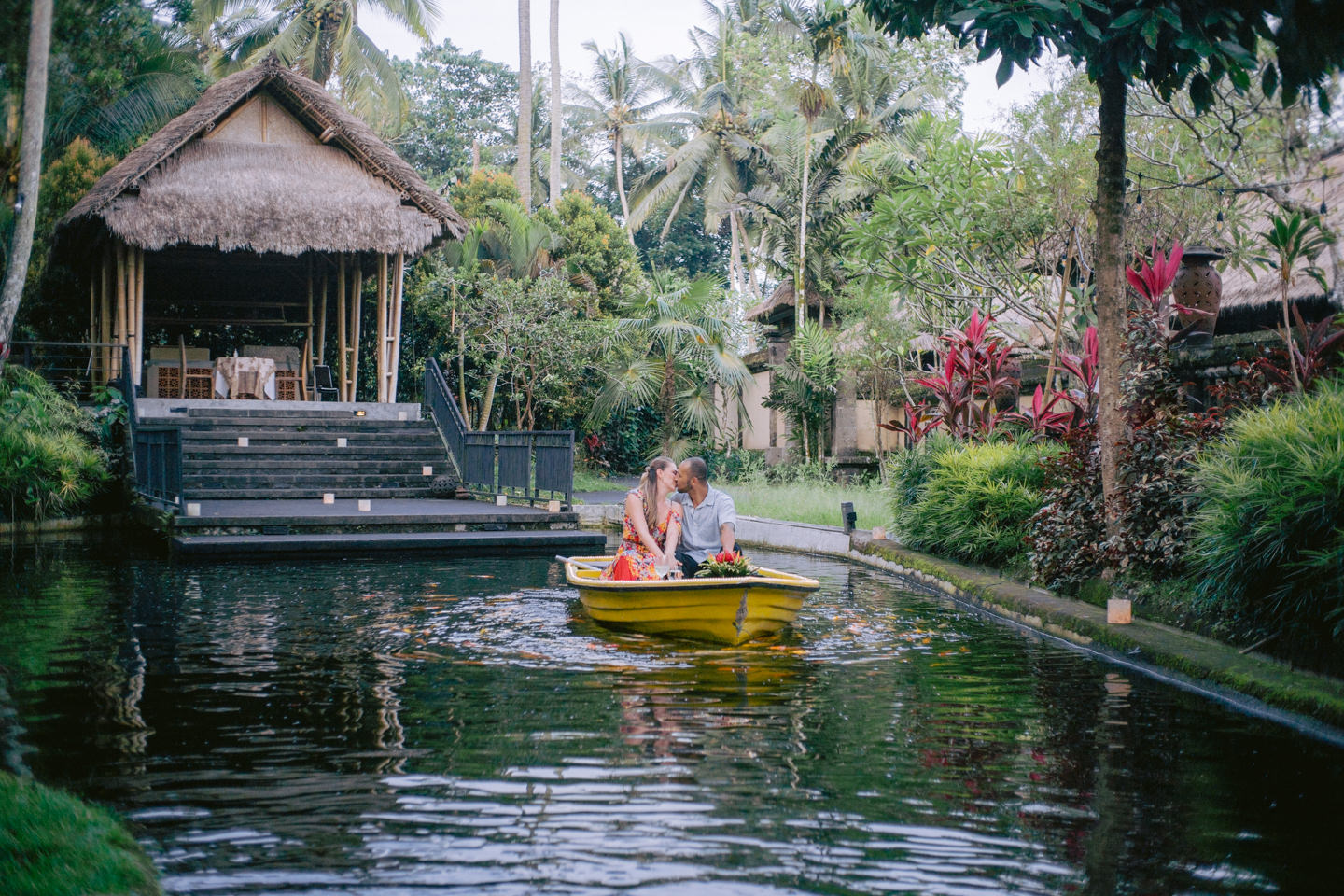 Ubud
For a great start to your honeymoon in Bali, you should go straight to a hideaway in Ubud in the hills. This beautiful town is full of peaceful palm trees, rice terraces, and a spiritual vibe.
Our private Ubud tour is a good choice if you have a full day to spend in Ubud. You'll notice a change in the energy, a deeper connection, and romantic sparks during your time here. Find out our honeymoon photography in Ubud over here.
Seminyak
You should book a few nights from Ubud in Seminyak, which is the island's most exciting and fun part.
With so many cafes, cute shops, and beautiful villas, your dream honeymoon in Bali will go by quickly as you and your partner relax in the sun and soak up those Bali rays.
If you want to take day trips to the Nusa islands, the best place to be is in Seminyak.
Canggu
A few years ago, Canggu on the island of Bali was a pretty quiet beach town with only a few hostels (mostly for surfers) and not much else. But in the last few years, it has become one of the most popular tourist places.
It now has beautiful villas, cool cafes, and great bars open until the morning's wee hours. Come here to eat delicious food, take a yoga class, hang out at one of the many beachside warungs, try surfing, and dance the night away.
It's a great mix of chill vibes during the day and partying at night that you'll enjoy, giving you a lot to do on your honeymoon in Bali.
Lola's Cantina Mexicana has great vegan Mexican food. The Shady Shack has the best smoothie bowl you'll ever have, Luigi's Hot Pizza has great tasty pizza and a great party, and Deus Ex Machina has live music every night.
When planning your Bali honeymoon, you shouldn't skimp on the food.
Uluwatu
Finally, book a beautiful villa on a cliff overlooking the Indian Ocean in Uluwatu.
You can relax in the sun or surf the best waves you've ever seen during the day. At night, there are many beach clubs where you can get a drink or dance all night.
And don't forget to watch the sunset at Uluwatu temple! If you have a full day in Uluwatu, we recommend taking our private Uluwatu Instagram Tour to see the best beaches and most Instagrammable spots.
The top restaurants to visit on your Bali honeymoon
El Kabron
Your honeymoon in Bali should be all about romance, and nothing is more romantic than dinner at a nice restaurant. And the island keeps rising to the top of international lists of the best places to eat.
One restaurant you can't miss is El Kabron.
This beautiful beachfront restaurant and lounge area is on the island's south side. It has a lively Spanish vibe all over. The food is even better than the atmosphere, so don't forget to make a reservation.
You can thank us in the future.
Bikini Restaurant
If your honeymoon in Bali takes you to Seminyak, the coolest place on the island, you should go to the coolest restaurant in town.
A meal at Bikini is like going to the best dinner party of the year. It is a wild card in the world of fine dining.
You'll quickly become friends with everyone on the Bikini team. We suggest going with "Feed Me," where the chef chooses your food based on what you like.
It's fun, not too heavy, and a great way to start a great night. Their cocktails are famous, but we won't tell anyone if you have one too many.
Mana Uluwatu
Mana Uluwatu is a new addition to the famous group of breath-taking homes that all have views of beautiful cliffs, world-class waves, and golden horizons.
Uluwatu Uluwatu Surf Villas is centered around Mana Uluwatu. Come for the amazing views and stay for the hearty food and top-notch drinks.
Their menu has a wide range of dishes from both land and sea. The magic of the Mana will keep you coming back for more. It was built with real surfer style and Balinese tradition in mind.
Fishbone Local
Fishbone Local is a modern restaurant and bar that makes you feel at the beach. It's on the main street of Canggu, where Batu Bolong dips down toward Old Man's Beach.
The restaurant is just a short walk from the waves and focuses on simple, precise ways to cook the best and freshest seafood. The market list menu changes every day.
It is based on the Balinese beachside barbecue but also takes ideas from other coastal cultures. The bar's list of beers and wines is short and to the point, but the cocktails are the stars.
Classic drinks have a new twist with local ingredients like kaffir lime, pandan, and pomelo. Soft drinks, young coconuts, and kombucha are also on the menu.
Stewardship and fair trade are at the heart of Fishbone Local's philosophy. The restaurant has teamed up with Bali Sustainable Seafood, which works to help people.
Fishbone Local should be on your Bali honeymoon itinerary if you and your partner both like seafood and cocktails.
The Seafood Restaurants at Jimbaran Beach
Put away the expensive cutlery and fancy places, and let's talk about being romantic.
Beautiful sunset dinners on Jimbaran beach are underrated activities that don't get as much attention as they should. Local restaurant owners set up wooden tables, candles, and white tablecloths on the beach for miles and miles.
In their shops, they'll have a wide range of fresh fish caught that same afternoon, which will be very cheap. This is the perfect last meal you should plan.
Since Jimbaran is close to the airport, we recommend that guests book their last night there to enjoy this experience in comfort. If you're looking for a great seafood restaurant in Jimbaran, send us a message.
Top activities for your honeymoon in Bali
You can do a lot of different things on your honeymoon in Bali. The best way to plan a trip is to talk about all the things you want to do and then schedule them so that you don't have too much to do.
This is your honeymoon, so you'll want to enjoy every minute of it. Our guide to a Bali honeymoon should help you choose some of the best things to do.
Experience a Balinese spa
With so many outdoor activities, we always tell travelers to take a few days to relax, indulge, and do something that will make them smile.
Relaxing is just as important when planning your Bali honeymoon itinerary.
If you've already done the Mount Batur Sunrise Hike, taken surf lessons, and had your big night out, you and your partner will want more than just a relaxing spa session.
Whether at the beginning or end of your trip, this is a great way to get a boost and a big thing to do before your flight.
Go on a day trip to Nusa Penida
Nusa Penida is a great place for a day trip when you want to get out of the house.
If you think Bali is beautiful, wait until you see this tiny island in the middle of the water. Beyond beautiful sunsets, crystal clear water, and untouched sand, Nusa Penida looks like the picture of paradise you have in your head.
It's no wonder that so many Bali honeymoon guides include it. There are so many beautiful tropical spots to explore here. From Angel Billabong water blow, Bias Tugel beach, Kelingking Cliff, Atuh Cliff, and so on.
Take a traditional Balinese Cooking Class
People say that traveling with someone is the best way to get to know them, but we think the best way is to take a cooking class with them.
We love planning activities for our guests that give them more great memories. On your once-in-a-lifetime honeymoon in Bali, get out of your comfort zones and do something different.
Put your skills to the test by taking a fun cooking class in Bali and seeing who can make the best Nasi Goreng. By going to a local market, you will get to cook a delicious Indonesian meal and see where the fresh ingredients come from.
Visit Tanah Lot at the end of the day to fully immerse yourself in the local culture. Tanah Lot is an old beachfront temple with a beautiful sunset.
If this sounds interesting, you'll love our Balinese Cooking Class and Visit the Tanah Lot Temple, which is a great addition to our Bali honeymoon guide.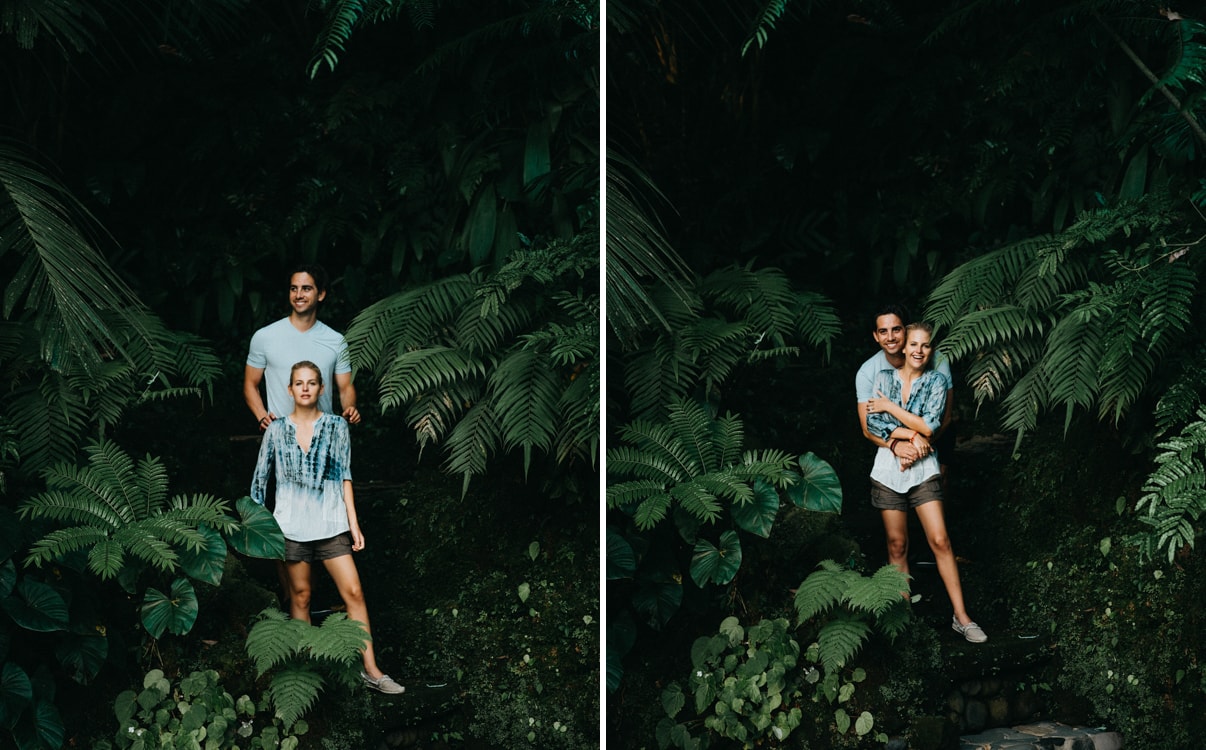 Climb a volcano together
Active volcano hikes are one of the most exciting things it has to offer. Mount Batur, Mount Bratan, and Mount Agung are some of them.
Moreover, we recommend hiking Mount Batur the most. Because it is not really high, with little effort you can reach the summit in the early morning during the sunrise.
Get a beautiful sunrise view at the top of Mount Batur. It would be an unforgettable moment for you.
Final Words
Bali is one of the most popular honeymoon destinations in the world. It's no wonder why, with its stunning beaches, lush jungle landscapes, and friendly locals.
If you're planning a Bali honeymoon in 2022, check out our definitive guide.
We'll help you plan the perfect trip, from finding the best accommodation
to booking the perfect activities for your special occasion.
Last but not least, don't miss our Bali honeymoon packages, special for the lovebirds.
Cheers.
— wynprmn