Bali Proposal Ideas + Handful Guide for Couples
Bali is a popular destination for proposals. We assist many engagements here in Bali. We know that coming up with excellent Bali proposal ideas and preparing the details might be difficult. So here is a handful of guides to romantic Bali wedding proposal ideas to spark up your epic engagement, once in a lifetime.
There are too many gorgeous sites to see and experience, but don't let the minutiae overwhelm you. The most crucial thing is that your proposal, no matter how informal or grandiose, portrays you both as a relationship.
We have some wonderful tips to help you choose the right proposal location. Whether your taste is uber-romantic, distinctive and eccentric, or private and personal.
We've compiled a list of our top romantic wedding proposal ideas, the finest location to propose in Bali. Moreover, we also give you advice on how to hire a proposal photographer to capture all of your priceless moments.
Bali Proposal Ideas
We've worked with so many couples just like you to organize and record this special day. Furthermore, We believe we've learned things along the way. So that it allow us to steer you in the right direction.
You can take a look at our recent blog post of a romantic proposal photo session in Cafe del Mar Bali or Proposal Romantic Dinner in Ubud.
Related Posts:
It's not the greatest time to wing it with your proposal. You want your fiance to feel as though you put some effort into it — it's a huge thing. You've obviously been worried over the big moment. So take a deep breath and start with our four ideas for the ideal Bali proposal.
How to Prepare the Great Proposal Ideas
Choose a unique place. Here are some of our favorite spots to propose in Bali. You've probably already fantasized about the big moment, and it's vital to envision the style of Bali proposal you want. Whether it's romantic, private, adventurous, one-of-a-kind, or informal. But the most essential, your proposal should represent your relationship. Once you've decided on your proposal vibe, you may start thinking about places.
Having a great history is essential for keeping your proposal a total surprise. If you're going somewhere you wouldn't usually go, make sure you have a tale ready to explain why.
Consider hiring a hidden Bali proposal photographer to capture the momentous moment professionally. You can tell the photographer about all of your proposal ideas and aims. Then they will be able to assist you in determining the best location, where to stand, and the best time for the finest images. On the big day, your proposal photographer can be ready to capture the scene in paparazzi style. If your partner has no idea the proposal is on the way, you'll be able to capture all of the excitement, tears, and, most importantly, the yes!
You should prepare it by going down on one knee and thinking about what you will say. You don't need to have your speech memorized, but you should spend some time writing out what you want to say. Stick to a concept rather than a script. Of course, don't forget to ask, "Will you marry me?"
Best Places to Propose in Bali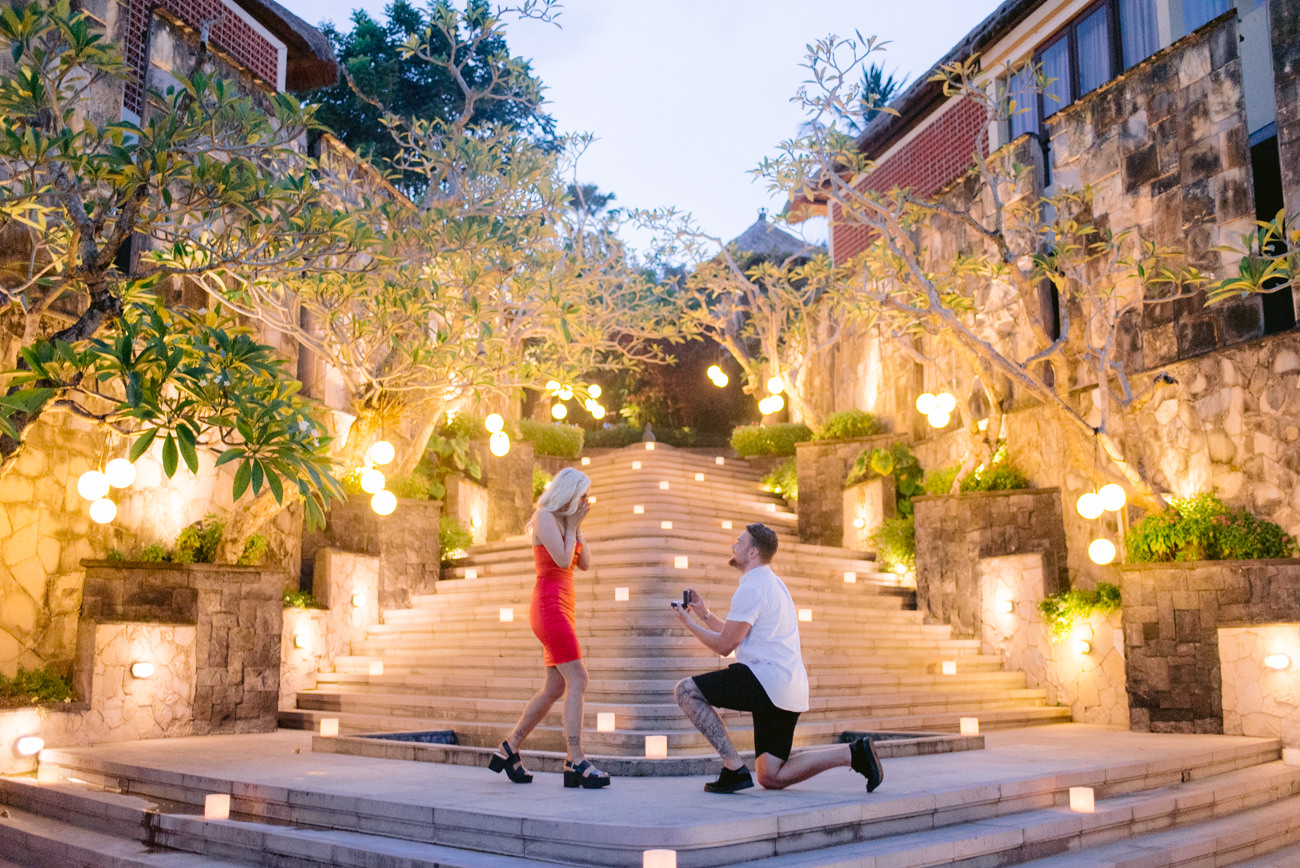 Well, choosing a beautiful location is a terrific place to start. So you're already on the right track. We have seen a lot of engagements and know the ideal venues to propose in Bali. You can check out our collection of Bali proposal ideas below to get started.
The Rice Terraces
The Tegalalang Rice Terraces, located in Ubud. It provides spectacular views of hills covered with rice paddies. The landscape and rich foliage make it an ideal location for a romantic Bali wedding proposal. The fields are lovely, although they may get fairly crowded. The best time here is in the morning. So make sure you make an earlier appointment here.
Handara Gate
The gateway to a journey to serenity. It also becomes one of Bali's most famous proposal locations. It's simple to see why it's so popular, with its gorgeous green surroundings and tranquil attitude. Furthermore, the classic, big, Balinese style gate is so enormous.
Uluwatu
Uluwatu is home to one of the six temples considered to represent Bali's spiritual cornerstones. It is positioned on top of a high cliff, making it ideal for a sunset Bali proposal.
Sekumpul Waterfall
Sekumpul waterfall, located in the north, is undoubtedly Bali's most recognizable waterfall. It's quite far though. But it's worth the journey you'll experience.
Kelingking Beach Nusa Penida
The area around Bali has many beautiful beaches, but Kelingking Beach takes natural beauty to a whole new level. It is one of the top Bali proposal locations because of its sheer cliffs and gorgeous blue seas.
Twin Lakes Viewpoint
It is extremely near to Wanagiri Hidden Hills and has an amazing view of the lakes. The best part is that it is completely free!
Private Bali Proposal Spots
Perhaps you're seeking more private and romantic Bali wedding proposal ideas?
Or perhaps you want something basic but creative? Finding a private, calm, and intimate proposal location in Bali might be difficult, but here are a few suggestions to get you started:
Private picnic on a beach in a calm region.
Provide catering for a private dinner and celebration in a premium Airbnb.
Rent a scooter, motorcycle, or even a boat and cruise around until you discover the ideal engagement location.
Book a private table at your preferred restaurant and enlist the assistance of the staff to pull it off.
Moreover, If you're looking for a luxury proposal wedding venue, you should take a look at our Bali wedding photography ultimate guide.
How to Hire a Bali Proposal Photographer
When you go for the ring, adrenaline and emotions begin to take over. Then you may not even remember what happened. Therefore, you should hire a hidden Bali proposal photographer for your surprise engagement. It will allow you to capture and enjoy that beautiful moment.
Your romantic wedding proposal in Bali is a narrative. It's something you'll never forget. Therefore, it deserves better than selfies. You should capture the moment with Bali proposal photographers. The photographs would be the things that you'll cherish for years to come.
How does a proposal photoshoot work?
We recommend having some Bali proposal ideas in mind before hiring a photographer. Proposal photography normally takes place in one of two ways:
Hire a photographer for a "regular" photoshoot with your spouse. But reveal your hidden proposal plan to the photographer. This is the greatest technique to ensure that the photographer gets the moment correctly, generally from a closer distance and from a superior vantage point.
The photographer might be waiting at the chosen location. They could be using a paparazzi-style to record the proposal event. Following the big event, the photographer may introduce themselves and begin capturing the post-engagement glow.
After booking your photoshoot, you will be able to arrange and coordinate directly with your proposal photographer in Bali.
What's included in a Bali proposal package?
With each proposal photography package, you'll receive high-resolution engagement images. It would have been professionally processed and will be delivered by email in a private online gallery (google drive) within 5 business days. You will be able to see all of the photographs from your proposal session in your gallery. Then later you can download a set number of your favorites, depending on your package.
It also contains:
One-on-one consultation with your proposal photographer
Photographs of the big moment and post-engagement
Private web gallery
High-resolution professionally
Edited photos sent within 5 days
How much does a Bali proposal photographer cost?
Our team includes photographers that specialize in documenting proposals and engagement photoshoots. You can refer to our detailed guide to Bali photography pricing and packages.
Moreover, you could compare portfolios, read customer reviews, and verify date availability by browsing our portfolio of the finest Bali proposal photographers.
Final Words
Last but not least, Thank you for coming by to our portfolio blog.
Furthermore, We are always ready for your proposal inquiries. We'll be so glad to assist you to arrange the romantic wedding proposal ideas in Bali. So, don't be hesitate to contact us.
If you need more info about the ultimate guide for your engagement or pre-wedding session in Bali, or perhaps for your elopement, just go to that link then. Furthermore, we also have comprehensive guide for Bali wedding photography. So don't miss it.
Cheers
— wynprmn
Home » Engagement »